When the Oakland Raiders announced on New Year's Eve that they hired Mike Mayock to be their new general manager, the ripple effect was felt in Philadelphia.
Mayock spent the previous four years as the color commentator for the Eagles' preseason games. The Eagles needed to find someone new to team up with play-by-play broadcaster Scott Graham and sideline reporter Dave Spadaro.
Two weeks later, as the Eagles were preparing to take on the New Orleans Saints in the NFC Divisional Round playoff showdown, Tucker was at the game co-hosting the Countdown to Kickoff show on 94WIP before transitioning to sideline reporting duty for Westwood One's radio broadcast. Already a familiar face amongst Eagles staff, Tucker expressed his interest in the job. He told Executive Vice President/General Manager Howie Roseman and Vice President of Content and Production Eric Long that it would be a "dream job."
"I just think people like hearing that. If you're going to hire someone, you want to know that they really love it. They really care. It's important to them," Tucker said.
On April 23, Tucker was officially named the new color commentator for the Eagles' preseason television broadcasts, airing on NBC Philadelphia and streaming in market on PhiladelphiaEagles.com and the Eagles' app.
Tucker grew up a huge Eagles fan in Wyomissing, Pennsylvania, a little bit more than an hour drive northwest of Philadelphia. Whether he was at home or vacationing with his family at the Jersey Shore, Tucker recalls watching the Eagles' preseason games as a kid.
Tucker wanted to be a broadcaster growing up, not thinking that playing in NFL was a realistic option. His father, Jim, is just 5-9, 170 pounds. At Wyomissing High School, the library kept 10 years' worth of Sports Illustrated magazines on file. Once a new magazine came in, the library would typically dispose of one, but instead passed it down to Tucker because he was such a fanatic.
After earning a scholarship to Princeton, Tucker was a two-time Academic All-American selection as a guard. He had job offers on Wall Street after graduation. Instead, he signed with Washington and won a spot on the active roster. His seven-year career never included a stint in Philadelphia, unfortunately, instead taking him from Washington to Dallas to Buffalo – where he was named a USA Today All-Joe selection in 2003 – to New England to Cleveland and back to where it all began in Washington.
Tucker knew that the NFL stood for "Not For Long" and kept an eye on his options for his post-football career. In 2007, Tucker attended the NFL's first broadcast boot camp designed for current and recently retired players to learn about the industry. Tucker, who was back with Washington, approached Peter King, the award-winning writer who was with Sports Illustrated at the time. Tucker pitched King on the idea of writing a column. King offered Tucker the opportunity to detail his Training Camp experience. As a player on the bubble, Tucker's piece would either document the thrill of making the team or the disappointment of getting cut.
It turned out to be neither.
Tucker suffered a spinal cord bruise in a preseason game against Baltimore. His career was over. His column was an emotional, honest reflection on his time in the NFL while gripping with the reality of being forced into a life transformation.
The column resonated with fans and resulted in multiple offers from different media networks, including at his alma mater where he became the radio color commentator for the football team. Tucker has never held just one position, cobbling together several jobs in both the college and NFL landscapes. He jokes that he receives roughly 20 1099 tax forms at the end of the year. He's also built his own podcast network covering the game from numerous angles including gambling and fantasy football.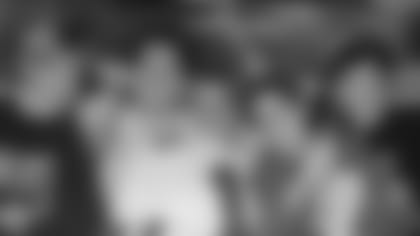 This is not Tucker's first experience doing color commentary for a televised preseason broadcast. He was in the booth for the then-St. Louis Rams preseason games for two seasons.
But this time, he's home.
"I grew up a huge Eagles fan and I played for five teams other than the Eagles, so you kind of lose that while you're a player," Tucker said. "Now living back in the area, where all of your friends and family are Eagles fans, it's funny. My affinity for the team comes back a little bit each year because you can't help it otherwise just being around everybody."
Chemistry is a vital component to a team's on-field success, but it's also critical in a broadcast booth. Tucker has previously worked with Graham. The two called a Texans-Jets game on Westwood One at the end of last season. Plus, Graham is the pregame and halftime studio host for Westwood One and would banter with Tucker while analyzing the weekly results around the league.
"Ideally, people will be informed," he said of the broadcasts. "But they will be smiling as they are informed because they will be enjoying it. It still is, at the end of the day, entertainment."
The first preseason game is Thursday against the Tennessee Titans at Lincoln Financial Field. Tucker is busy preparing to live out his childhood dream.