In a wide-ranging conversation with many Philadelphia area reporters, Eagles general manager Howie Roseman touched on the team's draft strategy heading into next week's NFL Draft. From the difficulties of evaluating the safety position to why offensive linemen are so coveted early in the draft to how the team analyzes the social media presence of prospective draftees, Roseman provided background on the team's draft process and, perhaps, some clues as to what the team will look to accomplish come next weekend.
What are the particular strengths of this draft, position-wise? Roseman says the big guys on both sides of the line of scrimmage stand out towards the top.
"You talk about the offensive line," Roseman said. "There are some really talented offensive linemen in this draft, defensive linemen. This is a really meat and potatoes draft, certainly early in the first couple of rounds with lineman, which is exciting. It may not be the flashiest thing, but it's exciting. It's hard to find big guys who can move, play with power, and there are a lot of guys in this draft."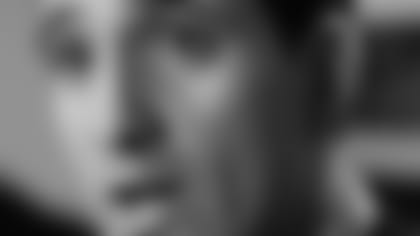 An average of 1.6 offensive linemen have been drafted among the top-10 picks over the last five years – a number that could reach three or four this year if the consensus top tackles (Texas A&M's Luke Joeckel, Central Michigan's Eric Fisher and Oklahoma's Lane Johnson) all come off the board quickly. Roseman explained why offensive tackles in particular are often in such high demand.
"I think it's hard to find really big men who can move, so when you get those guys, they're very clear," he said. "It's not like you're projecting as much. When you talk about different positions, there's a projection in the NFL because they're not doing the same things as they're doing in college. When you're in the college game, and you're an offensive lineman, you're doing all the same things you're going to have to do in the NFL game, so maybe the projection's a little easier and, again, it's hard to find guys who are this size, this weight, this athletic ability, this length. Again, I think it's similar, talking about both sides of the ball. Normally I think that's easier to project a lot of the times than it is different positions where you're asking them to come in and do something different than what they did in college."
The difficulty of projecting college athletes to a different role in the NFL is apparent specifically at the safety position. Roseman has admitted before that the team has struggled in that area at times of late, highlighted by the selection of Jaiquawn Jarrett in the second round of the 2011 NFL Draft. Jarrett is no longer on the roster.
So how has the process of grading safeties changed for the Eagles?
"I think it's studying the players in the league who are doing it well, and how they're doing it well, and what are their strengths and weaknesses," Roseman said. "And scheme's very important. What you're asking these guys to do, what can they do in terms of your scheme, in terms of the scheme they're in? And sometimes when you're asking a guy to do something that's very difficult, maybe even take Ronnie Lott in his prime and it's difficult for him to do, or it can be something that's just player-specific. You're looking for certain traits in a player at the safety position that may be hard to find.
"The safeties in the draft is an encouraging group. You compare it to the last couple of years, and there might be more guys who go in the first three or four rounds this year than have gone in the last couple of years combined. So to find those guys that we've talked about in these settings, about how hard it is to find safeties, obviously that's an encouraging sign as we go through this draft process."
Here's a rundown on some of the other topics touched on by Roseman throughout the extended media session:
On evaluating a prospect's immediate impact versus his impact down the road: "The most important question we ask, whether it's our scouts, or myself or our coaches is: Three years from now, what is this player going to be? We look at this draft - at every draft - as a long-term decision for our football team, so just because a player may be better in year one, he better also be better in Year three, four, five and so on from that. That's really our focus, is what we think they can be. Obviously, you're projecting a little bit, which is what you're doing anyway."
On how the league's new rookie wage scale affects trades at the top of the draft: "It's easier to maneuver with this new rookie wage scale. Before, it was cost prohibitive in terms of cash and cap with your team to trade into the top five no matter how much you liked the player going forward because you were going to be hamstrung in some situation or another. It gives you some flexibility. You're not as reluctant to trade up."
On the quarterback draft class: "You look at last year, and I think the expectations are out of whack on groups going forward because last year was a unique group. When we look back at that group, I think it's going to be one where people look at and say it was a rare opportunity in the NFL, certainly at the top when you talk about those guys. If you take out last year and compare it to other years, it falls more in line."
On the cornerback and linebacker draft class: Cornerbacks "may not be a group where you see four or five drafted in the first round, but there will be a run on corners at some point in this draft. It's a talented group. The same thing at the linebacker spot. Pass rushers are going to go quick like they always do. There may not be much of a run in the second or third round as you'd normally see with pass rushers. But I think there are high quality ones at the top and they'll go quick."
On the lessons learned from the 2010 and 2011 drafts: "What we learned was you can't force. You can't force your board. You can't have so much urgency in terms of filling a need that you change the evaluation process. We talked about that a lot. It's something that we won't do again, and I think it's a hard lesson when you talk about those numbers. It's disappointing to be in that situation. At the same time we think we have some guys from those drafts who are going to be major contributors for us going forward. But you have to learn from some of the things we've done. I think we learned from those lessons and I think it was reflected in what we did last year and I think it will be reflected in what we do going forward."
On why the team "reached" for players in those drafts: "I think the lure of how close we felt we were to winning a championship. I think the mindset of doing whatever it takes to get that championship. I think the motives were right but you can't short-change the process. When you look back at teams that do a great job of drafting year to year, they don't do that. They take a pick where some of their fans say, 'Well they had a need somewhere else,' and those guys end up being really good football players for them. We have to go back to making sure we look at the draft as a long-term investment for our football team. It's not just the moment. Obviously you want guys who can contribute right now, but if you project them to be really good players, you don't know what the future is going to hold. You don't know what you're going to need a year or two for now. That's really our thought process going into it. I think it was a different thought process because of the reasons we discussed going back two or three years."
On Florida DT Sharrif Floyd, a Philadelphia native: "He's another guy who brings a tremendous amount of versatility. He can line up in a wide variety of spots. Tremendous football player, tremendous character. Someone that we know a lot about. In fact, he was in the building when he was in high school here. Someone that I personally followed a tremendous amount because of where he came from in Philadelphia and where he went to school."
On whether there are any positions that team would not address through the draft: "I don't know that we look at it as, 'Here's a position, we feel really comfortable, so let's take that out of the mix for any spot.' Because when you get in that situation it's hard to project where you're going to be two-to-three years from now. And if you pass on a player that you think can be special because you think you have perceived depth right at the moment, I think you're going to be sorry."
On who makes the "final say": "I think for us it's very easy because all the debate, all the drama, is done by that point. It's really the board is what it is. We're picking off as we go, as we're picking, it's the best available player. It's no debate, no discussion."
On a report that the team canceled a visit with Alabama CB Dee Milliner: "Some players you feel like you have a lot of information on. You meet with them at a certain time and you visit with them and maybe ask some people in the building who are very familiar with people. When you have that much information on a player, and you feel really comfortable with where you are with that player, maybe it serves you better to maybe get someone who you don't feel that confident about."
On balancing "Best Player Available" against the premium nature of certain positions: "When you have very close grades on players – and they better be really close – you will lean towards taking the harder-to-find position, the priority position. I think that's natural, I think that makes some sense."
On whether the team monitors the social media presence of prospective draftees: "We have someone looking over Facebook pages, Twitter accounts. In front of us will come every single person on our draft board, their Twitter accounts and their Facebook accounts. It's important, how they represent themselves in those settings, and I think you see the process they go through. They tweet certain things, and once the draft process starts, all of a sudden they shut it down or they'll say things that are really positive, and those are discussions we want to have. Those are the players that we'll want to spend extra time with, and understand and get into their mindset, what's going to happen when they get drafted and get some money? That's part of the process."
On the importance of "character" in prospective draftees: "Ideally, we're trying to get high-character guys who don't have any indiscretions. I think what we talked about was when you're 18, 19, 20, 21 years old, things happen. I mean, you're not perfect. You make mistakes. Are those terminal mistakes, or are those all part of going to college and kind of growing up as a person? And what kind of people are they really? I know, sitting here, I've made mistakes, and I've done some things when I was those ages, but I think we want to make sure that we're not putting a red flag on someone and taking him off our draft board because they made a mistake that was a youthful mistake, as opposed to them being a bad person, having bad character, not loving the game of football."