Bennie Logan and Joe Kruger are seen as key pieces for both the present and future of the Eagles' defensive line. Drafted in the third and seventh round, respectively, each player provides the versatility to play multiple positions and slide all around the front. They also possess high football IQs and can affect the play even when they're not able to get to the quarterback or make a tackle. When watching Logan and Kruger's tape, it's impossible not to notice how often they read the quarterback, get their hands up in passing lanes and deflect or bat down passes.
"When you're rushing the passer, you're not going to always get to the quarterback," Logan said. "So we were taught whenever you see the quarterback at the point of releasing the ball to try to get your hand in the passing lane and bat the ball down. So whenever I couldn't get to the (quarterback) at LSU, I just mainly focused on getting in the passing lane and batting the ball down."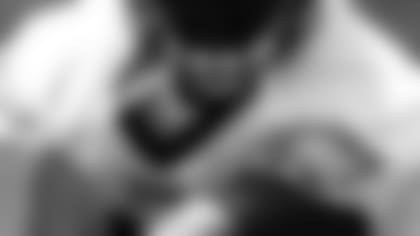 Kruger, who said he's "a centimeter away" from being 6-foot-7, echoed Logan's sentiment about how keen he is to make sure he gets his hands up in passing lanes. Given his height, Kruger said, "it's really easy for me to see what the quarterback's looking at and when the ball's going to be thrown, so I try and bat as many balls as I can."
The Eagles tied for 27th in the NFL in batted passes over the last two seasons with 15. For context, Houston's  J.J. Watt, whom Kruger admitted he tries to emulate, had 16 passes batted down in 2012. With guys like Logan and Kruger in the fold, and perhaps a greater emphasis from the coaching staff, expect the Eagles to improve by leaps and bounds in the batted/deflected passes category, which, in turn, should also lead to more forced turnovers of the interception variety.
As certain reporters tried to nail down what kind of base defense will be run most often, 4-3 or 3-4, Logan reinforced the reality that right now the Eagles are committed to a flexible scheme with interchangeable players who can rotate all over the line.
"The line looks real good," he said. "We have a mixture of veterans; we have a mixture of speed, size, power; it's just a variety for the different kind of schemes we play. We go 4-3; we go 3-4; whatever coach calls, we have the personnel to fit the scheme so you don't have to (change) guys or find guys who play just one position, you have those guys already to play the position that we need."
Just as general manager Howie Roseman mentioned at the Senior Bowl in January, the Eagles have their sights set on transitioning to more of a hybrid front seven, at least for the time being. Logan himself described the defense overall as "mobile," and, when asked if he was a defensive end, he replied sternly, "I'm a defensive lineman." When pressed further, he said, "I play up and down the line. ... no one position, coach just told me to learn every position up and down the d-line because that's where I'll be playing."
Kruger fell to the seventh round despite a number of teams, Eagles included, valuing him much higher. He turned 21 at the beginning of June and is the youngest player on the team, with an ideal frame to bulk up and add strength. Kruger said that his target weight is "290 (pounds) ... right now I'm at 275."
It's been generally assumed that the Eagles envision Kruger as a five-technique once he fills out, but he revealed that actually "they want me to be a four-technique." There is usually no four-technique in a 4-3 Under alignment, rather a five-technique, nose tackle (one-technique), three-technique and "Predator," the standing pass rush outside linebacker. In a traditional, two-gap 3-4 defense, the four-technique is the defensive end who's "head up" on – lined up directly over – the tackle and responsible for the B and C gaps.
Defensive coordinator Bill Davis said whether a lineman is playing the four- or five-technique is simply a "difference of alignment," and that Kruger will "play all over."
"You're either inside shade of an offensive lineman, head up or outside shade or in a gap. Whether it's on a guard or on a tackle, it's the same footwork; it's the same read; it's the same concepts that are behind it. So there aren't huge differences in any of the alignments; there's a different technique if you're head up, if you're on the inside or the outside, there are slight variations." Davis intimated that it's very much a snap-to-snap situation instead of rigid positional designation.
The Eagles defense might not be a 3-4 yet, but that's only because the line was configured for the Wide-nine and doesn't currently have all the necessary personnel to make a full switch. Make no mistake, however, a 3-4 defense is where the Eagles are going with Davis. It's just going to take some time to get there.