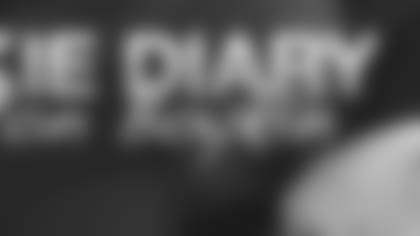 Electrifying rookie cornerback and return specialist Brandon Boykin has definitely been a player to watch in 2012. Throughout the season, he wrote a blog for PhiladelphiaEagles.com chronicling his rookie year. He looks ahead to the final game of the season against the Giants ...
We're in the last week of the season, and our final game is against the Giants. I'm so in a routine and grinding it out every day that it hasn't even hit me that it's the last game. It's a big one for us. I'll have probably my biggest challenge again in Victor Cruz.
The Giants are still in the playoff hunt, so we want to go out there and take care of business. This game means something to them, so it's not like two teams ready for the season to be over. We want to go out and make a final statement and end their playoff hopes. That'll give us something to look forward to.
I don't really have a rivalry built up with the Giants yet. I think it comes with time. Just based off what the fans say, we know which games are big; we know which games mean the most. You just have to feed off that. I don't have a rivalry with Cruz or anything. He hasn't called me a candy bar. He's cool with me until we get like that on the field. So I guess you could say the Steelers are my rivals for now.
Though it is Giants week, Christmas was on Tuesday. My family came up and we had it here. I got all of them MacBook Pros, so they were excited. I don't really know what I'm going to do for New Year's. I'm going to get ready for the game and once that's over then I'll start making plans.
I am definitely going to take a vacation as soon as the season is over. I'm going to spend some time with my family and go away to another country or an island or something. I'll probably start working out again after a couple weeks off. Otherwise, I'll be back in Atlanta.
I've learned so much this season. I think one of the biggest things I've learned this year is just not to take losses so hard. Knowing that if you lose two, three, four games at a time you can still be in the playoff hunt. And really, that's all that matters, getting to the playoffs. It's a new season from there. I've learned to get better every day, perfect my craft and move on once it's over.
I think my best play of the season was actually against Victor Cruz. He ran a hitch-and-go on me and in the previous week he had scored on an 80-yard touchdown. They did the same play on me and I broke it up. Sticking up for the things like that can make a difference, but nobody really notices.
As far as my technique on the football field, I'd probably say my awareness of offensive formations has improved the most, as far as understanding offensive routes and my technique. That was something I didn't do at Georgia. I just relied on my athleticism. But now I put the time in to know what's coming before it actually happens. Although I haven't had any interceptions, we got a lot of pass breakups and are in position to make plays and tackles. I'm just trying to get better at that.
---
In this entry, Boykin pens about his holiday plans, spending time in the community and finishing the season strong ...
On Tuesday, I spent the day out in the community. First, Vinny Curry and I bought some winter gear for some of Philadelphia's high school honor roll students. Next, I joined Curtis Marsh, Colt Anderson and Dominique Rodgers-Cromartie at the Sheraton Hotel in Center City to help deliver presents to 400 needy kids. I can say it was a big scene, especially for them. It was a big deal for them to meet us and for us to meet them. They were more excited about SWOOP than me, but it was good.
It's always fun interacting with them and seeing how excited they get. No matter who it is, as long as you're a player, they're excited. You just want to give back. It was fun being able to see all the kids, especially the ones who probably needed assistance. You could really see their smiles and the genuine happiness on their faces.
We're blessed and fortunate to be in our situation and I'm happy to do as much as I can and make a difference in their lives. At Georgia, we used to do things like this, but not of this magnitude. I think it means a little more when it's not a team thing. It's going out on your own, taking time out to do it and letting people know you're there because you want to be.
This will be my first Christmas out of Georgia. I have my family coming up for Christmas, but it'll be at my house, so that'll be a little bit different. I got my shopping done in November and into December. All of that's out of the way; the presents are under the tree. I'm just waiting for the family to come up. My mom's going to cook; she handles all that. I got them some nice presents, so I'm ready to see them. I have a little more leeway as far as what I can purchase now. I can't tell you what I got my parents, but I got them some really, really nice gifts.
The year has definitely been a learning experience for me. I'm finishing up my first NFL season, so all in all I think it was a pretty good year. Despite not having the best season, I think I learned a lot from the experience in football and life.
We haven't had a good season and everybody knows it. I think the least we could do is salvage what's left of it. In these last two games, we can come out and try and play a complete game and end on a positive note. No matter what happens at the end of the season, this is what we can control. As a player, I think going into the offseason giving it all you had these last two weeks will probably give you a lot more peace.
Our play as a secondary has been a week-to-week thing. We've improved in games and we've come out the following week and haven't played as well. These days matter the most – Wednesday, Thursday and Friday. We know that the Redskins destroyed us the last game. We have to go out and practice at game-type speed and stay focused just like it's a game in order for us to have a chance this Sunday.
I'm still going to play hard because this is my job. As a player, this is all you have. What you put on film is your résumé. Despite the season, despite the record, you're playing for your pride. I know personally I'd feel some kind of way if I knew that I didn't play as hard as I could or knew that I didn't give my all through the rest of the season. So I don't think anyone is letting up. Everybody's focus is on just trying to get a win.
---
In this entry, Boykin talks about last week's punt return touchdown and looks at the changes made along the defense ...
Damaris Johnson scored a touchdown in the return game before me. I've been having a hard time with that in my head. He got a good one, so I guess I'm the last one left. Bryce Brown got a couple of touchdowns; so has just about everyone else who has touched the ball as a rookie. I'm confident in my abilities and I'm going to keep working. It'll come. It's just a little bit harder on kick returns, but we're coming along.
I don't think the lack of a touchdown is frustrating. It's just frustrating as far as our inconsistency. I feel like we have a really good game and then we come back and it's 20 yards or 15 yards per return. We just have to find that groove. We haven't really hit it all season. We only have four games left, but we're still going to work to make sure we have a breakout game.
I'm really not sure why we've been inconsistent. It's having the attitude that you're going to go out there and score every time. A lot of guys are playing both offense or defense and special teams and are just coming off the field, but you have to block that out and have a short memory. If we can do that, I think we'll play well.
I feel like I'm improving a lot. I don't really feel like a rookie anymore. I feel like the game has slowed down. I'm able to have good recognition and I'm able to make plays as far as pass breakups and tackles. I feel like I've had a pretty solid year. Coming from Georgia and doing everything, it's a little bit different now. I always want to do more.
Just about every day I sit back and think about how much easier things were in college. Just looking at the kick returns, everything was so open. I could just go wherever I wanted. I could play around and use my spin move. Here it's harder, but I think I'll get it sooner or later.
We had a coaching change on defense this week. Defensive line coach Jim Washburn was relieved of his duties with the team. It ultimately impacts us in the secondary, but it doesn't really affect the way we should play. Everybody still has to play fast, no matter what.
I don't think using the Wide-9 less will change anything for the secondary. Ultimately it depends on the players. No matter what the scheme is, it won't matter if you don't go out there and play hard and be aggressive and get turnovers. We just have to get it done.
Colt Anderson's been practicing at safety this week. He's been playing well. Colt's always been a good player. We have a couple special teams guys in the secondary now. He'll be good. He knows what to do. He'll play special teams, too, so it'll be a good challenge for him.
My Georgia Bulldogs lost the SEC Championship last weekend. I was looking forward to seeing them in that "Natty," but this year they're in Capital One Bowl. We went and won that my first year at Georgia. I might still go to the bowl game. It's in Orlando, so maybe I'll go to Disney World while I'm there.
---
In this entry, Boykin reflects on the season so far, the play of the secondary and bonding with his fellow rookies ...
This season has gone by so fast. I sat back on Thursday and said, "Wow, I'm almost done with my first year." Even though it hasn't gone like we wanted it to, I've learned a lot this year. I feel like I'm progressing. I've played a lot, so I have a lot of game experience. I don't think any of my teammates look at me as a rookie. I know the coaches don't. But I guess I still have that title for a couple more weeks.
It's been a tough year. The only thing you can salvage is the rest of the season and your pride as a team. I think everyone wants to end on a good note and play to the best of their ability, because all we have left is a month. Just do it for your pride, for your teammates and your coaches.
The release of Jason Babin was the big news of the week. The way I looked at it was to just come out here every day and give it your all. I don't really know what the situation was, but no one is above getting released. Just come out here and give it your all and do the best you can so you don't have any regrets if it happens to you.
There has been a lot of talk this week about the play of the secondary. We're not communicating enough. We have to be on the same page every play. When we get down we don't panic, we just try to do too much instead of just staying in our own, just try to make good things happen one play at a time.
People want to do something to help us get back on track. I think that's the right attitude to have, but we just have to understand that it's going to take a collective effort and no one person can do it by themselves. The season's not over. We can still correct it and come out with a couple wins.
For me, it was a tough game. I fumbled a kickoff in the fourth quarter. That's the first time I've ever lost a fumble in my career. I might have returned 200 kicks and I've never lost a fumble. There's a first time for everything. My girl said, "It was bound to happen one time." That was my first and that's my only.
Despite the fumble, I think I've been getting better in the return game. You get confidence as you gain experience. Just seeing just about every team I'm going to see this year, seeing how they come about and how they do their formations is helping me. I eventually got more comfortable and watched myself on tape from earlier, knowing I have to be more aggressive. I did that last game, but unfortunately I fumbled.
One positive thing that comes out of this season so far is the rookie class. Everybody was saying the Eagles had the best draft of the year, and for us all to come in and play right away showed that. We have so much talent. I'm excited about the future. I know everybody has played and will continue to get better.
The rookies and I are all close. That built through OTA's and the Rookie Symposium. We live down the street from each other, so Vinny Curry comes over every day. We're constantly around each other. You don't really get that in the NFL atmosphere, that's more like college. I think that's helping us build upon, knowing that in the future we could be great.
---
In this entry, Boykin talks about his Thanksgiving, his alma mater and gearing up for a Monday night showdown against the Panthers ...
Thanksgiving was on Thursday and my family came up for the holiday. I have six or seven people at my house right now. We went to see a movie Thursday night. They went shopping and did the Black Friday thing yesterday. They got up before me, got in their rental car and roamed the city.
My Georgia Bulldogs play Georgia Tech today and Alabama next week for the SEC Championship. If we win that, I'm hoping the BCS is good to us and we go to the National Championship. I'm a little bitter about that, for real. I leave and they get to go play for a ring. But if they make it, I'll absolutely be there. I'll probably try to go to the bowl game. This will be my first experience as a fan, so I really want to see what it's like, do some tailgating and all of that.
The way this season has gone has been tough. The way I feel like I can stay at my top peak level of performance is just to control what I can control and go out and try to do my best each week. I just think it's pride in yourself and what you want to put on film as a defense. That's what's keeping us going right now.
I've never lost more than like three games in a row. It's tough in my first year. So I'm adjusting; not really knowing what to expect. It's happening, so there's a first time for everything. We've been focusing on just getting one win the whole time. Once you get one win you can get things rolling; the momentum going and really get things together. But we've yet to get that since September. But at the same time, everybody's still pushing forward and we have confidence in ourselves. We just have to stop doing the little things to make us lose.
We're just not making the plays we did early on in the season. And for whatever reason, it's just continuing to happen. We haven't had more than one turnover in the past seven or eight games. It's just a swagger that I know we have but we have to get some turnovers and rush the quarterback consistently. And I think we can do that.
I think the fans will show up and they'll be excited for Monday night, and hopefully we can get a win. But despite whatever the fans do, we still have to play. We have to win and we still have to do what we're supposed to do. There's a reason they're booing us. Whenever they do boo us, it's because they want wins. And we do too, so we have to get it done.
The booing really doesn't bother me at all. It's our job to play. We can't worry about what the fans are doing out there. When we do well, they'll cheer us. When we do badly, they'll boo us. That's how it is.
Going against RGIII last week was our first real test against somebody who can kill us with his feet. Cam Newton will be doing the same thing on Monday night, but I feel like he's more of a passer; not as quick to take off as RGIII. But it'll be the same type of game. We have to contain him and make him throw the ball; keep him in the pocket. We have a good scheme and we can do it.
---
In this entry, Boykin details the special teams play that almost worked and the mindset of the team with the rival Cowboys coming to town ...
Our last game was in New Orleans on Monday night. Riley Cooper and I had a big special teams play that didn't quite work. We practiced it probably like three times, and that was it. It was just bam-bam-bam in practice and then in the game they called it, so it's a do-or-die, one-shot deal for the whole season. We had to make it work. And it didn't exactly look how we practiced it. It ended up being a forward pass, but it was a great run and a great job. It got all over ESPN. People at Georgia saw it on TV and were telling me it was a sin to throw the ball to a Florida Gator.
My New Orleans experience wasn't too exciting. I didn't leave the hotel at all before the game, but my sister lives in New Orleans so I got to see her and my little nephew after the game. That was nice. I haven't seen her in about six or seven months.
We're at the halfway point in the season, and physically I'm pretty good. I'm a little beat up, but mentally it's all still there. If I had to scout myself through eight games I'd say "rookie, gotten better with technique; things like that. Still has a lot to learn. Has a lot of potential. The potential is there." All that just comes with experience. I'd say the more I play the more I'll get better, which I have been doing.
We still have a chance to do what we want to as far as making the playoffs. We've hit a couple bumps in the road; things haven't gone exactly like we wanted it to, but we're still staying positive. On Wednesday, we had one of the best practices that we've had all year. We're just trying to keep the ball rolling, keep the energy going and hopefully good things will happen.
Blocking out the outside distractions can be tough. It's just knowing how many people are depending on us and counting on us. I think when you start putting that added pressure on yourself, plus the fact that you have to play a game, and we know what our record is; that we're fighting for the playoffs, all of that combined can put some pressure on you. We just came to a point and said, 'Let's block all the distractions.' We have eight games left and we have to make them all work, so just everybody is all in for each other.
I've heard about the Dallas/Philadelphia rivalry. I know it'll be loud and hostile at the Linc this Sunday. Both teams are coming in with the same record; both of us fighting for position. It's going to be a good one. We're the game of the week on FOX, and I guess that's because of the rivalry. We'll be ready.
---
In this entry, Boykin talks about the Eagles' players-only meeting and playing on Monday Night Football ...
Hurricane Sandy hit this past weekend, but it didn't really affect me. We had had some hard rain. My whole family was up here, so it was a house full of seven people, but all we really got was hard rain and some wind and nothing else. But flights were cancelled. Living in Georgia, I'm used to this kind of thing. We used to get tornado watches and all that type of stuff. On Halloween, I hung out at home. I had some candy, but nobody came through.
I think the return game is coming together well. Like I said at the beginning of the season, the repetitions and the experience for myself helps. It's about actually seeing what I'm missing or seeing the holes a little bit better. I expect to have better returns and continue to get more yards every game. I think we're really close to breaking one. Any game it can happen. We're maybe a block or two away. I think we'll get one soon.
Without a doubt, I think we're growing as a unit. Once the guys blocking see me running hard and trying to fight for yardage, it gives them some trust in me knowing that I'm doing my best. They block for me as hard as they can.
We had a players-only meeting Wednesday. We're eager to change things, eager to change the perception of us around the city; the NFL. We know that we have the talent; we just need to put it all together. The meeting was just about us trying to find what's missing. It's about putting pride aside, just everybody looking at themselves in the mirror.
What I'm learning is that in the City of Philadelphia, even if you lose one game, the city feels it and you'll feel it from the city. It puts pressure on you, just to make sure you're doing your job. But it's also pressure from them not to let them down. And with all that surrounding, you can't help but let it into the locker room. But you just block it out and do what you have to do.
This week we travel to New Orleans to play the Saints on Monday night. I've never been to New Orleans, but my sister lives there, so she'll be at the game with my nephew. I'm excited to play another primetime game. I know the atmosphere will be crazy.
The game gives us a chance to get back in the win column. We're at a crossroads right now where we need to even it up and give ourselves a chance to be at the top of the division, or basically fall to the bottom. This game is pivotal for us. So on Monday night everyone will be watching, and we'll be ready.
---
In this entry, Boykin talks about his week off and going up against his hometown team ...
We got back to work on Monday after having most of last week off for the bye. I went back home to Atlanta and hung out with the family, saw a lot of my friends and just relaxed. It was nice to take it easy. My main goal for the bye week was to take my mind off of football. Once the weekend started to wind down, I started to focus on football again. Until that point, I got a couple massages, went out and got a manicure and pedicure and took care of my body.
Going into the bye, Coach Reid told us to just know that we have to get focused and get prepared to go into this second half of the season with a new mentality. He gave us the week off trusting that we would do the right things and come back ready to go. Now that it's over, everybody is on the same page, knowing what we have to do to make the playoffs.
I've heard a little bit about Coach Reid's record after the bye. I don't know the exact record, but I heard he's super successful after a week off. We have to keep that tradition up. I think you can attribute that to clearing your mind. It's been a long season already, just from camp to preseason to now. Once you get that week to rejuvenate yourself and get back focused, I think everybody can come back and know what we have to do and do it exactly how the coaches want.
And what better team to start against than one that's undefeated? This will be a big game for us, especially for me since I'm from Atlanta. The Falcons are coming into our house. It'll definitely mean a lot to me, so we're going to get the job done. It means a lot because I am from there and I know a lot of people will be watching. I even have a lot of people coming up to the game and have a lot of friends on that team, so there will be a lot going on.
The home crowd is a big part of the momentum for us. They come out excited, especially if we're winning the game. They can definitely help us in that way. We lost our last one at home, so we want to come back and prove to the fans and everybody that we're still a good team.
Beating the last undefeated team would be a big point of pride for us. It's a little bit of bragging rights. But more importantly, we can get back above .500 and control our own destiny.
It's the perfect time to get my first interception or kickoff return. Hopefully both. If I can get both, that'd be nice.
---
In this entry, Boykin talks about the Eagles' 3-3 start and getting some time off to reflect ...
Sunday's loss against the Lions was a tough one. It wasn't a pretty game last week, and even the week before. Those were games we should've won. We have to correct these issues ourselves, because nobody wants to lose. Coming at the end of the game with five minutes left and being up by 10, it's up to the secondary to finish the game and we didn't. We all took that as a slap in our face. I'm not saying that we did something wrong, but we could've won the game for our teammates.
We had a team meeting Monday afternoon. Coach Reid told us to detail our work better. We need to be disciplined; to be pros. There are a lot of little petty things we did in the game that cost us, a lot of simple mistakes or penalties. It's things like a third-down situation where we do something stupid and give them a first down. Little things like that.
We definitely have to detail our work better and be a lot more disciplined and be ready to play after this bye week. In meetings Monday, everyone just looked at themselves in the mirror and will take this bye week to evaluate themselves and our play to see what we can do better. We just need to fix little things. It's us not reading our keys, taking our eyes off somebody and in that split second they catch the ball and run for 15, 20 yards. That's the difference in the game. We have to be a lot more detailed in what we do and in the crucial points in the game.
Though we're 3-3, there is still so much season left. Like coach said, we have 10 games left and that's a whole lot of games. We're .500 now, so we're coming back with an even slate; looking at it as the start of a new season. We have to come out and make things happen. We've had tough losses, each one within a point or two. We know that we can play with each and every person and that mistakes are on us. We have to continue to get better.
Over the bye week, I'll be going back home to Georgia. I'm sure I'll be watching film and doing all the same things. I don't want to get too far out of my routine.
My rookie season has been a tough road already, but I can definitely see myself getting better every game. I feel like my confidence never goes away, no matter if I'm getting beat or not. Ultimately, it's made me a better player. All the coaches have a lot of trust in me to go out there and get it done, or else I wouldn't be out there. I think I have the ability and I'm getting better every game.
I understand the fans' anger. They have every reason to be mad. We've lost some pretty close games; games that we should've won. They expect us to win and we do, too. Coming back from this bye week, we're going to give it all we've got. I hope that they don't quit on us and just continue to believe because we're going to fight until the end.
---
In this entry, Boykin previews his matchup with Lions receiver Calvin Johnson, a.k.a. Megatron ...
Last Sunday, we played the Steelers. After wide receiver Antonio Brown made the comment about me being a candy bar, there was more attention on me. It was really my first experience being at the center of the Philly media's attention like that. I didn't really pay attention to it, though. It was hyped up more than people thought it was. During the game, he didn't say anything. The first play I hit him and we were talking, but after that it was nothing.
This week we're playing the Lions at home. Calvin Johnson has been playing in the slot a lot, so I'll be matched up against him. So far this season I've also faced Victor Cruz and Larry Fitzgerald. There is a lot of talk around Calvin, but I'm not really focused on him so much as just what they do as a receiving corps. We're basically just playing our scheme, like I say every week.
"Megatron" is a great player, but no matter what, I think if you do what you're supposed to do, a lot of that can be neutralized. As a defensive back, you have to stay in his hip pocket and challenge him every play. We're just focused on what we need to do as defensive backs to be good.
The Lions have been struggling a little on special teams, but we have, too. Somebody has to be successful this game, and we want it to be us. We've been close a lot of the time, but we just haven't broken a big one yet. We're looking for this week to be a big one for us.
I think the issues in the return game are just a matter of our timing - me hitting the hole a little bit quicker or somebody getting a block a little bit quicker. It's all little things here and there, but it'll come. It's important because that's field position for our offense. All of our games have been coming down to two or three points, so a little bit of field position could get us into scoring position. We're taking it very seriously.
I'm feeling much more comfortable living in Philadelphia now. I'm getting in a groove and venturing out a little more. I know where everything is now. I know where all the shopping places are now. I go to Cherry Hill Mall and shop there.
---
In this entry, Boykin reflects on a big win and what it feels like to be called a delectable treat ...
On Wednesday, Steelers receiver Antonio Brown called me a candy bar. It's probably the lamest joke directed at me I've ever had in my life. I don't think even he can go into detail about what it meant.
I found out about it after my first meeting on Thursday. My phone was blowing up and all my teammates were saying, "What? He called you out?" So I found out through social media and text messages. But I don't think that's a real diss to me in any type of way.
I'm a candy eater, but not like chocolate bars or anything like that. I'll be whatever he wants me to be this week until Sunday.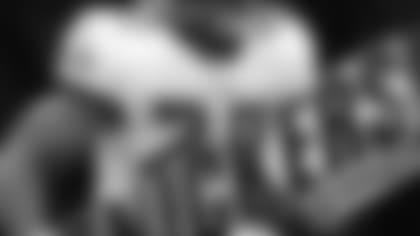 I don't care what people say about me. The one thing about me is I never lose confidence in myself. No matter if I get beat or what, I'm going to come back the next play. Brown saying I'm a candy bar is not going to intimidate me in any way. If anything, it'll add fuel to the fire.
Sunday night was our primetime game against the Giants. I had mixed feelings about my play. As a corner, you never want to let anybody catch any balls against you. But we got the win and I felt like I made a couple plays on Victor Cruz and he made a couple plays on me. In the end, the 'W' is all that matters.
I've been against three Pro Bowl receivers in the past three weeks, so it's definitely not been an easy transition to the NFL. The good thing is that I think it definitely speeds up my development. I still got a chance to compete against some of the best receivers in the league. When you're in the moment and grinding, you're doing everything you can to make a play.
It's definitely not college. A lot of times in college, if receivers weren't getting the ball they'd take the play off if they knew it wasn't coming. But here all of us have to mind our P's and Q's. You can never really tell when a player will be getting the ball, so that's when your technique is very important.
Sunday night was a very intense game. The crowd was great and gave us a lot of enthusiasm. It had everything that you wanted and everything you wanted it to be to go play a good game as an individual. When the Giants missed the field goal and we knew we won, I felt excitement and relief. We battled tough that last minute, and for it to end like that was crazy. But I'm glad we were on the winning side. Hopefully we can keep putting on these W's and have a good record in there so we won't be fighting for our lives when that time comes.
Last game wasn't a great game for us, special teams-wise. I think we definitely can improve and will improve. A lot of times people want instant success and instant results, but you have to work at it. It didn't lose us the game. It probably potentially could have if we kept playing like we did, but we just have to improve on it.
I feel like I'm improving in the return game. You just have to keep pushing at it, that's how it was in college. It took me a little while to break one. Eventually I started getting great returns, so we'll just continue to get better. The talent across the league is equal. The little things like watching film and preparing, I think, is what separates us from other teams.
This week we have the Steelers, and it's a great test for us. They have fast guys across the board. That'll be a challenge for us in the secondary, and it's a great test for us to step up as defense, play great and that's what we want. Going 4-1 is what we want to do. That puts us in a good position and allows us to keep building on our momentum, and I think we've been doing that so far.
---
In this entry, Boykin talks about his first loss in the NFL and gearing up for a division opponent ...
Last Sunday's game against the Cardinals was the first NFL loss I've been a part of. But I haven't approached this week any differently. Once we lost the game, we were moving on to the next one, so I'm just keeping the same routine and being upbeat and getting ready for this game against the Giants. This is a big game for us, just being a home game and a team in our division. We have to take care of business.
It's also a Sunday night game, which means it's in prime time. I'm not treating it differently than any other game. I don't think you can allow it to get any bigger than it really is. And as a player, you just have to stay level-headed and just do your job. No matter if I'm guarding a scout team receiver or Larry Fitzgerald or Victor Cruz, I'm just going to continue to be myself and not get bigger than the game really is. It's about what you do and how well you play. You can't sit back and look at any of that type of stuff until the season's over and you can relax.
Last Sunday, I was matched up against Fitzgerald a few times. I think that was my first game of actually getting a lot of balls coming at me on purpose. It probably happened about four times, and three of those were completed. It was a learning experience, going against someone like him who is considered one of the top five receivers in the league. It was a good test, and a welcome for me into the NFL as a real slot corner. It was a good experience; I take it all in stride.
This week, I'll probably be matched up against Victor Cruz. He plays the slot, so if I am it won't be any surprise. He's a great receiver and he'll definitely be a challenge as well.
Sunday is also the night the Eagles retire Brian Dawkins' number. I have a lot of memories of him. I used to use him all the time in Madden. I have all the memories you can imagine of watching him and playing as him on video games. For him to actually come here and for me to actually see the legacy is awesome. I'm excited for him and excited to see him.
---
In this entry, Boykin talks about making a fourth quarter statement with his play and what he sees in this year's defense ...
Yesterday was our home opener against the Baltimore Ravens. The defense had a big game-ending defensive stand at the end of the fourth quarter. I knew the Ravens were going to come at me. I'm a rookie. There's two minutes left in the game. There's a three-time Pro Bowl receiver that I'm lined up against. I had been anticipating it the whole game. When the game was on the line, I knew they were going to come after me and they did just that. And I stepped up and made a play on them. I'm glad to come out with a win.
I think those two plays were a statement for me. This is the second week that I've been tested a lot. I'm just trying to hold my own every week. I know it's going to be a battle, but I have the most confidence in myself and the coaches have confidence in me, and I think it showed why they respect me and have me out there playing.
We were excited when we knew we'd have a chance to end the game. There was nobody looking nervous, nobody looking any type of way but hungry. And that's the type of mindset we have. Offense did their job, and we wanted to come out in the game and make a statement at home for the opening game.
Even though I wasn't on this team last year, I see a difference in the defense from last season. I was watching film from last year, and it's like day and night in terms of the intensity; just the way we're flying around the ball. I think that's just the second year of learning the scheme and having the experience. It basically comes down to putting people in the position to make plays, just like the coaches have been doing.
Whenever the defense is on the field we want to make a statement. We came up big in this game. Last week, offense came up and saved the game. So I think it's just an overall collaboration of us having each other's back. We knew the Ravens were a great team with great weapons offensively, as well as a big defense. Everybody knows that. For us to come out and play with them and fight it out to the end and come up victorious, it shows that we're a good team and we're going to fight.
Playing my first home game at the Linc was awesome. I couldn't even hear at the end of the game because of how loud the crowd got. They were just excited and ready for us to play, and I think that helped us win. It's a lot louder than playing in college. It's a bigger stadium at Georgia, but the fans are way more passionate here. And they really love their Eagles, so I'm excited to be playing for them.
---
In this entry, Boykin talks about his first regular season game and what it was like being on the sidelines for a dramatic Week 1 win ...
Sunday was my first regular season game in the NFL. It was a little bit surreal leading up to it, but I definitely put a lot of time last week with my coaches to prepare for it. So I felt like, although I didn't have that game experience, I had prepared so much that I knew I could play with everybody.
Todd Bowles, our secondary coach, is just a detail freak. He pays a lot of attention to detail; making sure your technique is right on every single play. And that's something he harps on in practice so much that when you get to that game situation it's second nature. Once you get to that situation, we're just comfortable with our technique.
Cleveland Browns Stadium was loud. I was excited. We went out during warm-ups and were getting heckled by their fans. They were saying, "Boykin, I can't believe you made the team." It was just crazy stuff. But it's that type of atmosphere you want be in and you want to compete in.
I almost had an interception in the game. That was a route I had been looking at all week. And I knew that if I could stick with my guy, I could get it. I actually didn't think I was close enough to get both hands on it, but I ended up making a good play.
The game itself was nail-biting. Just knowing that we didn't play our best, and for us to still have a chance to win that game was just intense in itself, but as soon as we got in the red zone I knew our offense was going to take care of business.
I felt like that was a game where we both came together, offensively and defensively. We knew that we had each other's back. The offense was kind of struggling at first, but every time they came to the sideline we would tell them just to continue to fight. We were going to do our best to keep points off the board for them. Stopping the Browns' offense gave our offense momentum and allowed them to up their game for us to win.
A lot of people have been asking about my health. I'm fine. That last play when I went down, I guess on TV they didn't show me walking off to the sideline. I got hit in my gut and it knocked the breath out of me. But other than that I'm ready to go this week. I'm not sure who hit me, but it was a big lineman. He probably saw the smallest guy and tried to take a shot.
I watched the Ravens game Monday night. They looked solid. Their offense was clicking; defense is good as always. We have our work cut out for us again. It's our first game at home, so we definitely have to do something special.
---
In this entry, Boykin discusses his new role as the starting nickel cornerback and getting ready for his first regular season game ...
Last Friday was the roster cutdown day. I found out that I will be the starting nickel corner, but I also found out that Joselio Hanson was cut. I found out in an unusual way. My family and I were about to go to the mall and I checked my Twitter. Somebody had added me and said, "Congratulations, Brandon, on getting the slot job." I checked it again, and someone had said that Joselio was out and that I was is in. Shortly after that, Joselio called me and told me that he got cut and wished me good luck. It was a crazy day for me.
My talk with Joselio was pretty short. He just wanted me to know they cut him. He said that a couple teams were looking at him and that he'd be fine. I told him thanks for everything he had done. Now that he signed with the Raiders he's back home in Cali.
Friday was my first real "welcome to the business of the NFL" moment. I had been around Joselio this whole time, and I looked up to him because he's the person I was competing with. Now, with him not being here it's kind of eye-opening and unexpected. But at the same time, it's an opportunity for me, so despite that being a loss I'm ready and excited about it.
Sunday is my first regular season game. I think it'll be a little bit of a jump in speed, but I think I'll be able to adjust. We played Cleveland in the preseason and I was playing against the starters, and I'm sure they were going as fast as they could. So I don't think it'll be much different.
I didn't allow myself any time to reflect on my new role and I won't. Feeling like I've accomplished something is going to prevent me from progressing. In my mind, today is just another day. I got my shot and now I really have to prove myself and take advantage of it. I know people are expecting me to do that, so I have to prepare double time.
None of the players have really said anything to me, but getting the job is not a congratulatory thing for me. It's more so, "all right now let's see what you're going to do." Dominique Rodgers-Cromartie and everyone said I'd be OK. They said I have the ability to play; otherwise I wouldn't be in this situation. They all have my back. They know that I can play and I'm glad they'll be by my side when we get to play Cleveland on Sunday.
---
In this entry, Boykin talks about wrapping up the preseason, college rivalries and his first Eagles Flight Night! ...
Thursday night against the Jets is the final preseason game of the year. This will probably be the most action I see this preseason. I saw a lot last game, and this will probably be like a practice game for me in the sense of playing time. I'll be playing in the nickel and doing the same return and special teams stuff.
The Jets haven't scored a touchdown in the preseason. That's a challenge for us, to keep them out of the end zone. I don't know if their starters are playing or not, but we're going to treat it like a real game and try to keep them out of the end zone.
Even though it's the last preseason game, you have to be thinking about the Jets. That's the next move. You never want to get ahead of yourself. Take this next game as an opportunity to get even better. We're treating it like a regular game as far as game planning is concerned. We're going over the formations and the tendencies; all that type of stuff.
I was looking forward to getting some "Tebow Time," so it's disappointing that he won't play. I was trying to get a pick or a sack or something. I never beat him in college, two years in a row. He threw a touchdown to Riley Cooper and he one-handed it in the back of the end zone. That's something I'm not proud of. It was a good catch. There was no way he would've caught that any other day.
There are some good rivalries on the team from college. Fletcher Cox, Jamar Chaney and I, we're always talking about the SEC. Everybody wants to stake their claim. Missouri plays Georgia in the second week of the college football season, so Jeremy Maclin and I may have a little something-something going. I have faith in my Dawgs.
It's been a pretty smooth transition, getting adjusted from college to the NFL. I don't feel like there's a huge difference. I felt like so far I've been able to make a couple impact plays. I know there will probably be faster and better competition once the season starts, but I'll get better also.
Sunday night was Eagles Flight Night! at Lincoln Financial Field and the whole secondary did the Dougie. It was unplanned. We were on the sideline and Dominique Rodgers-Cromartie said, "We've got to Dougie, all the DBs." I had told him I knew how to Dougie before we got out there, but I didn't think he was serious. So when we got out there, I just did it.
It was fun, interacting with the fans. It was my first Eagles Flight Night!, so just seeing how many people came out to watch us practice in shorts was amazing.
---
In this entry, Boykin breaks down his big play Monday night and writes about adjusting to the pro game ...
Monday night against the Patriots was another good opportunity for me. I felt comfortable out there, whether it was on special teams or defense. I feel like I can make plays and see things as they're continuing to happen. It kind of feels like college where I expect myself to make those plays and I expect myself to contribute.
It's kind of hard to see a noticeable improvement in my game right now, since I've had limited reps in these first two games. I got a little bit more playing time in the second game compared to the first. I feel like my technique and my reaction speed have improved. I'm just trying to build on that for the next game.
I was excited to play in the nickel Monday night. I have been preparing for this since Training Camp started. No matter if I was in there with the first team or second team, I knew the personnel would be different, but the schemes didn't change. I knew if I did my job I'd be fine.
The speed of the game has slowed down but it's still a little bit faster than college. I'm sure that when the season starts it'll get faster, but this is great preparation. I'm able to make plays, so I can only get better.
I expect myself to make plays. When I'm at gunner, I want to be the first one down there. When I'm in at kick returner I'm trying to get past the 50 every time. I have high expectations for myself but I think that's good, being a guy coming in and trying to make an impact.
Speaking of gunner, I had a nice play on punt coverage Monday night. I really didn't expect it to be a bang-bang play like that. Mat McBriar did a good job of hanging the ball up and the Patriots defenders were double-teaming me, so I knew I had to get an outside release. They tried to push me into the watercoolers, so I had to turn the burners on real quick.
I actually thought he was going to fair catch it because I was only about 5 yards away. But he caught it, and I thought, "Okay, this is my chance to blow him up," and I kind of side-swiped him, but I didn't get him as much as I wanted. But I caused the fumble, and it was a good play.
There are only two preseason games to go before the start of the regular season. Knowing I'll play three, maybe four quarters this game Friday night, I'm trying to improve and make more plays than I did last game; just trying to build on each performance.
---
In this entry, Boykin looks ahead to the Monday night game against the Patriots and writes about settling into his new home ...
Camp is over, and we're back in Philadelphia now. I grew up in the suburbs, but when I'm back at home in Georgia I'm always in the city. So I guess you could say I'm a city and suburbs guy. When I got to Philly in OTAs I thought, "Wow, this is really different." There isn't much green grass, but I'm adjusting.
My girlfriend came up to the city from Georgia and helped me decorate, so my place really looks like a house now. There are a lot of good things to do around town. Today, I'll probably get out of the house and check out some stuff; maybe go downtown or to the mall.
The best part about Philadelphia is the skyline. I can see it from my house and I can see it when I'm just driving around. I think that's pretty cool. It's something I haven't really seen or experienced. It makes you feel like you're really in a city atmosphere.
When I first got here I saw the Liberty Bell, ran up the Rocky steps, all the type of historical stuff. I didn't get a picture at the top of the steps, but my brother did. I'm going to have to get one later on.
To get ready for tomorrow night's game, I'm continuing to go over my film study. As a pro, it's kind of different compared to college. With classes and things like that you don't have as much time, but now, this is definitely your job and what you're supposed to be doing each and every day. And I'm getting adjusted to that, just kind of paying attention to detail a lot more than I did in college. It's helping out a lot, just knowing routes and knowing what's going to happen when they do run certain routes and it'll carry over into the game.
It's the best feeling to be out of school and playing professionally. It's nice having a break and not having to go from class to football. Now, you can just strictly focus on your job. And getting paid for it isn't bad either. In college, you don't get anything but a meal ticket, but it's really nice. I'm enjoying it.
Being back home and working at the NovaCare Complex makes you feel like you're in the groove of things. You're in an NFL system; in an NFL season. You're doing the whole process of being here on time and going back home and doing your own thing. I'm excited and I'm adjusting and I'm looking forward to the things to come.
---
In this entry, Boykin talks about his last days at camp, his favorite memories and making an impact on the team.
Yesterday was the last day of Training Camp. I was really ready to get out of the dorm rooms, that's for sure. Everybody was excited to go home. Our last practice was a good one, and now we're back to a more normal schedule.
I felt like the practices weren't that bad. It was just the grind of doing it every day and having 15-hour days. I was there since the first day, so it had been almost three and a half weeks. Just mentally, it kind of gets to you. But in order to go through this lifestyle you have to be mentally tough. Coming out and hitting every day, having to go through meetings and going through all of these conditions definitely prepares you mentally. It's a long, grueling season, so you have to have that mindset.
Part of that is meetings. We are in the meeting rooms a lot longer than we're on the field. We're probably meeting 50 to 60 percent of the time, maybe even more. After a long practice, you eat and then you sit in there in meetings for two or three hours; it can get long. You start daydreaming, your mind starts to wander and it's tough to keep focused. But you have to really know what you're here for and what your responsibility is as a football player.
But you can always count on DRC to get everybody laughing. There's no telling what's going to come out of his mouth at any given time. And he's just a fun guy to be in meetings with. He might just break out in a dance. He makes the days a lot more fun.
Still, Coach Bowles has pretty good control over the room. He's a laid back guy, but when it comes down to business we make sure we get it done.
My favorite part of Training Camp was probably my first day here. Having the experience of seeing all the media, seeing everybody come in and having my uniform for the first time and it kind of sinking in was great. There's no real fun part of camp, so I guess if you call that fun, that'd be it.
I didn't get Mychal Kendricks back on purpose after he pulled his prank on me, but he was trying to catch a ball before the game, and I swatted it down and I hit him in the face. It was kind of an accidental prank, so I'll take that.
I feel like I've made an impression on the coaches. Something I've been trying to do every day is keep my head to the ground and do what I'm supposed to do. As a rookie coming in, you have a lot to prove to everybody, and I think I'm doing that right now.
As far as where I stand on the team, I feel like any impact I make on special teams is what coaches want me to do right now and just try to fill in wherever I can. Whenever I get to play on that defensive side of the ball I'll be ready. I know I'm a playmaker and that's what I'll do.
---
In this entry, Boykin discusses talks about his preseason debut and realizing his dream of playing in the NFL.
Last night was my first action as an NFL rookie. I think I did pretty well. You can't really simulate the kick returns, so for me to have my first action and to be productive at it, I think that was really good. But I definitely have room to improve.
The coaches have given me the chance to help the team in the return game, and Damaris Johnson and I are trying to make an impact as rookies. They're giving us a chance to return kicks and punts and I'm just going to do my best.
Getting to return a kick early in the game took the jitters away. It just slowed everything down for me, knowing that I can play this game and play in this league. That was a great start to my career; a great start to my kickoff career. Hopefully I'll have a lot more great moments.
Being out there on defense, I didn't get much action. The Steelers were really running the ball a lot. Playing cornerback in the nickel, I didn't get much action in the passing game. But to improve my game, I'm just continuing to work on the things I was doing at camp. That goes for my technique, especially in kick returning. Now that I've had a game under my belt, I can kind of critique myself in a game situation.
Yesterday was my first time in the locker room at the Linc. I haven't really taken it all in yet, but the locker room is similar to our practice facility. I guess that makes it feel a little bit like home, but all in all it feels good.
Playing in that first preseason game was a great experience. Finally being here, you're finally accomplishing something that you set out to do your whole life, and now it's about trying to prove to everyone why you're here.
---
*In this entry, Boykin discusses Sunday's tragic news and preparing for his first NFL preseason game... *
Sunday was a crazy morning after hearing the news about Garrett. Being a rookie, I had known him for about two or three months. He actually was taking me to breakfast about two or three days ago. It definitely wasn't a good morning for everybody. But at the same time, I know he and Coach Reid would want us to continue to practice and get ready for what we have coming up. We definitely want to do everything we can on the field to play well.
There was a definite change in the mood at practice yesterday. I think we had a lot more excitement, honestly. It wasn't a somber mood; it was people knowing that we've got to do what we've got to do. We know that this is something that could motivate us and give us a cause to go and do something great. We can earn it for Coach Reid and his family, and Garrett at the same time.
At the same time, we do have a game Thursday against the Steelers. I have the same mindset as always; just going through my pre-game routine, studying my plays and focusing in. We're up here in the mountains, so there aren't many distractions, but for it being my first game I'm just going to continue my routine that I did in college and just get ready.
Training Camp was a little different with all the fans being out here the first couple days, but now I've settled in and am just out there practicing and doing my job every day. You have to have fun at the same time, so being able to kick it with some of the guys and getting to know everybody makes it a lot better.
Today is our off day, so I'm actually going to head back to my house. I just got a house in Philadelphia; I'm going to check it out for the first time. I'm excited about that.
I'm sure I'll play corner in the game Thursday. I know I'll be returning kicks, but I'm just not sure how the cornerback rotation will go. Of course, I'm sure the starters will start it off. I'm guessing around the second half the coaches will put me in. Whenever my name is called, I have to be ready. Anybody can go down at any moment, and you have to have that mindset. But it's really exciting.
---
In this entry, Boykin talks about his day off, competing for a job and carrying his teammates' gear ...
Tuesday was our first day off, which was much needed. I went to Target and got a bed cover (to make my bed a little bit more comfortable), a blanket and an extra pillow. There isn't much luxury in those dorms. I just rested and caught up with my family.
Training Camp is not as bad once you get into the groove of it. With that off day it kind of messed up the rhythm, but coming back today you just have to focus your mind and get back on it. But the game is a week away and I'm excited about that. And that's what I'm trying to focus on.
I feel like my ceiling is so high; I haven't even come close to reaching it. I think that'll come with experience. Not even this year, maybe not next year, but maybe a couple years into the league I can reach that ceiling. But I know I have a lot more potential that I haven't reached.
As far as practice, I'm getting adjusted to the speed and everything. It kind of feels like I'm back in college, so to speak. I can't say that for the game, but at least in practice mode I feel comfortable with the plays. I'm just trying to make plays as much as I can. I had a couple pass breakups and a sack yesterday, so I think I did pretty well.
I'm battling for the nickel corner spot, and I think I'm doing pretty well. I'm just trying to make plays when I can. As far as battling, we can't really predict anything. I know the game kind of dictates what happens there. But I'm just trying to do everything I can, and learn everything I can.
Even though I'm competing with Joselio Hanson, there's no bad blood. Despite what goes on in the media, it's not like that at all. We're good teammates and we kick it together and we can talk about anything.
The coaches haven't told me what I'll be doing in the Steelers game yet, but I'm sure I'll be playing nickel and returning, because that's what I've been working on. So hopefully that's what will happen.
Nnamdi Asomugha and Joselio got me to carry their helmets after practice yesterday. It's all good though. I expected worse than this. Hopefully they'll keep it at a minimum, though. I'm not going to rebel, because that'll make it worse. I don't want to reach any headlines saying I'm trying to be a bad teammate. It's all fun.
---
In this entry, Boykin writes about the team's passionate fans and his first live tackling experience in the NFL ...
Live hitting at Training Camp started Saturday afternoon. You really don't know what to expect until you put the pads on and you can really see how fast it is, but I think I did pretty well. I was able to get my hands on a couple balls. Every receiver is good, so I have to figure out how to outsmart them; out-technique them.
I was called for pass interference on a play against Chad Hall. The referee said I held the jersey a little bit too long, but that's going to happen. That's why we're practicing, so next time I just have to learn to use my technique right. I could've made the play without holding.
Coach Reid met the media Thursday and said I was the leading candidate for the kick returner job. That just went in one ear and out the other, because you have to go out and grind every day. For me, my mindset is that I'm at the bottom of the depth chart. I'll never get complacent. I never want to come out here and not give my all. But it's good to hear. It means they have a lot of faith in me, but I definitely have to come out and perform.
Today was also my first experience around the team's fans. They tried to warn me, but there's nothing like experiencing it for yourself. We came out for a walk thru and they were kind of heckling me, but I was able to make a couple plays and they laid off and starting cheering. But it's fun and it keeps you motivated to make plays.
After the workout this morning, I saw Dominique Rodgers-Cromartie and some of the other guys shooting hoops in the parking lot. In a couple weeks (when I get my legs right and we're through a couple games), I might throw down. Think I can't? See below.
For me, the next step is just being consistent. I've been out there on the field and have seen what it's like, so I know I can play with these guys. I know I can make plays as I did today; getting my hands on a couple balls. But I think just knowing what you're doing and being consistent every day, that's the way to gain the coaches' trust and move up the depth chart. If I can do that right now, before the preseason game, hopefully I'll be able to get some plays.
---
In his first entry, he talks about getting used to the speed of Training Camp, his favorite campus food and teammate pranks.
Camp has definitely been an adjustment for me; just trying to get the pace of the game. We had a taste of it in mini-camp, but once you come out and put the helmet and pads on, it's a little bit different. The big thing I want to focus on is my fundamentals. A lot of the time I just relied on my playmaking ability in college at Georgia, but in the NFL everybody's the same athletically, so I have to hone in on my fundamentals.
My first priority is making the team. The second is trying to earn a spot on the field and contribute. My roommates here at Lehigh University are Wade Bonner, Cliff Harris and Phillip Thomas. They have the rookie defensive backs together here at camp. Unfortunately, we haven't had much time to do anything. Once we get back to the room, we're going to sleep then waking up, going back to meetings and back to practice again. I don't even have a TV in my room. I've got Netflix on my iPad, so I use that. But that's about it.
The food here is pretty good. We had a pretty good meal plan in college, but I'd say it's comparable. It's nice to not worry about food, since it's provided for you. That's a good side of it. My favorite dish is the grilled chicken with the tomatoes. I get that every night.
Mychal Kendricks pulled a prank on me on Tuesday. He said a bug flew in my food, so I had to get another tray. But when I finished he said, "I'm just playing."
Don't worry fans, I'll get him back.