Football was not always Plan A for defensive tackle Ronnie Cameron.
Cameron planned on attending an Ivy League school to focus on his education after he graduated from Holy Trinity High School in Westbury, N.Y. However, Hofstra offered Cameron a scholarship to play football.
The NFL wasn't something that Cameron thought was a possibility when he arrived on the Pride campus. Cameron was determined to use football as a way to pay for his tuition while he pursued his bachelor's degree and MBA in Information Technology.
In 2009, Hofstra announced that it was dropping its football program. As one program disbanded, Cameron transferred to Old Dominion in Virginia which has just brought back football for the first time in 68 years. Cameron opened some eyes after his first year at Old Dominion notching 72 tackles as the Monarchs went 8-3 in the 2010 season. NFL scouts started to show up and tell Cameron that he had a chance to play in the NFL.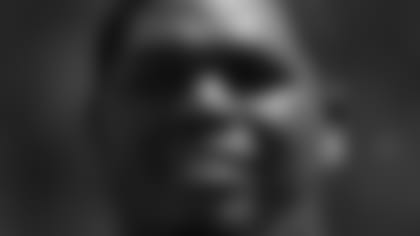 "I wouldn't say I paid a lot of attention to it. I always worked hard as a football player, but I made sure that I always got my academics done," Cameron said.
In just three years, Cameron completed his bachelor's degree and one year later had his MBA. Cameron never took fewer than 18 credits a term and went to school year-round. In addition to his studies and football, Cameron also worked jobs on campus. Cameron developed his work ethic from his parents. His father, Ronnie, emigrated to America from Trinidad, while his mother, Ritha, came to the United States from Haiti.
"They came to this country with absolutely nothing," Cameron said. "They were able to build two very successful businesses. Neither of them was able to finish high school. They just worked hard for everything they got.
"I grew up just watching them work several jobs at one time. They allowed me to start from a certain place. They are the reason why I do what I do because how hard they worked."
Cameron's parents instilled the importance of getting a good education.
"Education was paramount. Education was always the biggest thing in our home," said Cameron, who has two siblings. "Football was great and it kind of just happened, but education was always first. It was what I paid attention to the most."
As a senior, Cameron had 73 tackles, 6.5 sacks and led the Monarchs with 17 tackles for loss. He was named the Colonial Athletic Association Defensive Player of the Year, earned first-team All-American honors and, most important to Cameron, was the CAA Football Student-Athlete of the Year. Even though he wasn't drafted and had job offers in the consulting field, the 6-2, 295-pound Cameron signed with the Chicago Bears as a rookie free agent last year following the draft. He was released in August and claimed by the Cleveland Browns. In fact, Cameron played against the Eagles in the preseason. Cameron landed on the Browns' practice squad at the start of the season.
"It worked out well. It gave me a freer mind," Cameron said. "I could play football for the love of it knowing that I had a Plan B."
During his time in Cleveland, Cameron spent a lot of his free time volunteering in the community and started writing a blog for the Huffington Post. While writing for the Huffington Post, Cameron devoured as much news as he could. He realized, however, that most of the news he watched or read about was negative.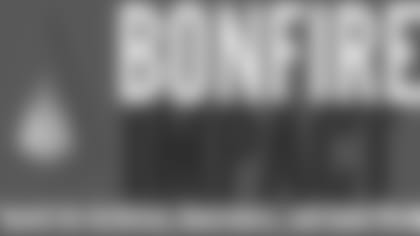 ](http://www.bonfireimpact.com/)
"There was just so much negative stuff out there. There's always this political scandal or that celebrity drama or this person gunned down or that person slain. It gives humanity a bad name and makes it seem like we're negative when there's actually a lot of people out there doing really good things, really positive things," Cameron said. "We need to set a better example from a media standpoint to have more people do positive things and let them know we live in a good world. Bad things happen, but for the most part we live in a good world."
Cameron put the skills he learned in the classroom to good use and founded Bonfire Impact, a news network which "celebrates people doing the right thing, big or small," while "inspiring the next generation of givers and doers." Cameron did a lot of the planning and design for the website while working with Gregory Scott, an Old Dominion alum, on the construction of the site. He reached out to various colleges to assemble the rest of the staff. Five months since the launch of the site, the awareness and traffic is continuing to grow on a daily basis.
"It's not the most profitable thing in the world, but I'm not looking for it to be. I want something that serves people in the right way. I want to give people an option where they can read good news, get something positive and something to uplift my day instead of the usual doom and gloom of mainstream media," Cameron said. "We see the Mark Zuckerbergs and all of these Internet startups. We think that they're just really, really smart. It's not just about being smart. It's about putting in a lot of work. It takes a lot of long nights just sitting there and planning."
Cameron finished his first season in the NFL on the Eagles' practice squad and was re-signed to compete for a spot on the team in 2013. Cameron praised the Eagles, the NFL and the NFL Players Association for the support that they've provided. He is focused on becoming entrenched in the Philadelphia community. With so many professional athletes here in Philadelphia, Cameron envisions Bonfire Impact as a one-stop shop where fans can learn about all of the good that is being done off the field.
Football may not have been Cameron's Plan A, but it helped spark a bonfire which will hopefully turn into a blaze of good news for everyone - not just football fans.