This is the cover story of the October 6 issue ofGameday Magazine,which can be found at the Lincoln Financial Field Pro Shop as well as Philadelphia-area ACME supermarkets this weekend.
In a flash, Rodney McLeod appears out of nowhere to stop a ballcarrier from making a big gain.
In a flash, McLeod blitzes off the edge, getting in the face of a quarterback to force an errant throw.
In a flash, McLeod learned how quickly the game of football that he loves dearly could be taken away from him.
McLeod suffered a season-ending knee injury on September 23, 2018, while making a tackle of Colts running back Nyheim Hines in the third quarter of the win over Indianapolis. The Eagles lost more than a versatile chess piece, who can roam the deep middle of the field to thwart big plays or catch quarterbacks by surprise as he did to Atlanta's Matt Ryan in the 2017 NFC Divisional Round showdown. McLeod's blitz resulted in a 10-yard loss to end the third quarter and ruin promising field position for the Falcons.
The Eagles lost a player with the heart of a lion, who went undrafted in 2012 because of a perceived lack of size. But at 5-10, 195 pounds, McLeod flies around the field with a purpose and a mission, making up for quantifiable traits with intangibles that are beneath the surface.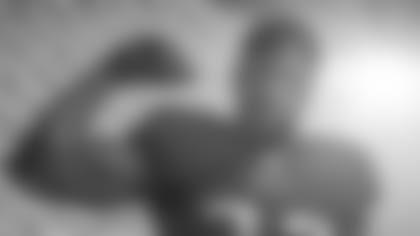 On the night of August 22, McLeod stood on the sideline at Lincoln Financial Field. The national anthem played, and after its conclusion, McLeod reached for a tattoo on his right bicep that reads "NaNa" and pointed to the sky. After an arduous rehab process, McLeod was about to rejoin his teammates on the field. It was a preseason game against the Baltimore Ravens, but for McLeod, it was the final hurdle in his recovery. Could he step out on the field and be a relentless force in the secondary once again? Could he play the game with uninhibited passion, or would the injury creep in his mind?
As he tapped on the tattoo, McLeod thought about the woman he honored with that ink and how there was no way he was going to let her down.
Katherine Graham, or "NaNa," was McLeod's grandmother, but more like a second mother to him. McLeod spent time with NaNa on weekends growing up, doing fun things like going to the movies or the mall. McLeod admired NaNa's strength most of all, in how she was willing to be brutally honest even if you didn't want to hear the truth. NaNa supported McLeod as he became a budding football star at DeMatha Catholic, a national powerhouse at the high school level located in Hyattsville, Maryland that also produced Eagles Hall of Fame running back Brian Westbrook.
But the tables were turned when NaNa was diagnosed with pancreatic cancer. McLeod was there in the hospital with NaNa when she learned that the odds of long-term survival were not very good. McLeod visited NaNa when she was hospitalized, but admitted that it became tougher and tougher to see her ravaged by the disease.
Katherine Graham passed away on April 17, 2008, when McLeod was in his senior year at DeMatha. Before she passed away, she made a bold declaration that McLeod, the oldest of six children in his family, was going to do something special. NaNa didn't specify what exactly that meant, but the words serve as motivation to this day.
McLeod received numerous college offers after a high school career that resulted in all-state honors and multiple conference titles. To the surprise of his family, McLeod stayed close to home and attended the University of Virginia. The program started to turn a corner under then-head coach Al Groh, the father of Eagles offensive coordinator Mike Groh, but McLeod only experienced one winning season with the Cavaliers. Leading up to the 2012 NFL Draft, McLeod was invited to play at the East-West Shrine Game, but teams weren't sure what to make of him. He didn't have elite speed to play corner. He didn't have the typical stature for safety. The then-St. Louis Rams offered to sign McLeod as an undrafted free agent. McLeod not only made the roster, but became a starter in his second year.
He hit the free agent market after a 2015 campaign where McLeod had 106 tackles, forced three fumbles, and recovered another for a touchdown. The Eagles wanted to pair someone with Malcolm Jenkins and thought that McLeod would be the ideal complement. In four years, McLeod went from not being wanted in the draft to having his choice of many teams offering lucrative long-term deals. When he signed on the dotted line in Philadelphia, McLeod thought about NaNa.
"My grandmother was very special to me. Her goal was to see me graduate and then to see me reach my dreams and to have reached my dreams and to reach them in this manner and to not have her be here was hard for me," McLeod says. "I know she's always out there watching over me, but it was a hard time for her not to be able to literally see it physically and me see her experience everything with me."
McLeod and Jenkins instantly formed arguably the best safety duo in the league. McLeod had a career-high 117 tackles and three interceptions in 2016, starting all 16 games. Furthermore, he was named an alternate for the Pro Bowl. The two combined forces again on the Super Bowl Championship team of 2017 as McLeod matched his previous year's total of three interceptions and added another 18 tackles in the postseason run.
But just three games into the title defense, McLeod was forced to embark on a different journey than his teammates, one that would test him mentally and physically. He kept thinking about how strong NaNa was during her time of illness and wouldn't allow himself to wallow in pity.
"It took a lot to get back. You're working out each and every day on little muscles and, obviously, rehabbing the knee, but then also the mental aspect of it to do something constantly each and every day and at times not necessarily see the results that you want," McLeod says. "It was up and down and there were mixed emotions each and every day. I was encouraged. I stayed positive."
McLeod started writing his thoughts in a journal, trying to find a release for his thoughts. He previously had missed just two games in his first six NFL seasons.
"It was a huge adjustment having the game taken away from me just in a split-second. We always talk about it, but you never think it's going to happen to you," McLeod says. "When it does, how are you going to respond? It was rough in the beginning, of course, not being out on the field, not being able to be vocal for my guys, not feeling a part of the team. The one thing that we have here is a brotherhood. They found a way to rally behind me and make me still feel like a part of everything. That was big in getting through the rehab process."
On August 22, McLeod passed the critical test with flying colors. He not only started, but he was in on the tackle on the Ravens' first offensive play. He had three tackles that night and knocked off the rust.
McLeod has been a stabilizing force on the back end of the Eagles' defense, one that has been ravaged by injury early in the 2019 season. McLeod hasn't missed a snap, registering 16 tackles and two pass breakups. His blitz of Falcons quarterback Matt Ryan in Week 2 resulted in an interception. The coaching staff is moving McLeod around the field, utilizing his versatility as if he wasn't absent at all.
"I missed the game a lot," McLeod says. "It's hard for me not to walk out of that locker room any day with a smile on my face now being back out there."
As the Eagles prepare for Sunday's game against the New York Jets, NaNa will certainly be on McLeod's mind as it is the kickoff for the NFL's Crucial Catch initiative to bring awareness to all different types of cancers.
"It's a large community of us who are affected by cancer. I'm just one person of many, just sharing my story and hoping that my story can hopefully touch someone," McLeod says. "The main thing is ultimately to find a cure, so a lot of us don't have this feeling of losing someone that we love the most. That's my role in this. There's a lot of others doing amazing jobs. I'm just a part of the puzzle. I'm just using my platform the best that I can."