Sav Rocca has to know it. If there's one thing Philadelphia fans are not, it's subtle. So when Rocca lines up to punt at Lincoln Financial Field, a chorus of boos almost always serenades him.
But it's not for him; it just comes with the job. Really, how many people paid admission to see Rocca punt after a failed offensive series?
So doing his job when he's out there, he said, is quite necessary. That's why an aim for consistency took the wheel of his offseason and training camp workouts. This camp, it was a battle against himself, and not an incumbent; essentially, a battle to make sure he isn't in Dirk Johnson's shoes any time soon.
So for Rocca, carrying a relatively strong preseason performance into Sunday's opener against the Rams has been his focus.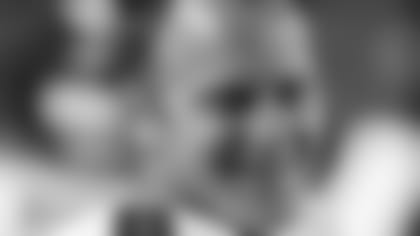 P Sav Rocca
"I suppose coming from last year, where my consistency was all over the place, especially early," Rocca said, "I just have to take it week-by-week to make sure every week is a good week."
Sure, Rocca's average of 40.6 yards per punt during the preseason isn't exactly the big total (42.0) he established in 2007. But to understand the true value of the "consistency" Rocca is talking about, digging just a tiny bit deeper is essential. Sure, he's still got the leg, as evidenced by a screaming 59-yarder against Carolina. But that's not necessarily all he's aiming for now.
First, Rocca pinned seven of his 17 punts inside the 20-yard-line, nearly 10 percent higher than his ratio from 2007. One of those punts, late in the game against New England, rolled out at the 1-yard line.
Rocca said the coffin-corner strategy isn't necessarily trying to get the ball out at the 1, but to put the ball in an area where it has a chance to, much like setting oneself up for an easy birdie putt as opposed to going for the hole-in-one.
"We've been trying to get him to iron out a lot of different areas of his game. Just this past week, we spent a lot of time working on directional punting," special teams coordinator Rory Segrest said. "Sav's got the ability to hang the ball up with a middle pooch. Again, it depends on the situation of the game, what we want to get accomplished, and by who's back there catching."
The opposition's return man, both Rocca and Segrest said, cannot be underestimated. The temptation to boom a punt with someone like the Bears' Devin Hester waiting like he's on a hunt must be avoided.
It's something the Eagles' own return specialist DeSean Jackson talked about after his punt return touchdown against New England – punters can outkick their coverage and give returners more room to make plays.
So Rocca sought to improve in that category, too. Despite a lower gross average during the preseason, his net average was 35.8 yards per punt – meaning only an average of 4.8 yards per return, down from 7.3 in 2007. In the field-position game, every yard counts, and during the preseason, Rocca gave his defense 14 more yards per game, on average.
"Generally, if you outkick your coverage, it can be a little bit easier for the returner," Rocca said. "Before you go out there, you know who the returner is and what he's capable of doing."
A want for consistency drives Rocca, and he expects himself to continue the production. Don't jump to conclusions, though – it was only preseason. Now, the punts count.
"I don't take anything for granted in this league," Rocca said.