When Andy Reid was asked about his team's ability to protect the quarterback at his last press conference prior to Sunday's NFC Divisional playoff game against the Giants, he looked like a man that wanted to knock on wood.
He didn't want to jinx his offensive line.
In the two games against the Giants in 2007, the Eagles gave up 15 sacks, including 12 in their Week 4 matchup at the Meadowlands which tied a single-game league record.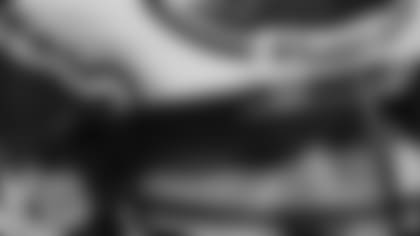 Runyan is listed as questionable, but he will play Sunday against the Giants
In the two games against New York this season, the Eagles haven't surrendered a single sack. Reid wants to make sure that trend continues on Sunday.
"I think it's important that we're good this weekend before I say anything," Reid said. "It's going to be a big challenge this weekend, obviously. We had enough sacks for five years worth last year against them. Anything I say, I preface with that. But, the guys have worked very hard at pass protection. They've just done a nice job up front and (offensive line coach) Juan Castillo has done a nice job with them."
Especially considering the rash of injuries that has plagued the offensive line this season. First, All-Pro guard Shawn Andrews was lost for almost the entire season with a herniated disc that required surgery.
Reid said the team is bringing Andrews, who returned to the practice field this week, back into the fold slowly.
"He has gotten out there and taken some pass sets, which I think is important," Reid said. "You have to start to walk before you can run. That's how he's approaching it and we are approaching it with him. He will be out this week, but he is further along than he was last week, at least from a football standpoint."
Max Jean-Gilles filled in admirably for Andrews right up until he broke his fibula in the second quarter against Arizona. All of a sudden the job belonged to Nick Cole, who has played better than anyone expected.
Against Cleveland, rookie guard Mike McGlynn took some snaps late in the game and he played well. But McGlynn tore his hamstring against Minnesota and is out for the remainder of the season.
One position Reid hasn't had to worry much about, though, is tackle. Tra Thomas and Jon Runyan have started every game this season, which is remarkable considering how much pounding the two of them take on a weekly basis.
Runyan walks around the NovaCare Complex with so much ice attached to his body during the week that he makes penguins and polar bears jealous.
Runyan is listed questionable for Sunday's game, but there's no question about it. He'll start his 212th consecutive game (counting playoffs) at the Meadowlands.
"That's pretty amazing, especially because of the way he plays," Reid said. "He's not out there doing a pillow fight. He is out there getting after it. He's an amazing guy that way."
Even though playing through injuries may catch up with Runyan one day, Reid said he's doing everything he can to delay that time from arriving.
"I haven't thought much about it," Reid said. "I'm sure some day it will. I haven't thought much about that. He's upbeat and positive about it. It's just a matter of making sure he feels alright here. That's why we've kept him off the turf."
Even Reid has been impressed with how different players have stepped up and filled a void left by someone else.
"I can't remember where we've had quite as much influx with younger players, in particular," Reid said. "Then you have the injured guys in there too, the ones who have stepped in. I can name other years when we had injured players who went down and other guys stepped up. But where young players ended up working into the lineup, I haven't had another year like that."
INJURY UPDATE: Fullback Dan Klecko was limited in Friday's practice and is doubtful with a shoulder injury suffered in last week's win over the Vikings. If Klecko can't play, Reid said the fullback duties will be split between Correll Buckhalter and Kyle Eckel.