Head coach Andy Reid has always said that the margin between winning and losing in the NFL is very small. On Monday, he quantified just how small that margin actually is.
"When you lose three games by three feet, you have to make sure you work things out and get that taken care of," Reid said. "I have a lot of trust in the players and my staff that we'll do that."
It was back to the drawing board on Monday at the NovaCare Complex. The Eagles find themselves back in the NFC East basement, having lost each of their first three divisional contests.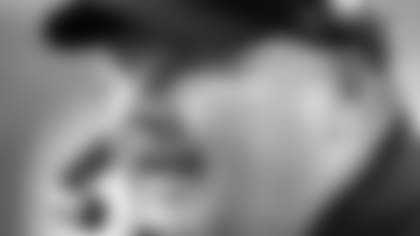 Andy Reid
The one constant in those losses was the defense's inability to stop the run against a nasty offensive line. Another was the offense's inability to convert in short-yardage situations.
The defense's inability to stop the Giants' running game meant it was going to be on the field much longer than anyone had anticipated.
"Obviously, time of possession was out of whack this game," Reid said. "There are reasons for that. The easy one to figure out is my defense and the way the Giants ran the football and controlled the football, but there's another side to that. The offense needs to sustain drives and stay on the field. We can do something schematically to tighten up the run defense and we'll do that. The players, obviously, have a part in that."
In other words, New York took the Eagles out of their game plan.
"It starts with the scheme and you make sure you are doing the right things and then, two, the execution," Reid said. "You go back to those two areas."
Reid also said the scheme was to blame for the Eagles' inability to get the necessary three feet on offense.
"When I mention that we can do a better job schematically and we can execute better, it's a combination of things," Reid said. "There's no reason that we should be stopped in the run game like that. I know what we can do. We've really been putting quite a little bit of emphasis on (short yardage) over the last few weeks here because of the games against Chicago and the Redskins."
Unfortunately, the troubles resurfaced again Sunday night at the worst time as the offense was unable to generate first-down yardage on a pair of third-and-short plays on its final possession.
Reid, who met with the team Monday afternoon, says the players must step up their play for the stretch run - final seven games - beginning this weekend in Cincinnati.
"I'm not worried about that," Reid said. "I know what I got as far as coaches and players. I know what we have to do and we're going to go do it."