If there's any current coach in football who understands the benefits of a first-week playoff bye, it's Andy Reid.
In his seven career playoff appearances as coach, Reid's led his Eagles to three first-round byes. In all three seasons (2002-2004), he reached the NFC Championship game, including reaching the Super Bowl in 2004. In the other four playoff appearances, in which Reid has won all of his wild card matchups, he's advanced to just one title game (2001). So yes, Reid remains undefeated in playoff openers as Philadelphia's head honcho, regardless of whether he had the bye week or not. But that week of rest, too, sure has gone a long way.
Still, he'll have another chance to advance to the NFC championship game this Sunday, when the Eagles travel to Giants Stadium to battle defending Super Bowl champion New York. This time, it's the Giants benefitting from home-field advantage and a bye, a luxury they couldn't enjoy on their way to a title in 2007.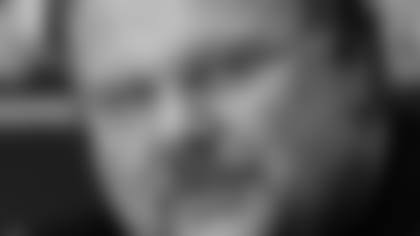 Head coach Andy Reid improved to 9-6 in the playoffs as a head coach
But the last time they did, in 2000, they rode it all the way to Super Bowl XXXV – coincidentally, also in Tampa, Fla.
"One of the advantages of having time off is that you give your guys an opportunity to rest, particularly the injured guys," Reid said. "But old trends show that that mattered, and the new trends show that that doesn't matter. So, who knows?"
Well, for one, the Giants. That 2000 squad did take its home-field advantage into the big game, but last year's championship team followed a far more treacherous path. As a fifth seed, the Giants caught hot at the right time and pummeled their way through three visiting stadiums, then only managed to pull the biggest upset in the history of the sport in Super Bowl XLII. Aside from the overtly dramatic, the Steelers took a likewise path to Super Bowl XL.
But this year's Giants should surely benefit. They lost three of their last four to close out the regular season, and getting 18-wheeler tailback Brandon Jacobs healthy is of paramount importance. With Jacobs banged up and ineffective in Week 14, the Eagles were able to completely control the line of scrimmage at Giants Stadium in the teams' last meeting. But a healthy Jacobs could mean a totally different story.
So, yeah, Reid was pretty much dead on. The only trend recently is that trends in terms of playoff seeding don't exist.
It's up to the Eagles, now, to try to make it all the way but this time around as the sixth seed in the NFC.
"I think (the Giants) will be as good as ever this weekend, and I would expect a knock-down-drag-out NFC East brawl," Reid said. "And they will be ready and we'll be ready."
INJURY NOTES:Reid updated the status of Pro Bowl guard Shawn Andrews, saying that Andrews is flying out to see his specialist in Marina Del Rey, Calif., Monday for a check-up on his surgically repaired back.
Reid would not offer any specifics, but did say there was a chance Andrews could return to practice as soon as this week.
"We'll see what the doctor says," Reid said. "If he OK's it, then we would allow him to get back out and start practicing. He's been doing a lot of cardio work, so that part of being in shape won't be a problem. The actual football shape, we'd have to let him kind of start off slow and get back in the swing of it."
Reid also said defensive end Victor Abiamiri is seeing a foot specialist to determine the progress of his Lis Franc sprain. Abiamiri has missed the last three games.
"It's just a recheck to see where he's at," Reid said. "We'd like to get him back out there practicing."