If the Eagles want to begin controlling Monday night's game with Cleveland early, throwing the ball might be a bit risky.
Though the Browns feature the NFL's 15th-ranked passing defense by yardage, they've accumulated the league's third-most interceptions with 19. The picks were a key to beating both the Giants and the Bills this season in each of their previous Monday night games. They picked off both Eli Manning and Trent Edwards three times en route to two primetime victories – two out of their four wins all season.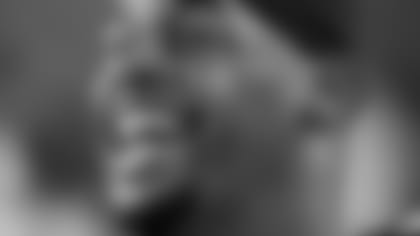 McNabb should be all smiles on Monday night as long as he doesn't throw any picks
And the turnovers – of which the Eagles haven't had a single one since losing 36-7 at Baltimore – must be avoided in order to keep the Philadelphia playoff hopes alive.
"They sit back. First of all, their players do a nice job, and I think the coaches put them in a good position to do that by a zone coverage. They do a nice job of being patient, reading, and then driving the football," head coach Andy Reid said. "They have good players to do that. Their linebackers are very active. All four of the guys on the back end there, the secondary, have real good hands and ball skill."
From the secondary, cornerbacks EricWright and Brandon McDonald and safety Brodney pool all have three interceptions, and safety Sean Jones has added another two. Playmaking linebacker D'Qwell Jackson has also added three.
Keeping control of the ball and picking up yardage on first and second downs should allow the Eagles to keep the pace in converting third downs, a major Achilles heel earlier in the season. But with a 12-for-18 performance against the Giants last Sunday, the Eagles were able to dominate the time of possession battle and keep the defense off of the field.
"It's important that we have manageable third downs, you put yourself in that position. I think that's probably what we've done best, along with converting, of giving ourselves an opportunity to stay out of the long third downs," Reid said. "Those are tough to do in the National Football League. We've done a better job on first and second downs there."
Should the Eagles be careful with the ball, the matchups suggest that, on paper, this game is simply a springboard into their last two. But there might be a number of difficulties if the turnovers and the failed third down opportunities pile up.
So, for now, Reid is focusing on Cleveland. And he's not growing a playoff beard like his players.
"We'll see," Reid said. "I have a very gray beard."