Correll Buckhalter believes he can be a starter in the NFL. He may get his chance on Sunday when the Eagles take on the Bears in Chicago.
"Obviously, I'm backing up Brian Westbrook," Buckhalter said. "But when I'm out there during practice, I try to do the things as if I was the starter. That's the same approach I'm taking this week."
In relief of Brian Westbrook, who strained his ankle early in the second quarter of Sunday's win over the Steelers, Buckhalter rushed the ball 10 times for 43 yards and caught six passes for 44 yards and a touchdown. The touchdown may always be known as Donovan McNabb's 176th career touchdown pass, the one that surpassed Ron Jaworski for the franchise record. But it was also a testament to the hard work and perseverance and resilience that Buckhalter has displayed after losing three NFL seasons to knee injuries.
"I'm proud of him. He has battled," head coach Andy Reid said. "For him to look like he's back to full, full speed. Last year I thought he was right about there, especially after the New York game, I felt comfortable that he was completely back. That top-end speed that he once had when he was younger and minus the knee surgeries, I wasn't sure that that would return. It looks like it's back now. I felt that way during training camp. What he did was he dropped some weight and just conditioned like crazy. He is a very hard worker and trains very hard in the offseason.""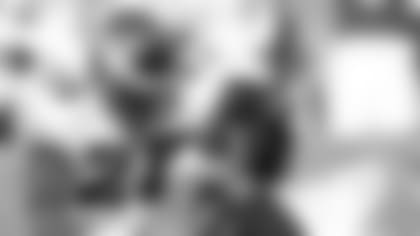 Two years ago, Buckhalter wouldn't have been able to do this leap
Buckhalter caught the pass at the 20-yard line, ran past linebacker James Harrison at the 18 and leapt at the 4-yard line over cornerback Ike Taylor into the end zone. Not that long ago, he wouldn't have been able to make that jump.
"I don't think my leg was to that point where I could jump like that, but at this point, now in my career, I feel great," said Buckhalter who employed the use of a 55-yard incline hill in the offseason to strengthen his leg. "I feel strong again. I feel young out there on the field. I'm doing whatever I can when my number is called to make plays."
It's not that often you associate the word "young" with a 30-year-old running back, which is what Buckhalter will be on Oct. 6. But without those three years of punishment, Buckhalter has the look of a rejuvenated player.
"In this game at running back, if you're getting touches, it kind of takes a toll on your body," Buckhalter said. "The three years I've been out because of injury has enabled me to feel fresh the way I do now. I'm just taking advantage of that."
Not too many times do you see a running back do the majority of his damage late in his career. One of the few recent examples is for Chiefs star Priest Holmes. The year he turned 28, Holmes rushed for 1,555 yards and eight touchdowns. It was his first year where he carried the ball more than 250 times. It was also the first of three consecutive Pro Bowl and first-team All-Pro honors.
What's interesting is if you compare Buckhalter's career stats entering this season to Holmes' former teammate Larry Johnson. In 2006 alone, Johnson rushed 416 times for 1,789 yards and 17 touchdowns. Entering 2008, Buckhalter rushed 400 times for 1,786 yards and 16 touchdowns.
And Buckhalter has proven to be more-than-capable when thrust into the starting lineup in Westbrook's absence. Against the Giants last season, Buckhalter rushed for 103 yards and had 138 yards from scrimmage, the third-highest total of his career.
"I know the will power I have. I know I've been blessed to play this game and I feel like I have a lot of football left in me," Buckhalter said.