On this historic day at the NovaCare Complex, let's take a look at what happened on the practice field.
Two days after wide receiver Jeremy Maclin suffered a torn ACL in his right leg, linebacker Jason Phillips incurred the same injury during a special teams drill. He was on the return team and went to block someone in the open field. Unlike Maclin, however, Phillips was placed on the Injured Reserve list Monday evening.
Five Eagles did not take part in Monday's practice - wide receiver Arrelious Benn (knee) and B.J. Cunningham (right foot), defensive tackle Antonio Dixon (hamstring), guard Todd Herremans (knee) and cornerback Cary Williams (hamstring).
Of those five, Herremans is the one who is closest to returning to action. Herremans left Sunday's open practice due to a right knee injury. The versatile offensive lineman said that his injury is not a major concern.
"(I'm feeling) good," Herremans told reporters. "We have the day off (Tuesday). I probably could have gone today. That might have been pushing it a little but I think I'll be out there on Wednesday. We'll see how the day off goes and everything, but it's nothing to be concerned about."
Cornerback Brandon Hughes exited Monday's practice with a hamstring injury.
What You Missed On The Field
Wide receiver Damaris Johnson still looks like one of the best players on the field, and he still hasn't dropped a pass in any practice. Impossible to cover right now.
Running back Chris Polk continues to show soft hands, as he had a few nice catches out of the backfield.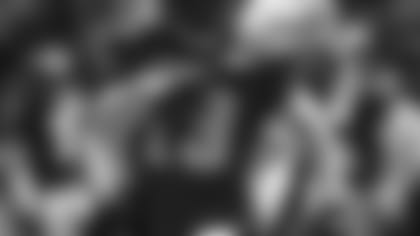 Wide receiver Jason Avant had the best catch - and the best play - of the practice. He was blanketed by a cornerback with a safety coming over the top deep down the seam, but Nick Foles unleashed the pass anyway. Avant, in between the two, skied over both defensive backs and high-pointed the ball, showing strong hands to not only make the catch but come down with it, too. Later in practice, Avant rant a gorgeous post route that had Colt Anderson bite hard on the inside fake. There must have been a good 10 yards of separation between the two when Avant caught the ball along the sidelines.
Wide receiver Greg Salas continues to have a really good Training Camp. He's crisp as a route runner and smooth in and out of his breaks to create separation. Salas had one particular play where he ran a perfect corner route, jumped, snagged the ball using perfect catch technique and then tapped both feet inbounds. The cornerback got turned around and was nowhere close to him.
Wide receiver Ifeanyi Momah has made some nice adjustment catches. On Monday, one came on a throw by Michael Vick where Momah got down low to pluck the ball before it hit the ground.
Cornerback Brandon Boykin has been the most impressive cornerback so far. He's held his own in coverage against all receivers, regardless of size, with notable work coming against DeSean Jackson. Boykin is getting his hands on a lot of balls and recording passes defended. There have been a few that should have been interceptions, and Boykin knows it, too. His coaches feel the same way. When defensive backs get their hands on the ball but don't come up with an interception, they "have to do 50 pushups," as mandated by coaches John Lovett and Todd Lyght.
"Get your hands on it, you have to pick it," Boykin said.
Defensive tackle Isaac Sopoaga batted down a Michael Vick pass at the line during red-zone drills.
Quarterback Michael Vick threw a few touchdown passes to wide receiver Riley Cooper during red-zone drills. One was an across-his-body throw made while drifting to the left. He lofted the pass to the right and dropped it placed it perfectly, where only Cooper could make the catch. Speaking of Cooper, his best catch of practice came underneath over the middle where he reached behind his body for a pass from Nick Foles, one-handed the ball and pinned it to his body.
Cornerback Bradley Fletcher made an excellent diving pass deflection at the goal line. He broke on the route and dove in front of the receiver with his hand stretched out to knock the ball down.
Adding A Spice Of Competition
Competition is something head coach Chip Kelly has stressed from the time he was hired in January. Kelly devised a way to increase the competition level during Training Camp when players begin to get physically and mentally fatigued. In the drills where the offense goes against the defense, points are awarded depending on which side of the ball comes out ahead. Monday was the first day Kelly unveiled the points system at Eagles Training Camp.
"It's set up depending on the drill, to be honest with you. Obviously in 3-on-2, it's a lot easier for the offense. Depending on how you do it, offensive can gain one point, defense can gain two. If it is third-and-short, the offense only gets a point, but the defense gets more for a stop.
"I've had the system for a while. It's a way to make practice a little bit more competitive and try to even out the balance. Sometimes it's a 1-to-2 ratio; sometimes it's a 1-to-3 ratio."
Jason Peters: I'm Still Learning
All-Pro tackle Jason Peters has shown no sign of ill effect from the Achilles injury which sidelined him for all of the 2012 season.
"I don't worry about it. I'm out there running around like it never happened. I'm just trying to get better every day," Peters said.
The five-time Pro Bowl selection is set to lock down the left side of the line as a rookie first-round pick will bookend him on the other side. Peters and offensive tackle Lane Johnson have very similar backgrounds. Peters was a tight end at Arkansas before transitioning to the offensive line when he was a rookie with the Buffalo Bills in 2004. Johnson was a quarterback, tight end and defensive lineman before finding a home on the offensive line.
Peters said that he finally felt comfortable after three years.
"Man, I'm still learning. Every year you learn something new. You're never going to really master it," Peters said. "You're just learning stuff as you go and just take that and use that as the years go on."
Johnson spent the last two seasons at offensive tackle before being selected with the No. 4 overall pick. The big difference is that Peters was a rookie free agent and wasn't expected to contribute immediately.
LeSean McCoy Adjusting To Offense
LeSean McCoy had arguably one of the best seasons in franchise history in 2011, when he set a team record with 17 rushing touchdowns, going along with three receiving scores. He said he is trying to be as versatile as he can be in order to be one of the biggest weapons in the league.
"It doesn't bother me because you can find a lot of guys who just run the ball," McCoy said. "Around the league, there are a lot of guys who can just run the ball, and there are times where they have to come out because they're passing or come out because they have to block. I don't want to be that. I want to be a guy who's different. I think when Brian (Westbrook) played, he was different - he could catch, he could run. There were times when he never even left the field. He was always a threat, and I want to be the same. ... I want to always be that dominate force from first down to when we're off the field."
Although McCoy does have experience lining up as a receiver and catching the ball, he says being a pass-catcher in this new offense is a complete change.
"This is totally different," McCoy explained. "I've done it in the past, but this is totally different here. With all that fast pace, we have the runner go from running back to outside-split, and running the ball outside-split, to doing pass routes and things like that. It's definitely sometimes confusing for a defense, for sure, but there are other ways to get me the ball. Coach (Chip) Kelly is trying to find me ways to touch the ball outside, inside, running, catching, so sometimes you have to be careful with what you ask for."
The goal of Kelly's offense may be to confuse the defense, but McCoy said it's also confusing for the offensive players at first. He said he has to keep learning from experience and studying everyday in order to master the offensive scheme.
"It definitely is confusing at first," McCoy admitted. "I'm still learning. It's only the second day, really. From actually studying it and then going on the field and doing what you studied, it's different, but I'll get to it. ... It's just a matter of time, but it's tough. It's definitely tough."
McCoy came into Training Camp with the mentality of wanting to dominate. He thinks it's possible to have a 1,000-yard rusher in this system, but he also knows that he is going to have to rely on others on the depth chart.
"I know we're going to split a lot of carries," McCoy told reporters. "In this offense you need to. Also, I'm going to be touching the ball outside with catches too. Bryce (Brown) is going to be sharing the load in some of the sets where we're passing the ball and we have two backs, where it's a guessing game for the defense. I think the offense is going well for everyone."
Brian Dawkins Inspires Nate Allen
A little over two weeks ago, Eagles Hall of Fame free safety Brian Dawkins said that he still believed that Nate Allen could be a "very good safety."
Dawkins was at the NovaCare Complex on Monday for Donovan McNabb's retirement ceremony. After practice, Allen and Dawkins spent some time talking. Following the chat, Allen admitted the positive words provided a boost for the fourth-year safety.
"It gives you a lot of confidence hearing that from a guy like B-Dawk. He's a Hall of Famer. He's been there and he's seen it all. He did everything the right way that got him to where he is today," Allen said. "He's a heckuva player and having him there to mentor us as safeties and as a secondary is huge. You can't ask for a better guy to talk you through stuff."
A second-round pick in 2010, Allen registered a career-high 81 tackles last season and has been working with the first-team defense through the early portion of Training Camp.
Head coach Chip Kelly explained on Monday that he would like to figure out who the starting quarterback is going to be sooner than later. However, Kelly will not make any sort of decision until the preseason games get underway.
Nick Foles and Michael Vick continue to split the first-team reps in practice. The next phase of the competition began Sunday with the start of the padded practices which will allow for Kelly to begin seeing how the quarterbacks operate when the pocket collapses around them. Sunday's practice in front of 30,000 fans also helped simulate a game atmosphere.
"It was great being out there with the fan support. I thought they were awesome. To go into the stadium here in Training Camp and have 30,000 people is amazing. They're all pumped up. It was a good opportunity for us and a lot of the younger guys who haven't been in that environment to get into it and to just go out there and play. It's a different feel than practice," Foles said.
Foles explained the one aspect of working in the offense that he's trying to improve.
"The big thing is you're trying to get the ball downfield, sometimes it's not bad to check it down to the running back," Foles said. "That's something all of us quarterbacks who really want to get the ball down the field is the reason why we started playing quarterback, but I really focus on if I don't have it, don't force it. Just get the ball down to the back and just keep the tempo going. It's the little things. I feel like I'm headed in the right direction."
Vick isn't putting any special emphasis on one particular practice. He's focused on competing each and every day.
"That's one thing we'll never lose sight of. That's one thing I never lose sight of," Vick said. "I love the fact that we're able to come out here and compete every day and lay it all out on the line for our teammates, for our organization and that's important."
Brent Celek: We Have To Step Up
Tight end Brent Celek said that having the tight ends step up into a more active role in the offense because of wide receiver Jeremy Maclin's ACL injury is a necessity.
"I don't think it's 'we can (step up);' It's 'we have to,'" Celek told reporters after Monday's practice. "When you lose a guy like that, we've all got to step up. Jeremy was a great player and still is, but we've all got to pick up what we lost with him. We're going to do it."
Celek was also asked if he thought that head coach Chip Kelly would have to incorporate a creative plan for the tight ends.
"Well not only us, but every position," Celek responded. "He's going to have a creative plan altogether. I wouldn't just limit it to the tight ends."
Dan Klausner, Alex Smith and Chris McPherson contributed to this report.