Though Chip Kelly often downplays the constant tag of "innovative," there remains a serious intrigue into the program he's building at the NovaCare Complex. From the blaring music at practice to the sports science coordinator to the smoothies, the new-look Eagles organization has become the fascination of the NFL. So when reporters noticed a block of time on the team's schedule for a "High Performance Mindset Meeting," the questions popped up in full force.
It turns out that a former US Navy SEAL was brought in and talked to the team about their preparation for the season ahead.
"Everything we do is high performance," said tight end James Casey. "It's awesome when coach Kelly brings in guys like that to talk to us about just kind of their mindset, what they think about, what their mentality is. They're life and death with what they're doing and we're just out here playing a game. What he talks to us about is what their kind of mindset is and how he trains. It really resonates with us and it means a lot to have guys like that come out and talk to us."
"We're fortunate to have a leader who's been at the top echelon of … to come in and talk to us about different ways that they conduct themselves to make sure that they're at their optimal level in what I don't think anybody would argue are the most extreme conditions there are," said center Jason Kelce. "It's been pretty cool hearing the different ways they go about their business and the similarities between football and the Navy SEALS."
Part of the message, said Casey, relates to the importance of the team's practice tempo.
"You rise to the level of your training, he was kind of saying, was one thing that really stuck with me," said Casey. "You don't just go out there on game day and perform better, do anything you've never done before. You don't come out there and perform better than you ever did in practice. You practice at a certain level and you expect yourself to practice higher than everyone in the league is going to practice so when it comes to game days, we can wear people down when we get into the fourth quarter because we've trained harder so we're going to be able to perform better when it comes to the fourth quarter."
Lane Johnson has every expectation of being thrown right into the fire when the season begins. If he does win the starting right tackle job, he'll be counted on to be a reliable player from the jump. That comes with the territory of being the fourth overall pick. Luckily, Johnson is surrounded by an experienced group of veterans.
Jason Kelce, for instance, has been alongside Johnson throughout the rookies and selected veterans portion of Training Camp, on a voluntary basis. He, along with the rest of the veteran offensive linemen, have already helped Johnson along.
"(Kelce)'s done a great job," Johnson said. "I can speak for him and Evan Mathis and Todd Herremans. They've really helped me develop ever since I was here in the spring. They've helped me learn a lot of the offense and they've made me feel more comfortable.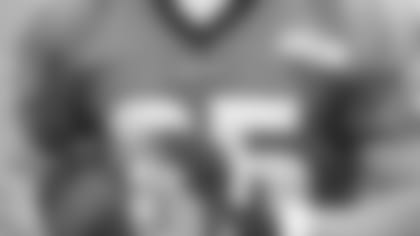 "When I was playing with (Herremans) during the spring, most of the time I knew what was happening during the plays but sometimes I'd have a question and I'd just bump him and he'd tell me what to do. He's a very intelligent player, he's always known what to do, and it makes me more confident playing next to him."
Another experienced lineman is someone who isn't even on the roster- coaching intern Tra Thomas, who was brought in by Chip Kelly to help out with the offensive line.
"He's played the position," Johnson said. "I believe he's been All-Pro a few times, so there's nobody better to learn from than him and Jason Peters. So I'm trying to learn as much as I can.
Johnson is expected to play the right tackle position with the Eagles, yet through the first two Training Camp practices, he has lined up on the left side. Johnson says that he's comfortable at either spot and is willing to play wherever he is needed.
"I know Jason (Peters) wasn't here today, so they're just filling me in," Johnson explained. "There are only five guys out there (on the offensive line), but I played both (sides) in college."
While most of the conversations about Eagles Training Camp have been centered around which quarterback will be under center, Johnson doesn't want any part in that discussion, because he has too many other things to focus on
"I have so much to worry about," Johnson explained with a smile on his face. "I'm looking at the defensive ends and linebackers. Sometimes I don't even know who's back there."
While the focus over the past two days has been on the eight-man rookie class and the few veterans in attendance, there are also 11 undrafted rookies looking to make their mark as they fight for a job in the NFL. Matthew Tucker and Brad Wing grabbed a few headlines for not-the-best reasons, but there are plenty of other rookie free agents with a chance to turn some heads when Training Camp gets started for real. For them, the preparation of the slow build in these two days has been vital.
That goes double for a player like Iowa State's Jake Knott, who has received one-on-one attention throughout the entire practice from inside linebackers coach Rick Minter.
"I've been extremely lucky," said Knott. "I get Coach Minter to handle me one-on-one and fix all of my weaknesses. When you have the full team here with seven inside linebackers, it's tough to focus individually, so I'm extremely lucky to get this jump start on everybody else.
"I think (coach Minter) just does a great job of teaching me the overall scheme and teaching the concepts of everything so that I'll be ready for any offensive play that comes against any version of defense that we have. It makes it a lot easier for me to focus on that, and once you understand the concepts you can really fine-tune everything."
Meanwhile, rookie tight end Will Shaw has been part of perhaps the most packed position group as he works alongside fellow rookie Zach Ertz, Derek Carrier and James Casey. But he's still made the most of his time. He said it's too early to worry about what he needs to do to force his way onto the roster.
"The way I look at it is I just try to control what I try to control," he said. "I don't want to count my plays but I want to make my plays count and make the most of the opportunity I've been blessed with.
"What I can control is my effort and trying to get better every day. So that's ultimately my goal."
That doesn't mean that the unheralded rookies are unaware of the harsh business they've now entered. There are only five offensive linemen in camp at the moment, thanks in part to the release of undrafted rookie center Kyle Quinn prior to the start of Training Camp. Quinn's roommate during the spring, fellow undrafted rookie Matt Tobin, is still here.
"I'm not used to that obviously," Tobin said. "That was kind of scary. I was his roommate so it was kind of hard. We got along pretty well. I'm sure he's going to go somewhere and I'll just try to stay around as long as I can."
As much as we know you care about everything going on during Training Camp, we're equally aware that the biggest storyline of the summer is the ongoing quarterback competition. With that in mind, we'll provide a daily update on the fight for the top job under center …
Today's installment of the quarterback report reflects a slow day on the practice field. Does Lane Johnson have a preferred victor in the quarterback competition?
"I have so much to worry about," Johnson explained with a smile on his face. "I'm looking at the defensive ends and linebackers. Sometimes I don't even know who's back there."
*Alex Smith and Bo Wulf contributed to this report. *