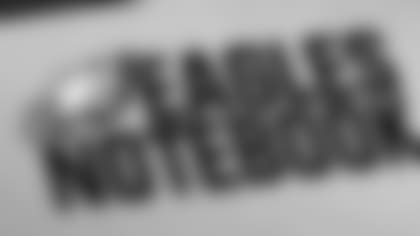 Gang Green ... After giving up a 90-yard touchdown reception on the first defensive play of the game, the Eagles limited the Seahawks to just 143 yards of total offense on 54 plays (2.6 yards per play) throughout the remainder of the game. The Eagles forced the Seahawks to punt on their next 11 possessions, including seven three-and-outs. It was the second time this season the Eagles forced their opponent to punt on 10-or-more straight possessions (10 on 9/7 vs. StL.) ... The Eagles defense had four sacks on the day, and has now registered at least one in each of the past six games (seven of eight overall in 2008).
Magnum TE ... TE Brent Celek caught a career-high 6 passes for 131 yards, including a career-long 44-yarder. His 131 yards were the most ever by an Eagles tight end in the regular season. Keith Jackson had 7 receptions for 142 yards on 12/31/88 at Chicago in the "Fog Bowl." The previous regular season high for a tight end was 126 yards by Jackson on 9/17/89 at Redskins.
Unlikely Contribution ... LG Todd Herremans caught his first career pass for a one-yard touchdown. According to the Elias Sports Bureau, it was just the second time in team history that a player listed as an offensive lineman caught a touchdown pass. The only other time was on 10/7/1934 against the Pittsburgh Pirates, when Bob Gonya scored on a 4-yard touchdown pass from Dan Barnhardt in Barnhardt's only game as an Eagle.
McNabb's Big Turnaround ... After starting the game 3-13, QB Donovan McNabb completed 13 straight passes (10 to finish the second quarter, three to start the third quarter), tying for the fifth-longest streak in team history. McNabb finished the game completing 25 of his last 30 passes, connecting with 10 different receivers, which tied his career high (12/30/07 vs. Buffalo). His 349 yards was the second-highest mark of the season for McNabb ... After leading his team to victory in three straight games, McNabb is now 8-3 in his last 11 starts dating back to 2007.
3rd Down Shut Down ... In five wins this season, the Eagles have held opponents to 24.6% (14-of-57) on third-down conversions (9/7 vs. Rams, 0-11; 9/21 vs. Steelers, 2-13; 10/12 at 49ers, 2-12; 10/26 vs. Falcons, 6-16; 11/2 at Seahawks, 4-15). In those 4 wins, they have outscored their opponents, 146-56.
The Book on 'Brook ... With six receptions on the day, RB Brian Westbrook now has 373 for his career, passing Keith Byars and tying Pete Pihos for third place in team history. He trails Pete Retzlaff (452) and Harold Carmichael (589).
Infrequent Flyer Miles ... Over the final eight regular season games, the Eagles will travel by airplane just once. They board a plane for their Nov. 16th game at Cincinnati, but will travel by bus to their games at Baltimore and NY Giants and by train for their game at Washington.
Birdseed ... LT Tra Thomas played in his 158th career game, passing Guy Morriss for fifth place in team history ... RT Jon Runyan played in his 136th consecutive game with the Eagles, passing Herman Edwards and moving into fifth place in team history ... K David Akers was 4/4 on field goal attempts for the eighth time in his career and has made 9 in a row on the season ... WR Reggie Brown caught his first touchdown of the season ... DE Chris Clemons registered his first sack as an Eagle ... DE Darren Howard registered two sacks on the day and now leads the team with 6.5 on the season, which is his highest single-season total since 2004, when he had 11.0 for New Orleans.