As our Position Snapshots continue, we move to the offensive line, where 17 players are currently on the roster. Nine of those 17 can loosely be defined as tackles though most are versatile enough to play multiple positions. We'll focus on those nine as we continue to take a closer look at the Eagles roster …
Allen Barbre – The Eagles signed Barbre in the beginning of the offseason, prior to the hiring of Chip Kelly as head coach. The 28-year-old veteran has played in 32 games over six seasons, including seven starts at right tackle for the Green Bay Packers in 2009. He spent parts of the last three seasons with the Seattle Seahawks, but was released by the team in October. At 6-4, 305, Barbre could also be an option for the Eagles as a guard as he competes for backup job on the roster. Meanwhile, here's an interesting nugget about Barbre that also speaks to the pedigree of tackles on the Eagles roster. Prior to the selection of Lane Johnson over a week ago, Barbre, the 119th selection in the 2007 NFL Draft, was the highest-drafted tackle on the team. Only three offensive linemen on the roster were drafted in the first three rounds of their respective NFL Drafts: Johnson, 2011 first-round pick Danny Watkins and 2005 third-round pick Evan Mathis.
Todd Herremans – How many times since the Eagles hired Chip Kelly have you heard about versatility? In scheme, roles and positions, Kelly clearly values versatility and few players provide more positional flexibility than Herremans. He has started at three separate positions on the offensive line for the Eagles since joining the team as a fourth-round pick in 2005, including 24 consecutive starts at right tackle over the last two seasons before a foot injury ended his season. Now fully healthy, Herremans may be in for another shift. After the selection of Johnson as the fourth overall pick, the general consensus is that the rookie will have an opportunity to fight for the right tackle job while Herremans moves back to a guard position. Kelly has noted repeatedly that no such thing is set in stone and that jobs will be won on the practice field, but if Johnson earns that starting spot, where will Herremans go? Most believe the 6-foot-6, 321-pound Herremans will just slide one spot over to right guard while Evan Mathis remains at left guard. But could they switch? Mathis started 15 games at right guard for the Carolina Panthers in 2005 while all of Herremans' 71 career starts at guard have come on the left side. It could make sense, then, for Herremans to move back to his natural left side next to Peters while Mathis slides over to the right. Something to keep an eye on throughout the offseason.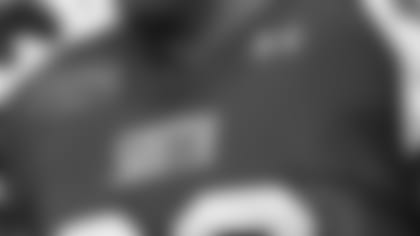 Dennis Kelly – Another versatile offensive lineman, Kelly started 10 games in his rookie season, split between seven games at right tackle and three games at right guard. Since 2000, 23 offensive linemen drafted in the fifth round or later have started at least 10 games in their rookie season, including two Eagles: Kelly last season and Jason Kelce in 2011. For Kelly, there is still an opportunity to compete for playing time and he'll no doubt provide valuable insurance at multiple positions.
Matt Kopa – Signed off the New England Patriots practice squad last season, Kopa is facing a make-or-break offseason. Having exhausted his practice squad eligibility, Kopa must make a 53-man roster this year in order to stay in the league. It's the same situation that faced Dallas Reynolds last offseason before Reynolds worked his way onto the roster and, after Kelce's season-ending injury, into a starting role. Kopa, 6-6, 310, actually has a similar background of changing positions to Johnson. Originally a defensive end at Stanford, he was moved to the offensive side of the ball after Jim Harbaugh arrived as head coach during his sophomore season. He then split time between offensive line and tight end before settling as a starting offensive lineman in his junior season.
Nate Menkin – Menkin is a player to watch in the jockeying for depth along the offensive line after a rookie season spent on the active roster. Menkin actually never suited up for a regular season game for the Eagles before a throat injury ended his season just when it looked like he might make his debut. Still, the personnel department clearly thought highly enough of Menkin to sign him immediately following the final roster cutdowns and keep him on the roster. At 6-4, 296, Menkin provides the necessary positional flexibility for a backup offensive lineman and can play both guard and tackle. Menkin is one of two players from Mary Hardin-Baylor to have made it onto an NFL roster, joining Indianapolis Colts linebacker Jerrell Freeman.
Jason Peters – Outside of player acquisitions through free agency and the draft, there was no better news for the state of the Eagles roster than Peters' full participation in the team's veteran minicamp prior to the draft. Kelly said at the time that Peters showed no rust or worse for wear following a lost 2012 season to a re-tear of his Achilles. If Peters is indeed fully healthy, you can make the case to look at his return as the best acquisition of the offseason. After all, in 2011, Peters was dominant in an All-Pro season, his fifth consecutive Pro Bowl year. The athletic former tight end also profiles as an ideal fit for Kelly's up-tempo offense.
Matt Reynolds – The younger brother of center Dallas Reynolds, Matt Reynolds spent his rookie season on the practice squad. Soon to be 27, Reynolds spent his rookie Training Camp with the Carolina Panthers before joining the Eagles practice squad earlier in the season. A four-year starter at BYU, Reynolds is tied for the most starts in program history with 52, primarily at left tackle. At 6-4, 310, Reynolds is another competitor for depth on the offensive line and he, too, can play multiple positions.
Ed Wang – Another athletic, versatile offensive lineman, Wang gets a nod for joining the team after Kelly was hired as the team's head coach. Surely, then, something about the veteran free agent piqued the interest of Kelly and the personnel staff. At 6-5, 315, Wang became the first Chinese-American to be drafted in the NFL when he was selected in the fifth round of the 2010 NFL Draft by the Buffalo Bills. Wang's career after his rookie season in 2010 has been hamstrung by injuries. In 2011, Wang was placed on injured reserve prior to the season and he was waived/injured by the Oakland Raiders in Training Camp the follow summer. He too will be fighting for a spot as a backup offensive lineman.
Previous Position Snapshots: