When you think about the Green Bay Packers, a few different things come to mind, like Lambeau Field, Vince Lombardi and, of course, the cheeseheads.  However, in the last five years or so, Aaron Rodgers may have been the first thing that NFL fans associated with the team. Rodgers has become the face of the franchise, leading the Packers to a Super Bowl championship at the end of the 2010 season and winning NFL MVP honors the following year.
When members of the Eagles defense looked at their 2013 schedule and saw Green Bay slotted for Week 10, playing against Rodgers was probably all that they could think about, but all of that changed on Monday night. Rodgers was sacked on the final play of the Packers' opening possession, resulting in a broken collarbone. No specific timetable has been given, but Rodgers will not play this Sunday when the Eagles visit Lambeau Field.
Even without Rodgers, the Eagles know that the Packers offense can still, well, pack a serious punch. Just ask Mychal Kendricks and Cary Williams, who know that the phrase "next man up" applies to every position on the field.
"I'm not going to sit here and say that we're catching a break because we are going to prepare as if he was playing," Kendricks said on Tuesday. "There's no slacking off on our end, but you hate to see a guy like that go down. He went to Cal so I wanted him to play. I wanted to hit him one time, but guys will rise to the occasions. Someone will step in and fill in his spot."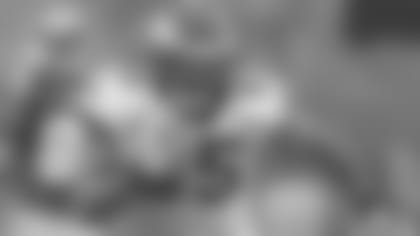 "Injuries happen and that's a part of the game, but I don't take it lightly," Williams agreed. "I don't think it's a better situation for us and I don't think it's a worse situation for us. I think it's another week and another opportunity for us to get better, and I'm approaching it like any other week in football … I think we're going to go about the week, business as usual, and we're going to go out on Sunday and play at a high level."
When Rodgers was forced to leave Monday night's game against Chicago Bears, veteran Seneca Wallace entered the game. A tenth-year pro out of Iowa State, Wallace brings a much different skill set to the quarterback position than Rodgers does. Wallace isn't as tall as Rodgers and may not have as strong of an arm, but he is much more mobile.
Despite the two different styles of quarterback play, Williams and Kendricks believe that the Eagles defense won't change much of their game plan with Wallace in the game.
"It doesn't change at all for us," said Williams. "We understand that he's a capable quarterback. All backup quarterbacks are capable. They obviously have the ability to win games. I think Seneca has a couple of those under his belt. We don't go into it with anything different. We expect their best to come out there and we're going to bring our best, and as far as I'm concerned we don't care who is at quarterback. We're going to play this game as tough as we can and we're going to continue to play the way that we've been playing for the last couple of weeks."
"We're going to play the game like we would if he was playing," echoed Kendricks. "I don't see them getting away from what they know. I know that when people go down here, we don't change anything so that's what I'm going to assume."
Though there isn't much tape of him playing in Green Bay, the Eagles have two big advantages on their side when it comes to game-planning for him: coordinators Pat Shurmur and Bill Davis.
Shurmur spent the last two seasons as the head coach of the Cleveland Browns, where Wallace served as the team's backup quarterback in 2011 before being cut by the team at the end of the 2012 preseason. According to Shurmur, Wallace's experience sets him apart from most other backups.
"The one thing about Seneca is that he's a very veteran player," Shurmur said. "He knows how to play this game. He's got a good set of legs on him and he can move around and make throws. I think he's got a very strong arm, and he's played long enough in Mike's system to be efficient. I think if Seneca ends up playing this week, we have to be prepared for a guy that can execute at a high level and really be dangerous using his legs as well."
Davis, meanwhile, was Cleveland's linebackers coach for the last two seasons, watching and defending Wallace in practice. The jersey on Wallace may be different than when Davis watched him play last, but the system that Green Bay runs suits his talents very well.
"They're still running the same offense," Davis explained. "It's a high-efficiency offense, and I know Seneca from being in Cleveland last year and he was with us for the last two years and I was in that division and coached against him. He's (from) a Coach (Mike) Holmgren-raised, West Coast offense, and so is Mike McCarthy. It's a high-efficiency offense that is really built for the quarterback to quickly distribute the ball, and they didn't come too far off of that and I think they'll stay with that type of plan with Seneca."