"Make this a smooth transition for everyone."
That message has been reiterated throughout the entire Eagles organization this week as the team prepares for its first international regular-season game this Sunday in London against the Jacksonville Jaguars.
There are new logistical challenges that this trip presents compared to typical road trips during the regular season. Fortunately, the week spent in Los Angeles as well as the Super Bowl last season helped provide a road map for the team to navigate.
The NFL announced on January 11 that the Eagles would be making the trip overseas. Of course, the Eagles were in the middle of their run to the championship, so planning didn't begin until two weeks after the Parade of Champions down Broad Street.
Eight months of work, including two advance trips to London with front-office staff from various departments, will culminate with Sunday's showdown with the Jaguars.
The Eagles depart from Philadelphia International Airport at 7:10 p.m. Thursday evening and touch down at Heathrow Airport in London at 7:25 a.m. local time on Friday morning. The team weighed numerous options regarding how long to stay in England. The NFL requires that teams playing in London must be in town two days in advance, so to try and keep the game week as normal as possible, the Eagles are leaving at the last possible moment.
"It's five time zones, you leave late at night, so it's a sleepover on the plane, and you've kind of got to power through Friday and then Saturday, get acclimated, and then Sunday, you play," Chairman and CEO Jeffrey Lurie told NFL Network. "And we use our sleep research, sports science people. It's a business trip. And for the players and the coaches, they need to focus and make it seamless, just like we're preparing for any away game. For us, it's a big game like every game."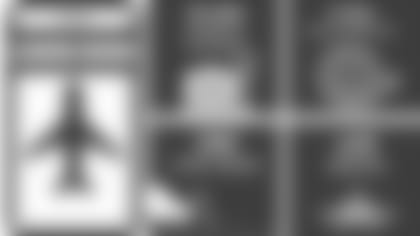 Once the players arrive, they will have a breakfast at the team hotel – the Eagles have reserved around 200 rooms throughout London – to kick off a full day of meetings and practice until around late in the afternoon. There is a community event at the Hazlewood Centre, the rugby facility that will serve as the team's practice headquarters, to round out a long first day.
"The travel is just something you have to deal with," said guard Stefen Wisniewski, who played in London while with the Jaguars in 2015. "You try to just do it and not let it slow you down too much, and try not to think about it too much because that's going to distract you from thinking about the game."
The food is vastly different in England. When the advance team asked about having bacon at breakfast, the culinary team at the hotel in London thought it was Canadian bacon. In England, they call regular bacon "streaky bacon." Senior executive chef of FLIK Hospitality James Sirles, who serves as the team's head chef, was one of six staff members to arrive in London earlier this week to make sure everything is in place for the team ahead of its arrival. There will be around 140 people fed at each meal. Sirles is working with the hotel chefs to make sure that the food is prepared the same way as it would be at the NovaCare Complex in Philadelphia. That includes having a smoothie bar, and a pasta and salad station available.
However, the condiments are also distinct in London, so the Eagles shipped out four cases of ketchup, mustard, and hot sauce among other items. The team will be served regional delicacies for dinner such as fish and chips, beef Wellington, and steak and ale pie.
In total, the Eagles sent 35,000 pounds of equipment to London. The condiments along with socks, T-shirts, sweats, and toiletries among other items sailed over on a cargo boat in August during Training Camp. Last week, an air freighter delivered nine hampers of practice gear. Typically, the equipment that doesn't fit on the team plane travels by truck to the site of the game. That's obviously not an option here.
The biggest challenge, said director of equipment operations Greg Delimitros, is customs – also not an obstacle in the United States. Staff members throughout the organization praised their counterparts from other teams that have made the trip to London before as well as Paul Deakin from the NFL for assisting with logistics. It's a relatively well-oiled machine at this point since the London Game series kicked off in 2007.
"Every team I spoke with said it was a great experience," Delimitros said.
And that's critical as head coach Doug Pederson wants to limit any and all distractions to provide the best opportunity for his team to succeed on Sunday. As great as it is to bring the game and the Eagles to London, it is a business trip for a squad looking to get back to .500 before the bye week.