Paul Domowitch of the Philadelphia Daily News takes a look at the up-and-down performance of the offense and where they need to improve as the season continues ...
"The Eagles do a lot of things well, but there are some things about their offense that concern me and that concern a lot of people. Their short-yardage problems down near the goal line and in third-and-1 situations are troubling. I think the Eagles are 6 of 13 on third-and-1 plays for the season, which is pretty horrendous. That is unacceptable. Their wide receivers only have three touchdown catches – they've caught a lot of balls, but only three in the end zone.
"The offense concerns me a lot more than does their defense.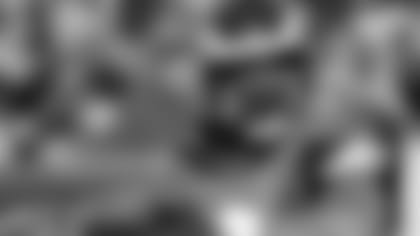 McNabb remains one of the best in the league when he puts it all together
"The Eagles have had success in the past on short-yardage situations even without using the traditional fullback. Most of their successes have come with three-wide receiver sets with Brian Westbrook alone in the backfield. That has been his history. But when you get down to the goal line, you need that extra blocker.
"On Sunday, center Jamaal Jackson got hammered on the second quarterback sneak. There were a lot of people who didn't execute on that play, and Jackson had Grady Jackson in his face, that is maybe semi-excusable. But you look at some situations and it is different mistakes at different times. In Chicago, Matt Schobel and Hank Baskett totally blew their assignments, and at other times you see people just getting beaten on plays. I don't know specifically what it is right now. It could be that they are so pass-reliant during games that when it comes time to execute in the running game, they aren't in that kind of mode up front. The Eagles were pretty balanced in their run/pass ratio against Atlanta, so maybe that isn't the reason.
"I do know that it is something they have to fix, because if they don't it's going to kill them down the road. It's already cost them at least one game this season.
"As for Donovan McNabb, he has been up and down. Until Sunday, he had been hot in the first half and then had cooled off in the second half. His completion percentage is good through seven games. I don't quite understand why the touchdown catches are down right now. He seems to have a lot of trust in his receivers. He made two passes on Sunday that were as nice as any you are going to see – one to L.J. Smith over a linebacker and the other one on that corner route, I think it was to Kevin Curtis. Great throws.
"Donovan needs to be more consistent. He goes through spells where he looks like he is as good as any quarterback in the league and then he goes through periods where he is wild and inaccurate. I realize he will never be the most accurate passer in the league, but he needs to be better.
"The offense just has too many three-and-out-series to satisfy me. I like that Donovan ran against Atlanta and if he stays healthy, the offense should be OK. But will it be good enough when they have the season on the line? I don't think the offense is there quite yet. The Eagles have some things they need to improve."