Brian Baldinger of FOX Sports and NFL Network gives a preview of what is in store when the Eagles travel to Chicago to play the Bears on Sunday night ...
"The Eagles offense has an interesting game Sunday night in Chicago. The Bears have made the decision to just not allow teams to run the football on them. They are trying to revolutionize the way defense is played. They basically line up their linebackers in each gap and they have basically eliminated the second layer of defense.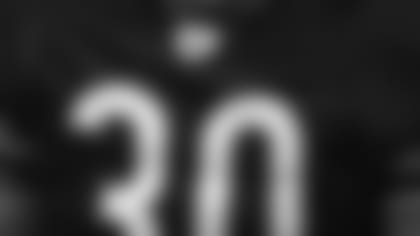 With the second layer of defense erased, Mike Brown has to make all of his tackles
"Their angel is safety Mike Brown on the back end. He has to make every saving tackle if somebody breaks free or if there is a split up front. The Bears forced Tampa Bay to throw 67 times last week, and the Bears shut down Indianapolis and Carolina on the ground.
"They are OK if you want to throw the ball, so I'm not sure it makes that much of a difference whether Brian Westbrook plays, to be honest. He is always a big factor, but I don't know how much of a factor he would be, because the Bears aren't going to let the Eagles run the football.
"I think the Eagles are going to have to throw the ball even more than they are used to throwing it. You may see a ridiculous run/pass ratio. If Brian Griese can throw for over 400 yards for Tampa Bay, Donovan McNabb may throw for over 500 yards. And the Bears are OK with that, it seems. Maybe they are going to change things up, but that's the way they have been for the first three games of the season.
"I don't know that the Eagles should spread the field, because linebackers Brian Urlacher and Lance Briggs are going to challenge the Eagles' protections. They are fast enough linebackers to get to their spot if they read pass, so you always keep your eye on that group. But if the Eagles can hold up their pass protection, they have a chance to make some plays.
"When you play Cover 3 like the Bears play it, everything funnels inside and there are going to be creases. It then becomes a matter of accuracy. If Donovan hits the right spot on the slant routes and the curls and the things that they give you, he is going to have a big day. The Bears are banking that a quarterback's accuracy won't be there all game long and that he is going to take some hits.
"The Bears think the big plays they are going to create will compensate for the 10-yard plays the defense gives an opposing offense. The Eagles can be successful if they avoid those big plays going the other way, and if they make sure to protect the quarterback and take advantage of some spots."