Paul Domowitch from the Philadelphia Daily News and a member of the Pro Football Hall of Fame's Board of Selectors previews the Eagles' season opener and explains why the Eagles should win at least 10 games in 2008 ...
"I like the Eagles to open the season strong against a St. Louis team that is not close to the vintage teams from early in this decade. Wide receiver Torry Holt's legs aren't what they were a couple of years ago, so the Eagles match up well against the Rams passing game as long as they generate some kind of pass rush. I think the Eagles can do that, because the Rams offensive line isn't that strong right now.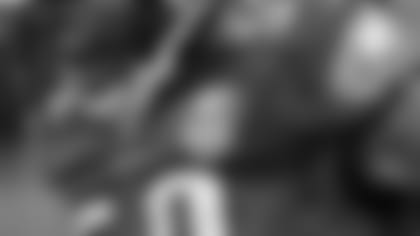 DE Trent Cole
"Jim Johnson's defense matches up well against the St. Louis offense. Steven Jackson is a premier running back and he is going to get his, but Jackson held out for most of training camp and the preseason so it may take him some time to hit his stride.
"All of a sudden, the special teams are a plus for the Eagles with the two return guys, DeSean Jackson and Quintin Demps. There is a great opportunity for the Eagles there.
"St. Louis' corners and safeties didn't play much in the preseason and they have some injuries back there, so even if Reggie Brown doesn't play, the Eagles should be able to have some success in the passing game. I expect Andy Reid and Marty Mornhinweg to use Brian Westbrook and Lorenzo Booker flexed out as receivers in the passing game and the Eagles will get some good matchups that way.
"I look at the Eagles and think they should win 10 games, at least. You look at that schedule and it's not hard to find 10 wins there. Unless they have some unforeseen injuries, 10 wins should be very attainable. I'm not as down on the wide receivers here as everyone else seems to be – the Eagles will get Kevin Curtis back at some point – and I think Andy will use what he has to compensate and I think we're going to see a lot of Westbrook and Booker flexed out wide. We didn't see that in the preseason, but it was there in practice.
"A healthy L.J. Smith is a big plus for this team. He should factor into the offense significantly.
"My biggest concern for this team is the pass rush. Chris Clemons hardly played in the preseason, and the Eagles need to get a pass rush off that left side in addition to Juqua Parker. Right now, we don't know where it is coming from. I expect Johnson to blitz some linebackers and cornerbacks more than maybe he has in the past until the line steps up and becomes a consistent force rushing the quarterback."