This was the type of performance defensive coordinator Jim Johnson had been hoping for since the season began.
Defensive end Juqua Parker notched 2.5 sacks and a forced fumble, Trent Cole got his first sack of the year and Brodrick Bunkley registered a sack and a fumble recovery in the Eagles' 15-6 victory over the Pittsburgh Steelers at Lincoln Financial Field on Sunday.
"I don't think there's any secret," defensive coordinator Jim Johnson said. "We blitzed much more. They gave us some stuff that we had worked on a little bit. The guys just executed on defense, I thought a lot better than we did last week. Last week, we didn't do some things that we wanted to and this week we did, so sometimes it comes down to execution."
Almost as impressive, the Eagles defense stifled running back Willie Parker and the Steelers' vaunted rushing attack, holding Pittsburgh to just 33 yards on the ground. Parker accounted for just 20 of those yards on 13 carries.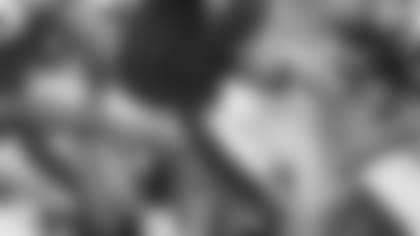 Everywhere Ben Roethlisberger looked, there were white jerseys around him
"I was surprised," Cole said. "I was surprised that they didn't use their running game too much. They came out passing. I said 'Wow, this is going to be fun.'"
Frankly, the Eagles defense had Steelers quarterback Ben Roethlisberger running for his life most of the night. Besides being sacked eight times, Roethlisberger was 13-of-25 for 131 yards and an interception in the Steelers' first loss of the season.
"It was great to see that," Cole said. "Every time I looked up and looked back there, there was somebody getting loose. Coming to the line of scrimmage, it just seemed like Ben couldn't get himself set. I think it was kind of shaking him up with all that blitzing coming down on him."
In the first half, the Eagles held the Steelers to 66 total yards on 24 plays for a 2.75 yards per play average. That's also when Juqua Parker had perhaps his best half as an Eagle. Besides the multiple sacks, Juqua Parker also had two solo tackles and hit Roethlisberger four times.
According to Juqua Parker, he finally relaxed and just started playing ball.
"We have to play this game together," Parker said. "If one guy isn't getting the pressure, the other guy has to pick it up tonight. That's what we did tonight.
"I just came out and tried to be myself. I just tried to relax and play. I think the first game I was uptight, so I decided I was going to be myself."
The Eagles' defensive onslaught continued in the second half. Defensive end Darren Howard had a key sack early in the fourth quarter that knocked Pittsburgh out of field goal range.
"The defense just got after the ball," Howard said. "We applied so much pressure. We kind of knew that Pittsburgh is a running team. The last two weeks they ran the ball a lot. We kind of thought they may try to pass the ball. Once we stopped the run, they became a passing team and that's what we like to go against."
Besides the nine sacks the Eagles had, Roethlisberger had four carries for six yards. But many of those carries were sacks he avoided by stepping up in the pocket and tucking the ball under his arm.
"I think we were really confused," Pittsburgh wide receiver Hines Ward said. "We have to learn from this today. We had too many guys coming in scot-free and (we) did not pick up their blitz packages. I think we didn't protect our quarterback because he was running around a lot. We all had our hands in the cookie jar and are all to blame."
In perhaps one of the most incredible plays of the game, safety Brian Dawkins soared over a Pittsburgh lineman, stripped Roethlisberger of the ball while in mid-air before recovering the fumble after landing.
It came late in the fourth quarter and, after kicker David Akers booted an ensuing field goal, it helped seal the game for the Eagles.
"The D-linemen, Bunk and (defensive tackle) Mike (Patterson) and that rotation in the middle, they get after cats," Dawkins said. "(Linebacker) Stewart (Bradley) and those guys coming downhill, I don't know if you think that it's a 'just now' kind of thing. Those cats are playing up front. That gives us all the confidence in the back to just play coverage. With what they are doing up front, we can just play coverage."