Believe it or not, the beginning of the Eagles 2014 season is rapidly approaching. Players will report back to the NovaCare Complex on April 21 for the start of the Eagles offseason program. Join us as we count down until the Eagles are back in town ... The most receptions that any Eagles player has ever had in one season were 90. The Eagles have had some great wide receivers throughout the history of the franchise, from Harold Carmichael to Mike Quick, and even DeSean Jackson, but none of those players ever eclipsed 90 catches. That feat was performed by running back Brian Westbrook.
Arguable one of the greatest receivers out of the backfield that the NFL has ever seen, Westbrook was as multi-dimensional as they come. He caught 90 passes in 2007, breaking the previous record of 88 catches set by Irving Fryar in 1996. Jackson came close to breaking that mark this season, finishing his Pro Bowl 2013 campaign with 82 receptions.
Also, the second-longest run in Eagles history went for 90 yards. In December 1982, Wilbert Montgomery ran for 90 yards and a score against the Houston Oilers. First Player To Wear 90: LB Aaron Brown (1985)
Current Eagle To Wear 90: DL Clifton Geathers (2013-present)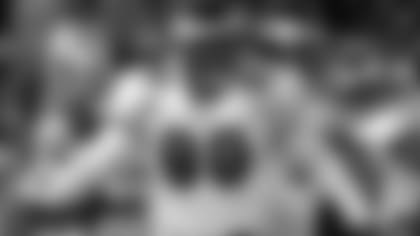 The Eagles chose defensive tackle Corey Simon with the sixth-overall pick in the 2000 NFL Draft to help shore up the defensive line. Simon recorded a career-high 9.5 sacks in his rookie season, and he became a key run-stopper during the Eagles' successful streak of the early 2000s, starting in four NFC Championship Games, as well as Super Bowl XXXIX. The Florida State product recorded 32 career sacks with the Eagles, and represented the Eagles in the 2004 Pro Bowl following a strong 2003 campaign. In five seasons with the Eagles, Simon was a fixture of the defensive front, missing just two games.
Simon left the Eagles as a free agent in 2005, and went on to play for the Indianapolis Colts and Tennessee Titans before retiring from football in October of 2007.
Other Notable 90s: DT Mike Golic (1987-1992), DT William "The Refrigerator" Perry (1993-94), DE Darren Howard (2006-2009)