Believe it or not, the beginning of the 2014 season is rapidly approaching. Players will report back to the NovaCare Complex on April 21 for the start of the Eagles offseason program. Join us as we count down until the Eagles are back in town ... Bradley Fletcher was signed by the Eagles in the 2013 offseason as part of the total remake of the secondary.
A former third-round pick of the St. Louis Rams who had a magnificent 2010 and was emerging as one of the NFL's best young cornerbacks heading into 2011, Fletcher tore his ACL in practice leading up to the fifth game of that season. Staying healthy had been the biggest knock on Fletcher throughout his career, and his role on the Rams diminished following the hiring of new head coach Jeff Fisher in 2012.
Despite being fully recovered from the ACL injury, Fletcher started just four games (though he played in all 16) in 2012 and hit the free agency market in 2013 as a potential value signing who was a perfect change-of-scenery candidate. General manager Howie Roseman and the Eagles pounced on the big, physical defensive back, giving him a two-year deal. Fletcher rewarded their faith with an excellent first season as the starting cornerback opposite Cary Williams. He is the choice for 69 on the countdown because he recorded 67 total tackles and two interceptions in 2013. First Eagle To Wear 69: G Dave diFilippo (1941)
Current Eagle To Wear 69: G Evan Mathis (2011-present)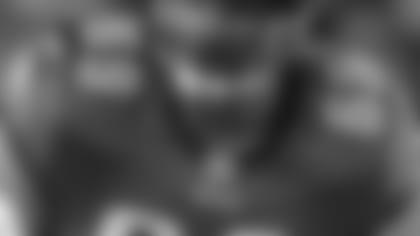 Jon Runyan was the first major free-agent signing of the Andy Reid era in Philadelphia, inking a lucrative six-year deal in the 2000 offseason after four seasons with the Tennessee Titans. He immediately stepped in as the starting right tackle and, remarkably, never relinquished the position for the nine seasons he played with the Eagles, starting 144 straight games, fourth most in franchise history and the team record for an offensive lineman.
Runyan combined with left tackle Tra Thomas to form the bookends who anchored the Eagles offensive line and protected Donovan McNabb. A beloved throwback known for his mauling style and nasty demeanor, Runyan had epic battles with defensive ends – most notably Michael Strahan of the New York Giants – and was selected as one of the NFL's "dirtiest" players in 2006, a distinction he gladly accepted as a badge of honor. He was an All-Pro in 1999 and Pro Bowl selection in 2002.
Runyan remains a fan favorite in Philadelphia and entered the world of politics following his playing career, serving as the United States House of Representatives member for New Jersey's Third Congressional District since 2011.