In general, the Eagles haven't needed much of an offense to advance to this point in the NFC playoffs.
In two games thus far – victories over Minnesota and New York – the stout Eagles defense has surrendered just 25 points. So the Eagles haven't needed much help from the offense, which has been effectively efficient, though not explosive.
But the difference with Sunday's NFC Championship Game, on the road against the Arizona Cardinals, is evident. The Cardinals can score, they can score quickly and they can score often. So, theoretically, the Eagles defense will have to play out of its mind, or the offense is going to have to take another step.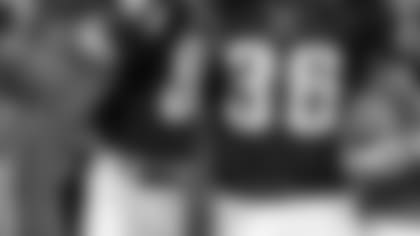 WR Jason Avant celebrates one of RB Brian Westbrook's four touchdowns
"We have a very good team and if we can execute like that on all three phases it's going to be tough for any team in the NFL to beat us, but hopefully we can do that this week," running back Brian Westbrook said. "We all know that they play a little bit different in their home stadium as opposed to traveling on the road. And they have been playing very good football these last few weeks here."
Even more so than usual, all eyes will be on Westbrook on Sunday. The star tailback had arguably his best game of the season on Thanksgiving night, when Arizona rolled into Philadelphia and limped out with a 48-20 loss. Westbrook tallied 130 yards from scrimmage and a career-high four touchdowns, and the Cardinals had little answer for his versatility.
But opposing defenses have keyed on Westbrook this postseason, limiting him to a paltry 1.9 yards per carry. Still, head coach Andy Reid has stuck with Westbrook, showing a desire to establish some sort of a running game and keep opposing coordinators off-balance.
To this point, Reid's plan has worked. The Eagles have been able to keep their defense fresh enough to win grinds thus far. But more success from the running game seems to be the one thing the Eagles' playoff run is missing so far.
"We need to be efficient on first and second downs and keep them in third-down situations where they have to play the run and the pass," Westbrook said. "And if we are able to do that, then we should be fine."
But offense hasn't been the reason the Cardinals have cruised to this game – quite the contrary, actually.
They've forced nine turnovers as a team, by far the most of any squad in the playoffs. Panthers quarterback Jake Delhomme was completely victimized to the tune of five interceptions and a lost fumble, and the Cardinal ballhawking essentially prevented Carolina from ever establishing anything offensively.
So, limiting turnovers is most important for the Eagles come Sunday.
"Any time that you go out and turn the ball over and you are giving their team more opportunities to score," Westbrook said. "With the potent weapons that they have on their offense, it's going to be tough to win."
But the Eagles, so far, have turned the ball over four times this postseason. Two more on Sunday could be a problem. But still, they're sticking to their guns.
Reid insinuated that the Eagles would stick with what's been producing wins – and why not? They got this far.
In other words, don't expect too many wrinkles at this point.
"We'll do what we do, and what we think is best," Reid said. "We won't change anything that we normally do or have been doing."