When quarterback Donovan McNabb strode into the auditorium for his press conference on Thursday, he had the look of a very confident man.
With the big, bad Cowboys looming as the Eagles' opposition on Monday night, McNabb was neither intimidated nor cocky.
There was something in the way he spoke, though, about what he's seen of the Cowboys thus far and about how the Eagles match up. To McNabb, there didn't seem to be anything special about playing the Cowboys.
"This is just a normal game for us," McNabb said. "You get excited as a player to play on Monday night, but that's about it. We don't get caught up in the hoopla of us and the Cowboys or them being on HBO and the 'Hard Knock Life Show' and we're not. We do Comcast and all the other shows out here, so that's pretty big.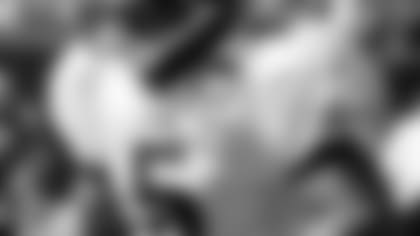 QB Donovan McNabb
"It's just having fun. This is only Game 2 and we want to continue to feed off what we did last week, get better and continue to progress as the season progresses. It's just the beginning of the season. This is a point in time, especially for us on offense, to format an identity."
See? No big deal. But there were other telling factors, too, like when McNabb was asked if the Cowboys had the fastest defense that he's faced.
"No, not necessarily," McNabb said. "That's not discrediting what they do. They are an experienced bunch. They may not be the fastest team that we face. We face a fast defense here in Philadelphia. We've played some great defenses. They have some great players on their defense. They're very good at what they do."
McNabb also went out of the way to make the point that the Eagles have been very successful in Dallas in the Andy Reid era. In nine trips to Texas Stadium, the Eagles are 6-3.
"I don't pick and choose things like that that stick out for me," McNabb said. "We played great a lot of times there. It's not just one particular play. We have a pretty good winning record there and we want to continue that.
"I didn't even know this was the last game we'll be playing there in Dallas' stadium – at least for the regular season. Obviously we want to go out and play well and hopefully end on a good note."
When he was asked what made the Cowboys' defense so tough, McNabb complimented their stable of Pro Bowl-caliber players and how the Dallas coaching staff doesn't make things too complicated for them.
"They have some great players," McNabb said. "Their scheme is not that difficult. It gives guys an opportunity to make plays for them. Their middle linebacker, who doesn't get a lot of attention, Bradie James, had over 130 tackles last year. He's done a great job for them. I think their defensive coordinator will try to put guys in position to be successful, then (they'll) just play football."
For McNabb, it's all about the Eagles and what they are trying to accomplish.
"I think with the guys we have interchanging at the wide receiver position and obviously with (Lorenzo) Booker coming over to running back, trying to get the flow going on the offensive side, it's important we feed off what we did last week and continue to improve."
It doesn't matter to McNabb if it's against Dallas or not.