You've heard it a lot this week: the Eagles have made five NFC Championship Games in eight years. It's not a small task, and it's something that can't be done without a lot of overlapping talent contributing to multiple playoff runs.
But there's a totally opposite side of the coin, as well. Aside from the grizzled veterans of the semifinal, take a look at all the major contributors that have never played in a conference title game for the Eagles.
All of the linebackers were absent. DeSean Jackson and Quintin Demps are both rookies. Kevin Curtis is in just his second season with the franchise. And how about the entire defensive line rotation? Yeah, five of eight championship games is a lot, but it has been quite a while since the Eagles were in their last – the 2004 season.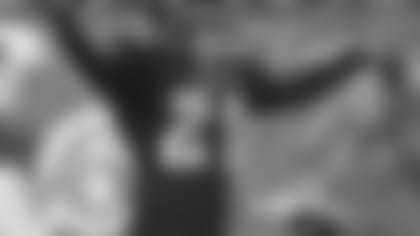 CB Joselio Hanson is one of the Eagles who will play in his first NFC title tilt
Since then, a lot of stars have emerged, and these bright spots are hoping to carry the Eagles to the next level.
"I ask (the veterans) how it feels to be in this situation. I tell them, 'Man, it's *exciting *to be in this kind of a situation," said defensive end Trent Cole, who was a rookie in 2005, the year after the Super Bowl XXXIX run. "I'm having a real good time. A great time. I'm pumped."
It's not like these guys are just along for the ride – there are more than a handful of fresher faces putting up big numbers and big snaps. Jackson leads the team in receiving yards. The entire interior of the offensive line – Todd Herremans, Jamaal Jackson and Nick Cole – has never been this far. Rookie Trevor Laws is a vital part of the defensive tackle rotation that stuffed the Giants on two vital fourth-and-shorts.
It's a team led by veterans but carried by youth, and the NFC Championship Game will be one the veterans simply cannot win by themselves.
"(The veterans) just keep you going. They always let you know what you're doing wrong – or what you're doing right," Jackson said. "It just keeps you on your A-game."
It creates for an interesting dynamic in the Eagle locker room, especially for the veterans that have yet to reach this point in their careers. Nine-year veteran Darren Howard, in his third season with the Eagles, has an interesting story.
Howard, who led the Eagles in sacks with 10 during the regular season, will be making his first-ever conference championship appearance on Sunday. In 2006, his first season with the Eagles, Howard dealt with some personal agony.
The Eagles made the playoffs that season, advancing to the divisional round, before losing to Howard's former team, the Saints. Now, it's Howard's turn to do what the 2006 Saints could not – advance to the Super Bowl.
"As a rookie (in 2000), I went to the playoffs. And you kind of get comfortable, and you think it's supposed to happen every year. But then fast-forward eight years," Howard said. "This league is hard. Everybody's gunning for everybody and everybody's trying to get one goal, and there are 32 teams. Only one team gets that. It's hard to come by."
Howard's one of those guys in a strange limbo, a veteran leader with the wide eyes of a rookie. He's keeping the younger guys aware of what's at stake.
"They know," Howard said. "I don't have any concerns about any guys in this locker room … nobody's hitting the so-called 'young-guy wall.' Everybody's eyes are wide open and they're looking at the door."