Now that the Eagles' top two wide receivers are out with injuries, the backups will truly be tested, starting with Friday's game in New England.
Andy Reid said during his press conference Wednesday that Greg Lewis and Hank Baskett will rotate in Kevin Curtis's spot while DeSean Jackson starts in place of Reggie Brown.
Regardless if the remaining receivers are feeling any added pressure, as they claim not to, they have remained steadfast on what they hope to accomplish going into this season and in the final two preseason games.
"We all wanted to get better as a unit and we want to continue to do that whether Kevin is here or not," Lewis said. "Obviously, if he is not going to be here then everyone is going to play more, but we are not feeling any pressure. We just want to go out and make plays when given an opportunity and make the most of each opportunity."
WR DeSean Jackson
Lewis started all 16 games in 2005, finishing the year with 48 catches for 561 yards and a touchdown. During his six-year career in Philadelphia Lewis has six career touchdowns.
Curtis had a career year last year with 77 receptions, 1,110 yards and eight total touchdowns. Wisely ignoring the numbers, as the veteran of the receiving corps, Lewis has set the tone for what the younger receivers should be focused on.
"I don't see it as we have make up for anything," Lewis said. "Last year was last year, this is a brand new year. Nobody has any yards anywhere. So if we just come out and do what we need to do, I think the offense will continue to flourish as it did.
"We're all professionals. We all have a job to do, and when one person goes down somebody has to step up."
For those who wonder if the Eagles have the firepower on offense, maybe they can find solace in the fact that the players are realistically optimistic.
"I think we are able to compete at the level that this team needs us to compete at," Lewis said. "I'm not going to say that we are Randy Moss or anything like that, but we are the guys that we are and that's the guys that we are going with and we feel confident, and everybody in this locker room feels confident with the guys that we put on the field each and every time."
Luckily, Lewis is open to talking to the other receivers about anything they may have trouble understanding. Going 6-10 in 2005 cannot be easily forgotten for him and he hopes to avoid it at all costs.
"I know how that felt and I don't want to go back to that route again," Lewis said. "So I want to help the guys out as much as possible and hopefully they take some of what I say and use it and we have a positive year."
The rookie Jackson has no qualms about asking for guidance either, which can be a large obstacle for new players to overcome, especially when they are used to performing with great success at the high school and college level.
"I just lean on them. They help me out a lot, and I go out there and keep making plays," Jackson said. "I go into things with an open mind and I am one of those guys that say 'whatever happens - happens.' I know what I am capable of doing and all of the hard work that I've put in."
Now more than ever, time is of the essence for Jackson to grasp the complicated West Coast offensive scheme.
Reid said that he thinks Brown will be back by the season opener against the Rams and Curtis will have surgery on Thursday. The timetable for Curtis' return has yet to be determined, but the head coach did say he will be "out for a while."
The preparation for Jackson to make yet another jump, first college to pro and now reserve to starter, in such a short period of time has been smooth thus far. In two preseason games, he leads the team with 12 catches for 122 yards.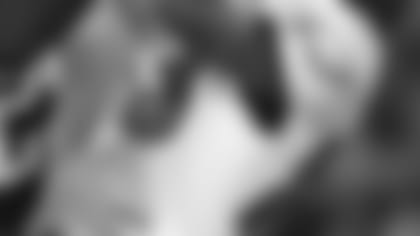 WR Greg Lewis has enjoyed success against New England
"I feel like I've been doing a good job this week getting in the playbook, getting with Donovan (McNabb), just grinding it out there working hard," Jackson said. "Being a starter is a lot more different than just being a back up receiver.
"I just can't wait until Friday."
Baskett amusingly summarized the situation of depth at receiver, and at any position for that matter, saying, "Don't put, as they say, all your eggs in one basket."
The team has Curtis in their prayers. They want him to take whatever time he needs to heal, and they will look forward to his return.
"It's definitely opened up a window of opportunity, but you definitely don't want to wish ill upon anybody," Baskett said. "Kevin was a big part of this offense. Everybody saw that last year. His 1,000 yards may have been a quiet 1,000, but he came in and made things happen in his first year. He is a veteran leader that we have been looking for.
"Our coaches are confident in me, Greg, DeSean and Jason (Avant) to go in there if something happens to Reggie or Kevin …to go in and make plays happen as well, just like the starters."