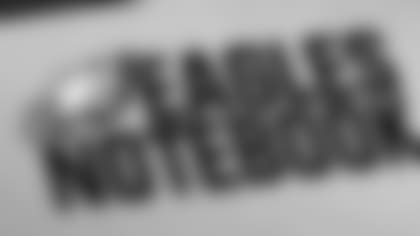 McNabb's Big Day ... With his 20-yard touchdown pass to RB Correll Buckhalter in the 2nd quarter, QB Donovan McNabb became the Eagles all-time leader in that category, moving past Ron Jaworski (175). McNabb now leads the Eagles in touchdowns (176) and completions (2,259). He trails Jaworski by 81 attempts and 721 yards for the club record in those categories.
McNabb joins Brett Favre and Peyton Manning as the only active quarterbacks to currently lead a franchise* in two or more of the four major passing categories (attempts, completions, yards and touchdowns). Favre leads the Packers in all four, as does Manning with the Colts. McNabb and Manning are the only QBs to have accomplished this feat with their current team.
*This list excludes expansion franchises who have only been in existence since 1996 (Ravens, Panthers, Jaguars, and Texans).
ACTIVE QBs WHO LEAD A TEAM IN TD PASSES
Brett Favre (GB) 442
Peyton Manning (Ind) 308
Tom Brady (NE) 197
Donovan McNabb (Phi) 176
Mark Brunell (Jax) 144
Jake Delhomme (Car) 98
David Carr (Hou*) 59
*not current team
Protect This House ... The Eagles have not allowed a touchdown in three consecutive home games (9/21/08 vs. Pit., 9/7/08 vs. StL. & 12/30/07 vs. Buf.) for the first time in team history. In those three games, the Eagles defense has allowed an 11.1% conversion rate on third down (4-36), and held their opponents to an average of 136.7 net passing yards per game
Steel Shutdown ... Steelers QB Ben Roethlisberger was held to the lowest yardage total (131 yards) of his career when attempting 22 or more passes in a game. To compare, he threw for 131 yards on 20 attempts vs. Washington on 11/28/04 and 123 yards on 21 attempts vs. Seattle in Super Bowl 40. Roethlisberger was sacked eight times by the Eagles, the second-most he has allowed in a game during his career. The Ravens sacked him nine times at Baltimore on 11/26/06 ... In terms of run defense, Steelers RB Willie Parker was held to his lowest rushing output (20 yards on 13 attempts) in games in which he has had 12 or more carries. The Steelers 33 rushing yards was their lowest total since being held to just 21 yards by the Ravens on 11/26/06 at Baltimore, a span of 23 regular season games
Rocca Is Sav-vy ... P Sav Rocca booted 5 punts for a 44.4-yard average (43.4 net), including a 64-yarder, the second-longest of his career (65 on 10/28/07 at Min.), and 3 inside the 20-yard line. Rocca averages 46.9 yards on 12 punts this season, including 6 inside the 20. For his career, he has downed 30 of his 85 punts inside the 20-yard line, (35.3% average), topping the Eagles all-time list among punters with at least 50 career boots. Jeff Feagles is ranked 2nd with a 32.7% average (106/324)
Safety Dance ... The Eagles defense forced Pittsburgh into a safety when Roethlisberger was flagged for intentional grounding in the end zone. It was the Eagles first safety since 12/7/03 vs. Dallas when Cowboys LS Matt Lehr snapped the ball out of the end zone. It was the first recorded by the defense since October 2, 1994, when DE William Fuller sacked Steve Young for a safety at San Francisco in the Eagles 40-8 win over the 49ers.
Defensive Quick Hits ... The Eagles nine sacks were their most since 9/23/07 vs. Detroit and tied for the third most in team history. The last time the Eagles tallied six sacks in a half was on 9/15/91 at Dallas ... DE Juqua Parker registered a career-high 2.5 sacks with a forced fumble, marking the 4th multi-sack game of his career ... LB Omar Gaither also set a career high with 1.5 sacks ... CB Asante Samuel recorded his second interception as an Eagle and his 18th since 2006, which leads the NFL during that span.
Offensive Quick Hits ... McNabb started off the game with 15 straight completions, breaking his previous record of 14 straight completions to start a game (12/5/04 vs. GB) ... Buckhalter caught a career-high six passes, including a 20-yard touchdown, the third of his career ... WR Hank Baskett led the team with a career-high eight receptions and a game-high 85 yards.
Birdseed ... Brian Dawkins played in his 170th career game, surpassing Chuck Bednarik and moving into second place in franchise history. He trails only Harold Carmichael (180). Dawkins sealed his 100th victory as an Eagle (92 regular season, 8 postseason) after recording a sack, forced fumble and fumble recovery of Roethlisberger in the fourth quarter ... K David Akers played in his 143rd game as an Eagle, moving past Ron Jaworski and into 10th place in team history. Akers hit two 31-yard field goals, and has connected on his last 26 attempts from inside 40 yards and his last nine overall ... T Jon Runyan played in his 131st game as an Eagle, tying T Vic Sears for 20th place in team history.