The Eagles are proud to recognize the importance of National Girls and Women in Sports Day. Women play an integral role in the organization's success both on and off the field. Today marks the 35th anniversary of this powerful and inspiring holiday. There have been tremendous strides forward in that timeframe, and the Eagles champion girls and women who look to realize their full potential. Learn about four members of the organization who share what today means to them and provide advice for those looking to thrive in the sports industry.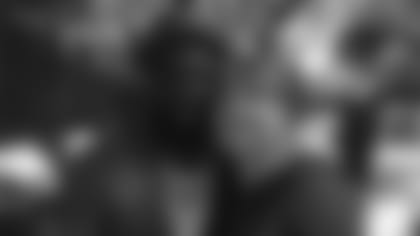 Kathy Mair poses for a photo with former Eagles running back Kenjon Barner at the Super Bowl Ring Party in 2018. If players have questions about anything from benefits to housing to you name it, Kathy is the go-to source.
Player Resource Coordinator
Seasons with the Eagles: 5
What does National Girls and Women in Sports Day mean to you?
"This day is an interesting one for me. I love that it celebrates the inroads that women and girls have made into the predominantly male world of sports. But I really look forward to the day when having females involved in sports at all levels is a given and doesn't require a special shout out. We get closer to that every day. I do think it's a great day to remind the world of the amazing things that women and girls have done in sports and I celebrate that."
What advice do you have for girls and women seeking a career in sports?
"My advice is to anticipate that there will be roadblocks as well as stumbling blocks, but don't let them get you down. You may have to fight a little harder to get the same opportunities or reach the same level as a man, but that's only going to make you better at what you do. And whatever your goal, be yourself. Don't change who you are to 'fit in.' Bring what makes you unique to the table and let those around you – men and women – learn from you too."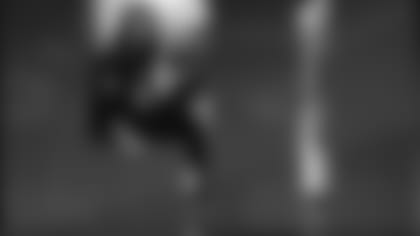 Meghan O'Donnell manages the social media accounts for the Eagles Autism Foundation and is involved with all of its creative endeavors, while helping plan and execute the Eagles Autism Challenge. She is also an analyst for the football operation department.
Communications Coordinator, Eagles Autism Foundation
Seasons with the Eagles: 1
What does National Girls and Women in Sports Day mean to you?
"To me, National Girls and Women in Sports Day means representation, which is huge in this industry!
"I'm fortunate to be part of an amazing all-female team with the Eagles Autism Foundation (shout out to Ryan Hammond, Kiki Saraceni, Megan Fesolovich, and Sally Rogers), but prior to this role, all of my previous experience was in male-dominated departments.
"Growing up, I didn't see a lot of women in the positions that I wanted to be in, which can be discouraging at times. That this day even exists highlights the fact that more and more women are not only breaking into the industry but reaching new heights, and that's incredibly inspiring to see."
What advice do you have for girls and women seeking a career in sports?
"I think the biggest piece of advice I can offer is to recognize that you're going to face challenges that your male counterparts won't and not to be deterred by that. An unfortunate reality of this business is that you're going to be put in situations where you're the only woman in the room or where you have to prove that you have the same knowledge and ability as your male co-workers. Don't be discouraged by that. Instead, focus on what you can control – your effort, your attitude, your preparation – and find an organization that values you.
"When I first graduated college, I was working in a male-dominated department, where there weren't any women in positions of power. That led to a toxic work environment and left me really discouraged and questioning whether I wanted to remain in the industry. I've since been fortunate enough to end up with the Eagles, an organization that truly values my contributions and that has allowed me to grow both as an employee and as a person."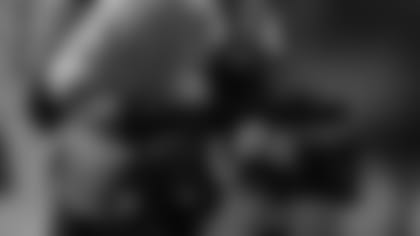 Ameena Soliman records practice, footage that the coaching and personnel staffs will study later in the day. She is a key asset helping with player evaluation for the NFL Draft on the college side and assessing the potential roster cuts from other teams during the preseason on the pro personnel side, among several other roles.
Player Personnel Coordinator
Seasons with the Eagles: 3
What does National Girls and Women in Sports Day mean to you?
"National Girls and Women in Sports Day is important to signify how far we've come, but also how much work still has to be done in this area. I look forward to the day that girls and women in sports become so common that we don't need to point it out every time it happens – we'll just be people in sports who happen to be women."
What advice do you have for girls and women seeking a career in sports?
"The best advice I can give to other girls and women looking to work in sports is to work hard, be coachable and willing to learn, and find mentors who can guide you throughout the process."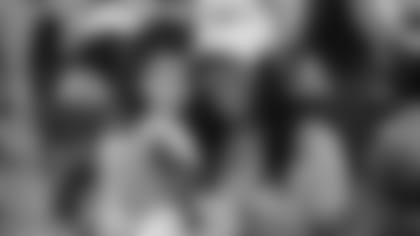 Shardae Swoope visited a rehabilitation hospital in Mexico with the Eagles Cheerleaders. While the Eagles Cheerleaders have the most visibility on gamedays, they represent the organization as ambassadors at hundreds of community events throughout the year.
Seasons with the Eagles: 4
What does National Girls and Women in Sports Day mean to you?
"The celebration of National Girls and Women in Sports Day, to me, acknowledges the strength and power behind a woman. It recognizes the efforts put forth by women to achieve goals that many think are impossible. Each and every day, I use my platform as an Eagles Cheerleader and brand ambassador of the Eagles organization to inspire and lead others. Through my involvement in professional sports, I have had an opportunity to help make a difference in the world. Many girls and women share my same interest in sports and have the motivation to succeed. This day empowers and builds confidence in girls and women so that they, too, can make a difference globally and achieve their dreams.
"Speaking from my experience as an Eagles Cheerleader, it has opened many doors of opportunity for me, as well as provided me with a platform to make a positive impact. I have traveled to many countries representing the Eagles organization and the NFL. While on a goodwill military tour to Honduras and Curacao, I was able to connect with the brave men and women who serve our country and communicate our support and gratitude. In Quintana Roo, Mexico, I spoke on behalf of the Eagles organization and helped organize engaging physical activities as part of the NFL's Play 60 initiative to encourage youth to get outside and play. These are just a few examples. While my work has introduced me to many other countries and cultures, some of my most rewarding work has been right here in the City of Philadelphia, where our diverse communities are joined by their love of sports and through my role as an Eagles Cheerleader I have been able to help build strong relationships within the community."
What advice do you have for girls and women seeking a career in sports?
"My advice to girls and women seeking a career in sports is, 'You have the power to be and do whatever it is you want to do.' One of my ambitions was to become an Eagles Cheerleader and I achieved that goal. Not only did I want to be a Philadelphia Eagles Cheerleader, but I wanted to use that platform to be a role model for the youth in the community. As a representative of the Eagles organization, I am able to bring knowledge to others on the important role women have in sports and my journey as an Eagles Cheerleader. I am also able to share my off-the-field accomplishments, as I am very proud of my work as a special education teacher.
As one of the 2020 captains of the Philadelphia Eagles Cheerleaders, I am passionate about utilizing my leadership to inspire others. I also coach three all-star cheerleading teams and one high school cheerleading team, where I lead young athletes and motivate them to work hard and achieve their goals. For the girls and women interested in seeking a career in sports, you can do it and nothing can stop you. It takes strength to pursue your goals and not be deterred. We are Women and We are Strong!"