As the Eagles get ready to play in their third-ever Super Bowl, let's take a moment to look back at the team's first Super Bowl appearance - Super Bowl XV against Oakland in the 1980 season. The Eagles won their first NFC Championship over the Dallas Cowboys to reach the title game but fell short of bringing home the Lombardi Trophy losing 27-10 to the Raiders in New Orleans.
"I didn't realize it was so crazy. I knew that we had a media day on Wednesday or Thursday, and we're practicing in the Superdome, and we're looking around and there's probably 16, 18 people there with cameras, and some big-time beat writers. I said, 'You know, this isn't all that bad on media day.' But when practice was over, there was some guy that yelled out, 'OK, Ralph. You can let them in now.' And with that, they opened the doors and about 2,000 media people came in. And it was just the craziest thing I've ever seen.
"What happened was I think that we put so much emphasis on our (NFC Championship Game with) Dallas that we couldn't get back to the same physical, mental, emotional level for the Super Bowl. And that's not a cop-out or anything.
"Our No. 1 goal, we never talked about going to the Super Bowl. Our No. 1 goal was to overcome the Dallas Cowboys. And the thing that was so unbelievable is when I was walking down that tunnel onto the field, there was never a game that I played in my 13 years that I knew we were going to win as much as this game here. We destroyed the Dallas Cowboys that day. Wilbert Montgomery almost had 200 yards rushing. Our defense, we were just swarming and going crazy out there. It was just unbelievable.
"Afterwards, we got into the locker room and we were all hopping and hollering and going crazy. We had overtaken the Dallas Cowboys! And then all of a sudden, it was, 'Oh, wait a minute. We have another game to play and they just happen to call it the Super Bowl.'"
"The whole year was a magical year. We played with a great deal of confidence. We felt we were going to win every game we played. When we went to play in the NFC Championship Game, we just knew we were going to beat the Cowboys. And, of course, the conclusion of the season wasn't fun.
"There was some satisfaction, but at the same time, when you lose in (the Super Bowl), particularly for some of the individuals that played – it'd been so long to get there, you really know how special it is – and had developed a deep appreciation for how hard it is to get there. So many things have to happen for that to happen. It's a once-in-a-lifetime thing for most of the people that are involved in the game of pro football."
Ken Clarke, Defensive Tackle
"Back then, with the Super Bowl, you didn't know what to expect. You're excited, but then it's all uncharted territory. Our goal was to win and get there and not having been there before, it can kind of be overwhelming. Dealing with your family and dealing with the fact that you're going to be in New Orleans for a week, it was all uncharted territory. But it was exciting."
"We had a couple of plays ... the touchdown called back from Rodney Parker and Herman Edwards, just off his fingertips and deflecting that (touchdown) pass to Kenny King. And we get one touchdown called back because of an illegal motion and all this other stuff, it could have easily gone either way. But unfortunately, it's one of those things that happens. They got the breaks and we didn't and they ended up winning the football game. Because we could play with them. We played them earlier in the year and beaten them in Philly (10-7), so we weren't in awe of them or anything like that. It was just unfortunate that that day they got the breaks and we didn't."
Carl Hairston, Defensive End
"It was something that any player should want to experience because you can't experience that nowhere else. And win or lose, it was a great experience for me to play in it. And, of course, I coached in it with Coach (Dick) Vermeil in St. Louis. It was a great feeling on either side. I think every player and every fan should experience that."
Dennis Harrison, Defensive End
"You know, it's one of those things ... you didn't know what to expect. People tend to forget that our Super Bowl, I think, showed the perspective of how football should be ... where it's not all this grand thing because it was also the day that they released the hostages (52 Americans who had been held for 444 days after the United States embassy had been taken over in Tehran, Iran).
"If you remember, they had the big (80-foot long and 30-foot wide) yellow ribbon around the (main entrance of the) New Orleans Superdome. They were thinking about flying them in for the Super Bowl and all that kind of stuff, so a lot more attention that Sunday was spent on the hostages being released than the Super Bowl, and rightfully so. That was more important than a football game."
Wally Henry, Wide Receiver
"The Super Bowl was everything I expected it to be. Coming from playing in the Rose Bowl (while at UCLA), it was just taking that next step up. The Rose Bowl was like the Super Bowl of college for us. So I kind of had an idea how big the game was. But the Super Bowl, the magnitude of it, when you go in to meet with the press a couple of days before the game, I mean, everything was just so huge."
Claude Humphrey, Defensive End
"I think what my expectations of what the Super Bowl was and the way it turned out wasn't exactly the same. I expected us to go down there and have a good time and have fun and just enjoy the fact that we were playing in the biggest game of the year. We had worked our behinds off to get there, but when we got down there, shoot, all we did was work. We worked our butts off down there.
"It was like the first day of Training Camp. We were hitting and everything in practice and the Raiders were out having a good time. We practiced every day we were there and the Raiders got the first two or three days off. Just compare what happened down there. The Raiders got all those days off and we didn't get a day off the whole time we were down there, so it turned out to be more like an early Training Camp than playing in a game as big as that. It wasn't anything like I expected.
"And then when the game started, shoot, I didn't get in the game until almost the end of the second quarter. The whole thing was just kind of messed up to me. The defensive line coach (Chuck Clausen), he had his ideas on how things were supposed to go, I guess. He just had me standing over there on the sideline with him. I was more like a coach than a player. Then when I did get in, I went right in the game and got a penalty for roughing the passer. That's what they say. I say that (Raiders offensive tackle Henry) Lawrence pushed me into him, but they said I hit him on my own. But that wasn't really so."
"I really didn't know what to expect. We had been successful in college (at Clemson) and so I just assumed you always went to a bowl game or the playoffs or whatever. I figured we'd go back some more, but we never did. So I really don't think I appreciated it because I was really just in my second year in the league."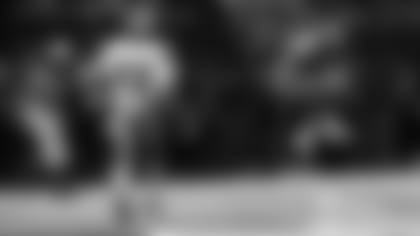 "It was just ecstatic. From an emotional standpoint, in a course of two weeks, it was the highest high to the lowest low when we got beat. But in reflection afterward, the weeks and months to follow, you reflect on the whole season. What it took to get there over a period of years building the team under Dick Vermeil. It's just really an internal sense of pride to have just made it there.
"The initial disappointment of losing the game kind of faded. To me, personally, it was inner pride because every year it's such a battle just to get to the playoffs. And then in the playoffs and get to the Super Bowl, it was just really ... The only thing that I didn't accomplish in my career was being on a winning Super Bowl team, as far as I'm concerned. But coming from a town of 800 people in Wisconsin, it was quite a ride.
"I guess my claim to fame is that I always say I scored the first Super Bowl touchdown for the Eagles franchise. So that they can never take away."
Frank LeMaster, Linebacker
"It was just a wonderful event, going there and so forth. It was a great experience. The only thing, even today, that kind of sticks in my craw, is we did not play our best game that day. If we'd have played a good game and got beat, that's one thing. But we did not play a good game either offensively or defensively that day."
"Didn't expect to lose or want to lose. It was such a unique experience. I'll never forget when we beat Dallas here at home (in the NFC Championship Game). When the gun sounded which ended the game, I just fell to my knees right there on the field and my mind was like, 'We are in the Super Bowl! We are in the Super Bowl!'
"We were greatly privileged because how many individuals have an opportunity to do that? The number of players that have played in the league and never had the opportunity to experience this, I said, 'Hey, I've got the opportunity to experience something that a lot of players wished they had.' It was a great experience from that standpoint. I wish we could have won it, but still, I thank the Lord for being a part of it."
"It was disappointing that we didn't play any better than we did, but I didn't know what to expect. Just take it as it comes and kind of enjoy the ride. I wish we would have had a little more free time when we got to New Orleans and been able to kind of relax a little bit more, but that was Dick's (Vermeil) style. I know the Raiders got to town and they didn't even practice for the first three days. They were out having a good time on Bourbon Street. We went right to work and didn't have a lot of free time. I think to some degree, we were kind of a worn-out football team. We could have played better, I know that."
"I know it's the Super Bowl and TV and radio and media, they can make it be something that's really this big, big thing. But to me, it was just another game. We were getting ready for whatever they do on defense and we're getting ready for whatever they did on offense and doing the things that we do best, which evidently we didn't do enough to get it done that day."
Jerry Robinson, Linebacker
"That was my first Super Bowl, my only Super Bowl, and it was kind of overwhelming. You had some reporters from everywhere asking crazy questions and asking some questions that weren't even relevant to football.
"I wish I had another chance. It's over and it was probably one of the most exciting times of my life. I know the City of Philadelphia, they were fired up. That year, the Phillies won, the Flyers won, the Sixers won. Everyone won except us, but we were all in the big dance.
"I don't feel that I played exceptionally well. I think the team that represented the Eagles that day, without a doubt, was not the best team that we ever had because we had a great year. (The Raiders) were a lot more relaxed. We were wound up real tight. Our inexperience made a difference and it was a painful thing."
John Sciarra, Safety "If you look at that game physically and just look at the battles, the Oakland Raiders didn't have anything on us. We were pretty physical in that game. They were carrying guys off the field, more of their guys than our guys. If you look at the game from a physical perspective, we did quite well. The problem is that their scores happened on big plays. They got three or four really big offensive plays. (Raiders quarterback) Jim Plunkett had a great game. The receivers had a great game. They had a broken play where he throws the ball to Kenny King, the running back, and he runs whatever it was, 50 yards, 60 yards for a touchdown.
"It wasn't one of those games that you go, 'Wow, they're just getting blitzed.' It was a big play here, a big play there. We had a touchdown called back because of a forward motion penalty. They get three picks. It wasn't so much of anything other than they made the plays and we just didn't. It wasn't our day. I don't think it was a matter of us over-preparing or being tired. It was just how the game worked out. Everything that could go wrong went wrong."
"It was the good guys vs. the bad guys. That was Coach Vermeil's first time, and we were all, 'What do we do now?' They had armed guards and police dogs outside the team hotel. We took the hotel out by the airport because it was out of the city and away from the distractions of Bourbon Street. So basically, we were locked down. Nobody had a car and you were by the airport, good luck. Stay out of the hotel bar. So we just sat around and thought about it for a week.
"On gameday, coach made the decision to go early because of the traffic congestion in downtown New Orleans on Super Bowl Sunday. We were supposed to relax. I think we were there at 11 o'clock in the morning, and by the time the game kicked off it was 6:30, 7 o'clock. But we were completely wasted. I don't even think they changed the atmosphere in the locker room. There had to be a lot less oxygen in there.
"We were ready to play on Friday. We were ready to rock and roll on Friday. And then by the time that game time came around, we were kind of out of gas."
Charles Smith, Wide Receiver
"I didn't know what the Super Bowl would be like because I'd never gone. One of my friends, Sammy White, who played with the Vikings, he played in Super Bowl XII. And he said, 'You've really got to experience it for yourself.'
"I really enjoyed myself because, 'Hey, this is what we played for.' This is the epitome of football and we were able to make it there. That year, we were one of the best. But football's funny. Sometimes the ball bounces funny. I thought we were a good enough team. I thought we were the best team in the league that year.
"I thought we should have won, and we should have. But like I said, football's a funny sport and sometimes the ball bounces funny, which it did. We just didn't capitalize. We scored a touchdown, but it was called back. Who knows what that touchdown would have led to?"
"I think it was a bit maybe overwhelming and surreal. Overwhelming in the sense that the magnitude of the game was so great that you either win or you become just kind of an also-ran.
"And it's a little bit surreal in that there's so much going on, there's so much attention to it. I'll never forget being there for Media Day and just seeing a stream of writers and reporters. It was endless, coming down the stadium steps to meet us on the field.
"To have a team that really was so driven and not necessarily laden with talent, but laden with really talented people and good players, to achieve the kind of things we did that year, in hindsight, is pretty remarkable. There's a bond there. We're not ashamed to call one another, talk to one another, and tell one another we love them. That bond just seems to get stronger and stronger in time."
"It was exciting. It was nice to get there, but disappointing that we didn't win the game. That might have been our worst game of the year as a team. But it was exciting. The Super Bowl, at that time, was a major event, but now it's become a spectacular event."
Reggie Wilkes, Linebacker
"I was disappointed. People talked about us having sort of a lockdown in preparation for the Super Bowl and not really being able to let our hair down, but when we got out on the field it was just an amazing feeling being a part of such an experience.
"The height of success in professional football is playing in the Super Bowl. There's just no feeling like that. Just to be in something like that and representing your city and your state and your family, if you will, the coaching staff and your teammates, out there on the field ... I'm disappointed that we didn't win the thing, but it was just a great experience and something that I'll never forget.
"Being a part of a winning team that made it to the Super Bowl is probably the sporting event that I'm most proud of because that really showed that we collectively as a defensive unit, offensive unit, special teams, the coaching staff, and the fans, all came together to make the thing work. Having played in the Super Bowl was a just an experience that I'll never forget."
"Actually, I would have liked to have played the game the next week (following the NFC Championship Game instead of a two-week break). Between that and the meetings and the press and all of that, once you got to the game, for me, it lost something in terms of ... We had so much preparation; I felt it took a little bit off for me.
"I was so excited at the NFC Championship Game; I could have played the next day. So that's kind of what I was looking for. We had so much time in between. Now that's not an excuse, but I would have savored the moment a little bit more had I known how difficult it is to return. Football has a business side of it, but I still think it's a game."
Roynell Young, Cornerback
"It takes a unique personality like (Dick Vermeil) to lead men and he had that indefinable thing that leaders have. He was able to melt together a group of individuals who may have not all been first-round draft choices, but guys that had integrity and were hungry. And while we didn't win (the Super Bowl), there were some special things that we accomplished along the way.
"I remember telling John Bunting, 'Don't take it so hard. We'll be back next year.' Well, next year never happened. It really is a metaphor for life. When opportunities present themselves, you have to be fully equipped to maximize that opportunity because, after the Super Bowl, a whole lot of things unraveled.
"I went through two owners and three or four coaches and never got a whiff of getting back to the Super Bowl. So I felt very privileged to have had that opportunity and to have walked into something like that."