On Tuesday, quarterback Michael Vick joined Bruce Murray and Rich Gannon on Sirius XM NFL Radio. The topic of conversation quickly became something that Vick has been questioned about again and again - the starting quarterback competition.
When asked if he thought that he would win the starting job, Vick responded by saying that he was excited to prove himself to the new coaching staff, and that he was confident in his ability.
"I'm just excited that I had an opportunity to come back and play for Coach (Chip) Kelly," Vick told the Sirius XM Blitz hosts. "I thought it was a great opportunity for myself and what he's going to implement in this offense is what I've been accustomed to doing for a long time in my career.  Obviously, staying healthy is most important.  But being a starter in this league for such a long time, I'm just confident in myself and confident in what I can do.  I know what it's like out there on game day.  I know what it takes to win football games. I've been in the trenches.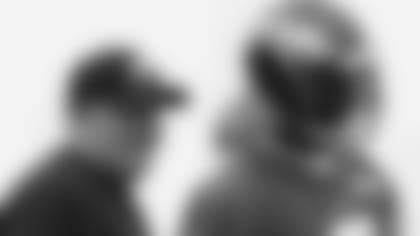 "Not to say the other quarterbacks can't get it done because those guys are my teammates, my brothers, and I love them to death.  So we all feel like we can get it done and we also have that attitude that we can go out there and lead this football team.  And that's the confidence that I instill in myself and I'm going to instill in them, because they're the future of the NFL.  So we're all working together, trying to get better, and the most important thing is helping this football team win games."
Vick was then asked if he was surprised that Chip Kelly hasn't named a starter to this point, and how the competition has been between himself and Nick Foles.
"I think it's great competition," said Vick. "Every day we're out there competing.  I make him better, he makes me better and our main focus is to try to be the best quarterback we can be when we're out there behind the center.  Primarily, the most important thing is to lead this football team and to win football games.  I have no resentment, no disappointment within myself as far as what the situation is right now because the truth of the matter is you have to compete every day.  You've got to compete on Sundays.  You've got to compete off the field, (and) you've got to compete on the field.  And I understand that and that's the fun part about the game we play.  If it was easy then it wouldn't be fun."
Through it all, Vick maintains that he still has a passion to play the game of football and that he understands the pressure that comes along with playing in the NFL.
"I'm thankful to have had the type of career that I've had through all the ups and downs," Vick explained. "It has been a blessing. It's something I've dreamed about since I was young, being a NFL QB. I knew it was going to be a struggle, I knew it was going to be tough, I knew it was going to take a lot of hard work to get there and I put in that work. And it doesn't stop here.
"I still feel like l have four or five solid years left in me. I'm keeping my body in shape and doing all of the right things. I'm doing all of the right things. I'm just enjoying the game. I don't want to go out on Sundays now, even throughout the season and have ill-feelings towards anything … I just want to enjoy it from here on out, and not stress about anything, go out there and give it my all, prepare, put in the hard work and see what the results are going to be, because I have my kids looking up to me, I have kids all around the world who look up to me, and I think my attitude is what's most important right now."
Vick, a 12-year veteran out of Virginia Tech, enters his fifth season with the Eagles. He comes into this year's Training Camp as the franchise's all-time leader in quarterback rating (87.8) and completion percentage (60.1 percent).