There was no playing coy, no gamesmanship with the media, no hiding behind the curtain. Head coach Chip Kelly addressed the media before Tuesday's practice and, without prompting, offered the news for which everyone's been waiting.
"First off, I'll tell you guys, we've evaluated the situation and Michael Vick is going to start for us against the Washington Redskins," Kelly said. "He's our starter for the season."
After 38 "opportunities for evaluation," from minicamp to OTAs to Training Camp to walkthroughs to meetings to two preseason games, Kelly and the rest of the Eagles coaching staff met on Monday and made the decision to call off the team's quarterback competition. Simply put, Vick gave them no choice.
"I think Mike is ahead right now and I think Nick (Foles) made it very difficult though," Kelly said. "It wasn't where one guy went North and the other guy went South. I think both of them upped their game but at this point in time, Mike's ahead and we want to move forward. This is a one quarterback operation. This isn't going to be someone's going to look over their shoulder or we're going to alternate by series. I think Mike is ahead right now.
"Obviously you always wanted to get a guy in place. We didn't want to let this linger, but I think it also expressed itself on the field."
There was no team meeting called to make the announcement, Kelly simply met with the quarterbacks Tuesday morning to inform them of the team's decision.
"I met with all the quarterbacks this morning. They all understand the plan and know where we are moving forward," Kelly said. "Nick was great. Nick's a professional. Nick's outstanding. I think Nick and Mike have a great relationship together. They're both pulling for each other and that's part of it. For us to have a good football team, two key ingredients are chemistry and attitude and when you see two guys like that approach this situation in that manner, I think it reflects great on the entire team. You have two class guys in Mike and Nick and I think they're both rooting for each other.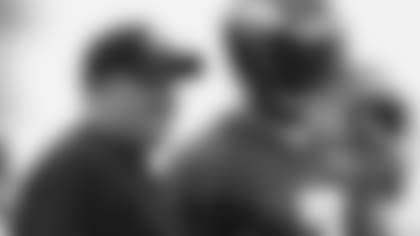 "In this league, you better have a couple quarterbacks ready to go. I mentioned that again to Nick today and I think he has to approach it like he's the starter, that's got to be his mentality going into this so he can prepare like he's the starter. I met with Mike and he said, 'I'm still going to look at this like it's an open competition because I've got to continue to get better every day.' I think both of those guys, and really the entire quarterback room in meeting with all those guys, I think their attitude has been outstanding."
And so Vick will now prepare to lead the Eagles into Jacksonville for the third preseason game, where Kelly said the starters are expected to play at least through the first half, if not longer. For Vick, this is actually familiar territory. It was in Jacksonville in 2010 where Vick made his first start after he was named as the team's official starting quarterback. He will make that same trip this weekend, as he hopes to improve on a ridiculous 13-of-15 preseason passing mark that has earned him a 113.2 quarterback rating (taking into account the meaningless hail mary interception on the final play of the first half against the Carolina Panthers).
"What impresses me about Michael though, is that he really has fun," Kelly said. "He enjoys playing this game, and it's great to be around guys that love playing football. He has a passion for this game, and not that Nick doesn't, I think Nick has a passion for this game too. I think it's really important that we have a bunch of guys like that, but that's great for us as a staff to be around a bunch of guys that love the game like that."
The timing of the decision also frees Vick, Foles and the designers of the Eagles offense to be more open about the direction they'd like to take moving forward.
"I think there is a next step for us to take and I think that by naming (Vick the starter) we'll get a better understanding of that because I would be leery, myself, if I was in a competition to say – you're going to say you like everything because maybe they're going to judge me on what I like and don't like," Kelly said. "So we've stayed away from that a little bit, but now as we start to get into this, it will be a little more player-specific in terms of us being able to run some things on the offensive side."
Kelly has said all along that the only timing that mattered was that the team had a quarterback in place before the game-planning started the week before the season opener against the Washington Redskins. But he also insisted that when a clear picture emerged of who that quarterback would be, the timing would make itself evident.
"We didn't have any preconceived notions of how this was going to work itself out," said Kelly. "It was just over the course of time, we let it play itself out. I think the one thing we learned from this group is I think we've got two guys and maybe even three guys that can play in this league. It was a healthy competition. Mike completed over 80 percent. I think Nick was at 79 percent. I think they both made each other better and I was very happy with how they both handled the situation because it can, at times, get testy. It can, at times, be one guy competing against another, but I thought it was a healthy competition and I thought it brought out the best in both those guys."