Lovie Smith is used to talking defense. But the major difference for him this week is that it's usually his defense he's talking about.
But the Chicago Bears head coach and former St. Louis Rams defensive coordinator knows a tough matchup when he sees one, and what he sees this week is the Eagles, owners of the NFL's fourth-best overall defense (first against the run), on the horizon.
It seems a particularly tough matchup for the 1-2 Bears, who concentrate majorly on the run game to get the ball downfield. Through three weeks, the Eagles have practically swallowed Steven Jackson, Marion Barber and Willie Parker. And the Bears' top rusher is rookie Matt Forté, who hasn't yet seen a unit like this one.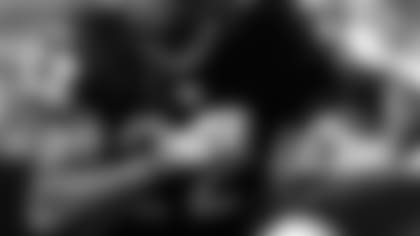 RB Matt Forté
"A lot of things we do are based on us being able to run the football," Smith said, "and as far as them being able to stop the run … they put a lot of pressure on the line of scrimmage."
Smith noted that the Eagles' secondary is what makes them the most dangerous, allowing the Eagles to blitz like they did Steelers quarterback Ben Roethlisberger with a much smaller chance of consequence.
"Adding a player like Asante Samuel, of course, will help any team. But beyond that, the Eagles have always had a good secondary," Smith said. "You add a Pro Bowler like that, it only makes it stronger, so that'll be a big challenge for us."
Still, don't expect the Eagles to slingshot nine players toward the line of scrimmage on every play. For all the perceived lack of weapons he has, quarterback Kyle Orton has been managing games well and putting the Bears in position to win every game so far this season.
He's completed a more-than-respectable 62.5 percent of his passes, and the Bears have had a lead in the fourth quarter in every game so far. Should the Eagles have a lapse, Orton can win, there's no doubt. Heck, numbers aside, he outdueled Peyton Manning in Week 1.
"I think at every position, you look at who gives you the best chance to win," Smith said. "At the quarterback position, it's just leadership. A guy you want leading a team. Kyle has been all that. He earned it the hard way. He competed for the position and won it. And we've seen growth."
Head coach Andy Reid made the point that Chicago could very easily be a 3-0 team – they suffered a last-second loss to Carolina in Week 2 and last week blew a 10-point fourth quarter lead and lost to Tampa Bay in overtime.
So is it a trap game for the Eagles? Based off of records alone, yes. The Cowboys and Steelers games are over, and the Eagles' toughest stretch of the season is hitting its nadir. But on talent level? Well, it might be more physical than the Pittsburgh game. And that's saying something.
"We think we could easily be (3-0), too. But every team that's 1-2 is saying that right now," Smith said. "So to me, I think you are what your record says, and that's what we are right now. We're a 1-2 team, with promise. We clean up some things, we think we can make a move."