While he was at Oregon, Chip Kelly's offense proved to be a system in which running backs thrived. Kenjon Barner ran for 1,767 yards in 2012. Before him, LaMichael James had three straight seasons of at least 1,500 yards, including 1,805 yards and 18 touchdowns in 2011. While a number of backs have found incredible success in Kelly's offense, there have been very few receivers who have made a name for themselves. In fact, there was just one 1,000-yard receiver during Kelly's stint as the Ducks head coach. That player, Jeff Maehl, has become the newest member of the Philadelphia Eagles.
"I'm really excited for the opportunity," Maehl said after Tuesday's practice. "Hopefully, I can go out there and help this team out and earn the respect of my new teammates."
Maehl had a breakout senior season with the Ducks, hauling in 77 catches for 1,076 yards and 12 touchdowns. In the BCS National Championship Game versus Auburn, he led the team with nine catches for 133 yards. Why was Maehl so successful in Kelly's system? Maehl responded by saying that his teammates deserved the credit.
"We had a really good team that year," Maehl explained. "They had to worry about LaMichael - he was breaking off a lot of big runs and we had a lot of veteran guys on that team who knew what they were doing, so we could push the tempo even more. With me, I just tried to go out there and make the plays when they came my way and it just so happened that that year I had a lot of balls come my way and I made a lot of plays."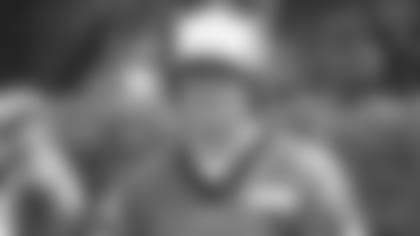 Maehl was acquired in Monday's trade that sent Nate Menkin to Houston. He went undrafted and spent most of 2012 on the Texans practice squad, appearing in three games without a catch. Maehl told reporters that once he heard that his college coach was headed to Philadelphia, he did wonder if the two would ever reunite.
"Of course (when) you play for a guy and he goes to the NFL, you think about it," Maehl said. "You think that it would be cool to go play for him again, but in my situation in Houston, I was grinding to try to make that team and that was my number one priority, but I'd be lying if I said that it wasn't in the back of my mind that if I didn't get an opportunity there that maybe Chip would give me one. I was a little shocked that it happened this early, but I'm happy to be here."
Following Tuesday's practice, Kelly praised Maehl's ability to make a big play, but he also said that his talents extend much further. Maehl was originally recruited to play safety at Oregon. Even after making the switch to wide receiver following his freshman season, Maehl continued to shine on special teams, displaying both versatility and toughness.
"I coached Jeff for four years, two years as a coordinator, two years as a head coach. He catches the ball very well. He's extremely tough. I think he'll be able to add value to us not only as a receiver, but as a special teams player," Kelly said. "I think that's one of the things that Jeff came to Oregon as a safety and we moved him because of injuries to receiver, he's got a defensive back mentality. He's had games where he's caught a 70-yard touchdown pass, and on the next play on the kickoff, he made the tackle on the 10-yard line."
The 6-foot, 184-pound receiver becomes the sixth former Oregon Duck currently on the Eagles roster. Maehl says that while the familiarity with Kelly does help his ability to adjust to a new team, it does not guarantee him a spot on the roster. He is going to have to work just as hard as every other player.
"You can tell in the warm-up and the meetings that it's just like it was back at Oregon," Maehl said. "He's trying to keep it the same way because we had a lot of success there. Bringing that stuff like the nutrition and all of that, that's just going to make a football team better in my mind.
"Knowing Chip is not going to guarantee me a spot on this team whatsoever. I have to go out and earn it. Knowing the offense definitely helps, but (Coach Kelly) has changed a lot of the terminology and some of the signals and things like that, and with me being in a different system the last couple of years, it's going to take me a while to get back into the groove of it. It's kind of like learning a new language. I just have to back out there and pull what I knew from it and adapt to the new terminology."
Maehl said that while he was with the Texans, many players on the team asked him about Chip Kelly's offense and how it would translate to the NFL. Other players wanted to know how similar it would be to what he ran at Oregon. Maehl said he isn't sure exactly what Kelly's offense is going to look like, but he knows one thing for sure - Kelly is going to do whatever it takes to win.
"I have no question that he's going to make it work in the NFL," Maehl said. "Whether or not the offense is going to look like the Oregon Ducks out there, I can't say that right now, but Chip is such an intelligent football coach that he's going to make the adjustments that he needs to make to put the team in the best position to win ballgames."