Donovan McNabb will be the starting quarterback for the Philadelphia Eagles when they host the Arizona Cardinals on Thursday night.
"I'd like to address the quarterback situation right off," head coach Andy Reid said at the opening of his press conference on Monday. "Donovan McNabb will be our starting quarterback in the Arizona game on Thursday. I mentioned this (Sunday); you have to take a step back to step forward in a positive way, and Donovan will do that."
After deciding to bench McNabb at halftime of Sunday's 36-7 loss to the Ravens, Reid chose to name McNabb as the starter over second-year quarterback Kevin Kolb.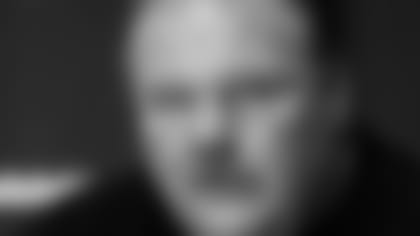 Head coach Andy Reid explains why Donovan McNabb will start Thursday night
Reid said that McNabb will not be on any sort of short leash and that he shouldn't start looking over his shoulder. In fact, when Reid was pressed as to whether McNabb would be the starting quarterback for the rest of the season he said, "If I thought different, then I would start the other guy.
"Donovan's going out to play. That's what he's doing. Like I said, sometimes it's good to step back and look at things from a little different angle. I expect him to go out and play his heart out."
Reid thinks that if anybody can rebound from this type of situation, it's McNabb. Whether or not Reid is right remains to be seen.
"I think I know Donovan McNabb better than anybody in this room," Reid said. "I know that six turnovers, that's not Donovan McNabb. That's not him. That's not his game. That's no part of his game. You back up an inch, you evaluate it and you should be able to step forward."
The Eagles have committed nine turnovers in the last two games, with McNabb playing a part in seven of them. The Eagles have only scored one offensive touchdown in the past two games. On Sunday against the Ravens, McNabb was 8-of-18 for 59 yards with two interceptions and a lost fumble. In the second half of the game, Kolb was 10-of-23 for 73 yards and a pair of interceptions. Their combined QB rating was 12.5.
"This has nothing to do with Kolb's performance or Donovan's performance," Reid said of his decision. "I think it was the right thing to do. I would not change my decision on that, on what I did (Sunday). Obviously, we have to do a better job with turnovers. Nine turnovers in two games is ridiculous."
Reid said it was important for the team to move past the Ravens game with Sunday's game against the NFC West-leading Cardinals just three days away.
"It's important that, as much as we want to dwell on this game, that's not going to happen," Reid said. "We're going to move on. We're going to learn from it and move on."
Reid said the team as a whole needed to show improvement down the stretch, no matter who is at quarterback.
"I know I need to coach better, Donovan needs to play better and the guys around Donovan need to play better," Reid said.
As far as not telling McNabb that he was being benched, Reid said it was no big deal. Reid has always had the position coaches inform particular players that they were being benched and that he spoke with McNabb after the game.
"That's how we do it. The coach that coaches that player, he tells them and I address it afterwards," Reid said. "And that's how it goes.
"I talked to him afterward, as I did the other quarterback, and that's the way I went about doing it. At that particular time, you're in a tight time situation and you're trying to put things together for the second half. That's how you go about doing it. So, it's not a matter of disrespecting Donovan or any other player for that matter. It's what you do. That's why they have coaches, to do those things."
Reid said he expects McNabb to snap out of his slump.
"I've been around Donovan a long time," Reid said. "I trust that he'll get his part right and the guys around him (right)."