If either Jerome McDougle or Bryan Smith is cut by the Eagles, it wasn't because of anything the defensive ends did against the Jets on Thursday night.
McDougle and Smith both started against New York, and both made enough plays to perhaps give the Eagles some difficult decisions to make with the final roster cuts due by Saturday at 6 PM (EST).
"Yes, I think I did what I had to do to make the team," Smith said. "I feel like I did what they expected me to do tonight. I just tried to go out and play."
Smith had a monster game, recording 11 tackles and 1.5 sacks. He delivered three hits on the quarterback to help his cause for a roster spot. Just over a month ago, he started training camp on the Physically Unable to Perform list with a hamstring injury.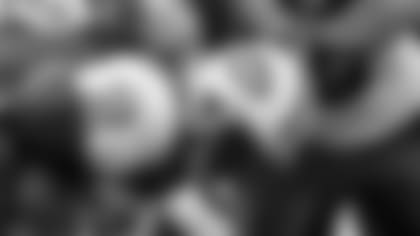 DE Jerome McDougle
"You can't control what happens," Smith said. "It's football. Things happen. All I can do is play when I'm able to get out there and play. Coming off the injury, I thought I did well."
Head coach Andy Reid said that Smith has proved he can be stout against the run as well as becoming a solid pass rusher.
"He did better," Reid said of the 245-pound end. "In college, he was a great pass rusher. That was at a little bit smaller school, but he was a dominant pass rusher in college. He came here and he's been almost a better run player than he has a pass rusher, which surprised me.
"(Thursday) he showed that he can do both. He has to continue to improve there both in the pass and in the run. But we can work with that right there. He's done a nice job."
But there are still things Smith needs to improve on.
"I'm happy with the transition to the run," Smith said. "I just need to continue to get better at the pass defense. That's a big part of this defense."
Reid also complimented McDougle's play. The former first-round draft choice had two solo tackles, a 1/2 sack and he knocked down a pass at the line of scrimmage. He led the Eagles with 2.5 sacks for the entire preseason.
"He's done a heck of a job and he's played good football," Reid said. "I'll have to go back and look at (the film); but he played the whole game and made a couple of nice plays in there."
McDougle will be the first to admit there's much he still needs to work on as well, but he said that he's having as much fun now as he's had during any point in his six-year career.
"Take everything else out of it," McDougle said. "It's football. You grow up playing it your whole life and it's supposed to be fun. It's not supposed to be like eating dirt.
"Sometimes, when you put a lot of pressure on yourself, you take the fun out of it. I pretty much went back to basics, going out there to play and not worry about everything."
McDougle said he likes playing the role of an underdog.
"Everybody likes the underdogs," McDougle said. "Everybody likes the guys that have been through a lot, overcome adversity, that's kind of how you grow up - watching movies of guys facing adversity and overcoming it. I do feel like people are in my corner, and not only the fans, but some of my teammates and some of my coaches.
"People really want to se me do good, (but) it's different from wanting to see you do good and doing good, so you have to go out there and you have to live up to it and make plays and continue to get better, because it can switch pretty fast."
As for Chris Clemons, the free-agent signee sat out Thursday's game against the Jets due to a calf injury. He said that he's doing everything he can to be ready for the season opener.
"I'm trying everyday to get on the field," Clemons said. "I've been working with (head athletic trainer) Rick (Burkholder) and (assistant athletic trainer Chris) Peduzzi and all those guys in the training room trying my best to get back to the point where I'm able to play."