Thursday's final preseason game against the Jets may be meaningless for some, but players like defensive end Jerome McDougle are battling for their football lives.
McDougle, the 15th overall selection in the 2003 draft, enters his sixth NFL season looking to make an impact. He has battled injuries throughout his career, but his play against New England last Friday showed he may be ready to contribute.
McDougle's main competition at defensive end, free-agent signee Chris Clemons, has been unable to get on the field due to a calf strain after signing a five-year contract with the Eagles in the offseason. Clemons' absence has opened the door for McDougle to make the team.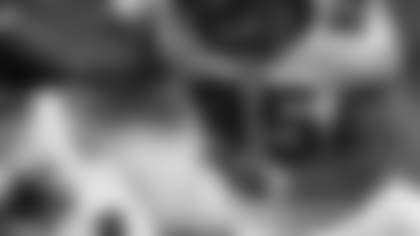 DE Jerome McDougle
"This is a big game for (McDougle), no question about it," Johnson said. "Bryan Smith and, of course, hopefully Chris is going to be healthy. I'm not sure right now. It's going to be a little bit tough."

Clemons has had a rough go of it during his short tenure in Philadelphia. After being hospitalized with dehydration during training camp, Clemons has only played in the first preseason contest against Pittsburgh, recording two tackles.

Meanwhile, McDougle has made the most of his opportunity. In three preseason games so far, McDougle has two sacks, a forced fumble and four solo tackles. According to Johnson, his performance has been a pleasant surprise.

"We didn't know how Mac was going to play this year coming off of injuries in the last couple of years," Johnson said.

Furthermore, McDougle's attitude has been exemplary.

"I'm just focused on trying to get better everyday," McDougle said. "I'm not focused on numbers. I want to make the team, obviously, but that's not my ultimate goal. My ultimate goal is to continue to get better.

"I know it sounds cliché but when you take that approach I think it's better for you mentally and physically because you are focusing on one thing and not a whole bunch of things."

This isn't the first time that McDougle has tantalized the Eagles with flashes of greatness. In the 2004 season opener against the Giants, McDougle put himself on the NFL map after he blew up New York Giants quarterback Eli Manning with a violent sack.

So, after McDougle had his way with New England starting right tackle Nick Kaczur during the second half of last Friday's game against the Patriots, perhaps McDougle has whetted the Eagles' appetite once again.

"There are options on the table," Johnson said. "How many guys do we keep? McDougle has had a good preseason; I think everybody knows that. He's fighting for a job. We'll just have to see what happens and how many linemen we are going to keep. The numbers game comes in. But, Mac has had a good preseason. We know Chris hasn't been out there, so that's a factor."

That's what makes a meaningless preseason game meaningful.

"I'm not going to get down into numbers and how many we are going to keep and all that," Johnson said. "It's probably one of the things we're going to have to decide after this game, no question."