Earlier this week, LeSean McCoy claimed that he wanted to put the offense on his back against the Chicago Bears. He felt as if he needed to do so after running just eight times for a season-low 38 yards in the loss to Minnesota. Eighteen carries and 133 yards later, McCoy backed up his claim and helped lead the Eagles to a lopsided 54-11 victory over the Bears in front of a raucous Lincoln Financial Field crowd.
"The guys up front, myself and the guys in the backfield, we had to get it done," McCoy said after the game. "Last week, we didn't have a chance to and I felt like we could have. Knowing that the Cowboys won, this game didn't really matter, but we had the same mind frame - to go out there and dominate, and that's what the guys did up front."
Once again, there was another "eight" on the Eagles' stat sheet, but this time it represented the team's yards per carry average.  McCoy and Bryce Brown each topped the 100-yard plateau becoming the first pair of Eagles teammates to do so in the same game since Duce Staley and Donovan McNabb in 2002. Even Chris Polk chimed in with a 10-yard touchdown run. McCoy credited a total team effort and a high level of execution that propelled the Eagles to a win.
"I think we just played our game," McCoy said. "I think Nick Foles played excellent. I think the guys up front played extremely, extremely well making holes for the backs to kind of pick our own lanes out, and we played well. I think Coach (Chip) Kelly called a good game also. … The special teams and the defense played a big role today. If you give us that many opportunities, we've got to go out and put some points up."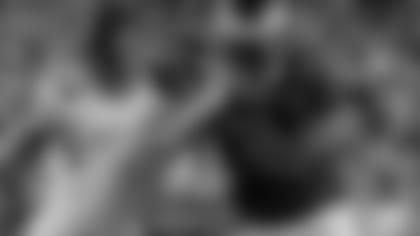 After getting knocked down last week, the Eagles got right back up and came out punching against the Bears en route to a season-high 54 points, and, according to McCoy, that said a lot about this team's character.
"I wish it was that easy every week to just go out there and put up a fifty-burger on a team, but things happen," McCoy said. "It's about how you adjust to it and how you respond. Certain plays we had in this game where we were gashing them. On the wide runs, they made adjustments and they stopped us, and then we hit on something else. Being able to respond (is important) because you're going to hit adversity. It's just how you respond. I think it has a lot to do with how you execute when the plays are called. I wish it was that easy to go out every week and just dominate."
McCoy increased his league-leading rushing total to 1,476 on the season and now he needs just 37 yards to break Wilbert Montgomery's single-season franchise record, set in 1979. Though winning is the most important thing for McCoy, he admitted that he would like to set the franchise mark.
"To be honest, it would mean a lot," McCoy said. "In this game, I think stats and records are meant to be broken. You train hard and it's stuff that you dream about. You dream about going to the Super Bowl and winning those games. You dream about breaking records and setting records and rushing titles. All of that stuff does play a part for sure. The biggest thing is winning. We want to win, but to have those types of broken records and setting stats, that's pretty cool also."
In 2011, McCoy had an All-Pro season, rushing for 1,309 yards. He scored a team-record 17 rushing and 20 total touchdowns, but the Eagles weren't a very good team that year, finishing the season 8-8. This season, the McCoy is once again putting up big numbers, but it's so much sweeter to have the wins come along with them.
"The confidence level (is different)," said McCoy. "Even last week, we didn't run the ball, and that's cool, but I still thought that there was no way we're going to lose. Just the confidence level is out of this world. Every play is going to work. Every play is going to be effective. There's always this feeling where we can't lose. We're all playing together. Every phase of the team - from special teams, to offense to defense - we're all playing well, and that's what a team needs to have if they want to be successful.
"Now, the stadium is sold out. We have to go to Dallas to get a big win. We're winning games. The feeling is different. The city is going crazy right now. Eagles … wow! When you're having success and you're playing well and you're winning, you can really feel the difference. You can enjoy it."
The next obstacle for the Eagles is the Dallas Cowboys. A win over Dallas would make the Eagles NFC East champions in the first season under Kelly's watch. Earlier this season, the Cowboys came to Philadelphia and handled the Eagles 17-3 defeat. Nine weeks later, the Eagles have become a different team, and McCoy knows that the Cowboys should expect a much better fight.
"I can't even remember how that game went," McCoy said. "I can tell you that they didn't see the best of the Eagles. They didn't see the best of Nick Foles and LeSean McCoy. They didn't see the best of us but they will this Sunday. It will be a different story."
As McCoy walked away from the podium and to head back towards the Eagles locker room, he uttered one last phrase to set the tone for the week.