When fans enter Lincoln Financial Field for Sunday's game against the Falcons, they may notice that the stadium will have a slightly new look.
After announcing a new sustainable energy partnership with NRG back in March, the team began installation of seven wind turn turbines on the north side of the 'Linc' Thursday.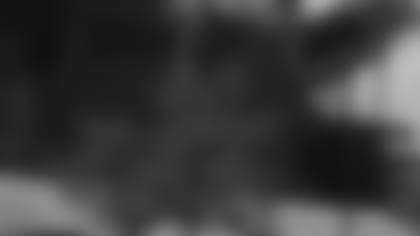 The home of the Eagles will now generate more alternative power than any stadium in the NFL. This is thanks to a system that includes the largest solar power system in the league and the Philadelphia area.
In addition to wind turbines on the stadium, solar panels will be installed throughout the complex. Panels will be installed along 11th Street and the south façade of Lincoln Financial Field, generating power and visually demonstrating the Eagles' and NRG's commitment to clean, renewable power. Meanwhile, panels in the parking lot will generate the bulk of the power that will help run the stadium year-round.
Fourteen micro wind-turbines will be placed along the top of the stadium on the north and south sides. All totaled, the turbines and solar panels will annually produce about six times the amount of power used during all Eagles home games. The new equipment will not interfere with the fans' gameday experience.
While this may be the organization's most noticeable commitment to green energy, it is far from the first. In 2003, the Eagles started their Go Green! campaign, a program designed to conserve resources throughout the organization. As of January, the campaign has helped divert over three million pounds of waste from landfills and conserved enough energy to power 7,150 homes a year.
The renewable energy installation was designed by the DLR Group, which has designed custom solar and wind installations for NRG at several other NFL venues. Construction is expected to be completed in December.
"We believe that companies everywhere can find ways to Go Green with business practices that help the environment and the bottom line," said Chairman and CEO Jeffery Lurie in March, "Together with NRG, we're eager to use this project at Lincoln Financial Field to continue our leadership role on environmental issues."
Below is a rendering of what the stadium will look like when the project is completed.