"Rehab is going to be my season."
Those were not the words that Jeremy Maclin had in mind coming into this year's Training Camp. The wide receiver was entering his fifth year in the league, which just so happened to be his contract year. Maclin had high hopes for himself and the team this season, but he knows that other players will be ready step up while he recovers from a torn right ACL.
"I thought that I had the ability to shine in this offense," Maclin told reporters during Sunday's practice, his crutches balancing on the wall behind him. "With my skill-set and with me being very intelligent, I think they had the ability to put me in several different places and be successful, and help the team be successful, and it just sucks that I'm not going to be a part of that, but I think they have the guys out there who can still make this thing work."
Maclin went down during Friday's practice, and he unfortunately knew what happened right away, having suffered the same injury on the same knee in 2006 at Missouri. After that first injury, Maclin was able to get back out on the field in six months.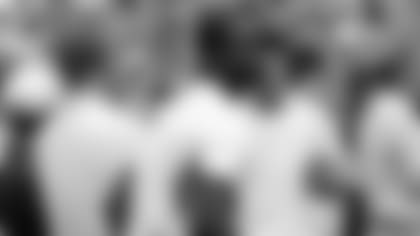 "I rehabbed my butt off," Maclin said. "I tore my ACL last week of July, I had surgery on it in early August and come February I was running (40-yard dashes) and I did spring ball with no brace on. So I'm pretty optimistic."
All the more frustrating for Maclin was the freak nature of the injury.
"(My foot) basically got caught," Maclin explained. "I tried to go left and my right leg didn't want me to go left, and it just kind of popped back, hyper-extended, and buckled on me and I just felt a pop.
"I was devastated. I was laying on the field, and it wasn't the fact that it hurt, it was the fact that I knew what happened, so I was emotional just knowing what was at stake. This is something I love to do; I love to play football, and knowing that I'm not going to be able to be a part of this new era here in Philly this year, hopefully I'll be around for a few more years to come. I'm going to rehab and get stronger and be better than I was before."
Following the injury, Maclin received messages of support from teammates and players around the league, including NFC East competitors like Robert Griffin III. He mentioned a particularly meaningful message from former Eagles running back Brian Westbrook, who is no stranger to an ACL tear.
"Everybody in the NFL, the players in the NFL understand and they know what we go through on a day-to-day basis," Maclins aid. "They know that at any given time everything that you worked hard for can be taken away from you. They feel the pain and they understand that when we go out there and play this game, we're putting our bodies on the line. I appreciate all the support but just know that I'll be back."
Maclin's surgery is scheduled to be performed next Tuesday by Dr. James Andrews. He will spent a few weeks in Alabama before coming back to Philadelphia to rehab. He said it would be "highly doubtful" that he would return this season, but he knows that he can rely on those around him, and even rely on himself, for support.
I'm leaning on "My faith in God, family, and friends, and I'm going to lean on myself," Maclin said. "I think I've been battle-tested and I think I've got the right mindset and the right approach to the situation, so I think I'll be okay."
The question does now loom as to whether Maclin has played his final game for the Eagles. The 25-year-old certainly hopes that is not the case.
"I don't want to leave this city," he said. "We'll cross that bridge when it comes. I think the most important thing now for myself is to get myself ready and get back there and just try to come back stronger than I was before." Make sure to follow us on Twitter @EaglesInsider.