BETHLEHEM, Pa. - Chairman/CEO Jeffrey Lurie gave his annual State of the Team address Wednesday morning, and while he professed a great excitement for the upcoming season, he said that everyone's attitude is subdued at the moment.
"This is a little bit unusual in that I think we all have a little bit of a sadness," Lurie said in his opening remarks, "And that has to do with Coach (Jim) Johnson, and I just want to say that first ... It's not something that just goes away. I think about him and his family every day and I know the team and the organization and everybody is gearing up to both honor him this season and hopefully bring home a championship to really honor him."
Lurie then announced another way in which the team would honor the late coach Johnson.
"Regarding Jim," he said, "We have an Eagles honor roll, and there is no doubt that sometime pretty soon Jim is going to be on that Honor Roll. He's touched all of us. He's been a huge difference maker to the team, and he's responsible for a lot of the wins. He was just a great, great guy."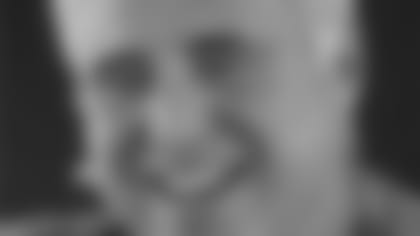 Lurie said that the makeover on offense was needed for this year
The acknowledgement of members of the Eagles family who are absent from this year's training camp continued when Lurie spoke about departed safety Brian Dawkins.
"Another great guy, Brian Dawkins," Lurie said, "I just want to say that as long as I own the team, nobody's going to wear number 20 either. That's not possible, and I hope he has a great year in Denver, and I just wish him the very best and I'm real proud of Brian."
Watching players that he's become close to leave has been one of the toughest parts of his job.
"It's one of the hardest parts of life in sports," Lurie said. "But it's also the most rewarding when you see other players evolve and become outstanding players for you. But to say you don't miss players after you've been working with them for a long time, of course you do.
"You have to sometimes understand the reality of certain players, and what happens in the free agency system. You can miss a Tra Thomas. You can miss a Brian Dawkins, a Jon Runyan. Players that you feel close to and admire, and at the same time, you're giving others a chance to become those players."
Lurie then turned to his outlook on the upcoming season. It's one that he believes has a lot of promise.
"(The Super Bowl) is all we think about, plan for, and dream about. This decade, as an owner, we've sort of accomplished every goal possible, now we have to accomplish that one remaining goal, and that's what we're focused on," Lurie said. "You can't get more urgent than that. None of us, from the football standpoint, wanted to rest on the laurels of the success last year. There were definite areas that needed to be addressed and hopefully they've all been addressed and addressed well."
Lurie spoke specifically of the team's makeover on the offensive side of the ball.
"We looked at it pretty analytically and critically and realized that we could not come back with the same offensive line," he said. "We needed that youth at running back, tight end, and other places. So, it's important to be very analytic and self-critical, and it's been one of the keys to our success."
The radical change on offense is no different than what took place on the defensive side of the football last year.
"We recognized that the defense needed some kind of an overhaul and we paid attention in the draft to trying to regenerate a young, aggressive, athletic defense," Lurie said. "And I think this off-season, there was the feeling that we needed to do a similar renovation, I guess in a sense, of the offense and bring much more athleticism to that, especially the offensive line. It's hard to do; it is not easy to retool any side of the ball quick enough to maintain that very high level of play."
But Lurie said he has complete confidence in his distinguished staff to do just that.
"I see nothing but positive (things) with (president) Joe (Banner), he's one of the top executives in sport," Lurie said. "We're talking about a star in the NFL and a star in sports, and he does a great, great job."
As for the head coach, "I just see great success for Andy (Reid) with the Eagles. He's outstanding in really every way."
The winningest owner in franchise history then discussed the team's record of success over the past 10 years or so.
"The decade's been amazing," he said. "But I want the future to be filled with championships."
One of the areas that the Eagles have focused on while building their roster over the past several years that have included five NFC Championship Game appearances in eight years is character.
"You know, we put tremendous emphasis on this, on character," Lurie said. "There are many times we will pass a player in the draft room that's a terrific physical talent. Character is so important. I really attribute it to when you're suffering in the middle of the season, very few teams have 15-1 or 16-0 seasons, you're going to have periods where you're down. It might be the offense, it might be the defense, but you're down. It's character players that bring you out of that lull, and last year was the greatest example of all. I think it does translate to success, it's worked for us. I know we've had the best record in the NFC this decade and I really attribute a lot of it to having a very, very high character group of players. And they deserve the credit."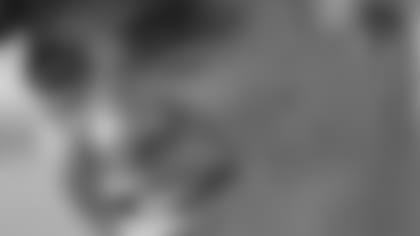 Lurie was all smiles on the field and for good reason - the Eagles are loaded for '09
And Lurie believes this year's team has an "outstanding mix of veteran leadership and young, ascending leaders."
"You have to have both," he said. "You have those young ascending guys who are going to take over the team by storm.
"I think we all feel confident we have a very good roster. It's a collision sport and the way I've always looked at it is, it's great to have an excellent roster, which we feel we have, and there's many teams in the NFL with very good rosters. It's really a sport of attrition, depth, talent and character. And in training camp, you develop the chemistry and the character. Throughout the season, you try to win the battle of attrition ... I think we're all very excited about our roster, at the same time, we all know that it's a long season and I'd like to know all the rosters in January, and evaluate it better then."
That being said, the road to Miami will be a difficult one for the Eagles.
"I think the talent level in the NFC East is the best in football," Lurie said. "We've got a division with four quarterbacks, in my opinion, capable of winning a Super Bowl ... You see the potential in these teams for dominance."
In fact, he sees the team that the Eagles eliminated in the final game of the 2008 regular season as one of the most underrated in all of the NFL.
"The team that is probably the most underrated in football is the Dallas Cowboys," he said about the division rivals. "They entered last year with by far the most Pro Bowl players, and sometimes it takes an extra year to really elevate and reach that level."
Lurie is "really proud" of the team's success during his era as the team's owner. But the goal remains satisfying the best fans in the league with a Super Bowl.
"I'm obviously really proud of the success, it's rare in the sport," Lurie said. "The hardest part, clearly, is getting to ... the final four. We've been there five of the last eight years, but the opportunity to bring home a championship to our amazing fans is what is in front of us. And that's what we have to do."