Chairman/CEO Jeffrey Lurie showed a side of himself on Friday that has been rarely seen during his 15-year tenure at the owner of the Philadelphia Eagles. Lurie was candid and introspective on an issue that evidently was very difficult for him. Lurie had to make the ultimate decision as to whether the Eagles should pursue and eventually sign quarterback Michael Vick. Out of football since 2006, Vick was sentenced to 23 months in jail in 2007 for his role in a dogfighting operation.
As a self-described "extreme dog lover," Lurie had to weigh his personal feelings towards a man who committed acts of cruelty that he didn't have the words to describe against providing the opportunity for someone who has been rehabilitated to become an agent for social change. Lurie and his wife, Christina, founded Eagles Youth Partnership for no other reason than to implement change in the lives of the disadvantaged children in our region. Would it be somewhat hypocritical to not extend the same opportunity for someone who has paid his debt to society?
Lurie was left to do a lot of "soul searching" as he tried to wrestle how to approach the notion of making Vick a Philadelphia Eagle. For Lurie, that's nothing to scoff at. Lurie exhibits "great pride in building a high-character team." The only way to come to a clear and concise decision was to solicit the thoughts of those who have been close to him and know Vick's situation. One of those people championing Vick's cause was his mentor and Super Bowl-winning head coach Tony Dungy.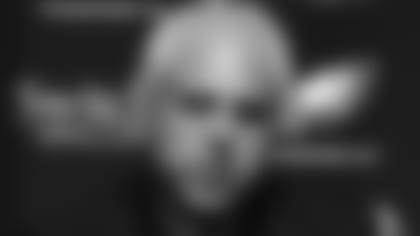 Chairman/CEO Jeffrey Lurie
"Coach Dungy is somebody, who there's only a handful of people in the NFL that I just completely respect their integrity, their honesty, and their commitment to doing the right thing in the community," Lurie said. "Tony has spent so much time in prisons, so much time dealing with people that for whatever reason did horrendous things. He was absolutely 100 percent sure that there was an opportunity here if Michael could be in the right situation to do societal good."
Of course, Lurie wanted to hear for himself just how remorseful Vick was. The two spent an afternoon together earlier this week. It was not a buddy-buddy affair. Lurie was skeptical of someone who had exhibited the ability to carry out such horrendous acts of torture and cruelty. Just because Vick had paid his debt to society didn't mean that teams were going to extend their arms wide open for him to play. Even Lurie said that Vick "disgraced" the NFL and all that it stands for.
But after spending time with Vick and asking the tough questions, Lurie took the bold initiative to offer the opportunity for Vick to prove that he is as driven to helping others avoid the traps and pitfalls that encircled him as he says he is. At this point and time, Vick is a Philadelphia Eagle. Nothing is guaranteed. The ending of his book is not written.
"Frankly, the legend of Michael Vick will be determined as we go forward," Lurie said. "It won't be determined on the field of football. His life, he will never ever be able to recover from what he criminally and murderously took part in, but he has an opportunity to create a legend where maybe he can be a force in stopping the horrendous cruelty to animals, the dog fighting. A lot of us probably have our heads in the sands, and I know I have, when it comes to what really goes on in inner cities and around the country with dog fighting and cruelty to animals. It's not a good picture."
The Eagles signed a 29-year-old quarterback on Thursday night who has been to three Pro Bowls and is the only player at his position to rush for more than 1,000 yards in an NFL season. Vick is young enough that he can still be a dynamic talent even two years removed from the NFL. But the way Lurie measures the impact a player has is not just by yards or stats alone.
"My own measurement of Michael Vick will be 100 percent, 'is he able to create social change in this horrendous arena of animal cruelty?' Whether he is successful with us on the field, sure I hope he is," Lurie said. "But his legend and whether we are giving him a second chance will be successful if he can diminish the level of animal cruelty. That's it. If he is not proactive he won't be on the team because that's part of the agreement."
The decision to allow Vick to become an Eagle has been received quite well by the fans. A majority is in favor with the decision, as they understand that Vick has paid his debt to society and should be allowed to pursue his dreams again. Lurie certainly takes into account how he believes fans will react, but at the same time, knows that at times unpopular resolutions will be made.
"I think often times when you operate a sports team you have to make unpopular and counterintuitive decisions. Some of the best decisions that have been made have been the ones that have been the most unpopular. I'm very respectful of the talent on the field and also the character of the players we have. If I thought for one instance that this player would be disruptive or unable to be a good teammate and not become a role model, then there's no way I would have allowed this to happen," Lurie said.
"If it becomes at all apparent that we are wrong, it won't take very long to make that change. I've often said that we are full pedal to the metal and when Coach Reid said this man can give us a dimension that we don't have and add another weapon to our offense in unpredictable ways, in partnership with the players that we have and the quarterback we have, then again, a soul-searching tough decision but something that we think can improve the team and at the same time create social change."