The Eagles were flying high following their 33-27 season-opening win over the Washington Redskins. They had gone out and beaten the defending NFC East champions in their own building in a nationally televised game. Flash forward three weeks and the Eagles have lost three straight and are now faced with another all-important divisional game against the New York Giants. The team has taken its lumps in the last three games, but the players believe now is the perfect time to bounce back.
Mychal Kendricks played a terrific game in the opener, leading the Eagles with 10 combined tackles. In the last three games, Kendricks has totaled just 14 tackles and has struggled with being too aggressive at times and overpursuing the ball carrier. The second-year linebacker feels that the defense is continuing to grow, but he is preaching patience as the season progresses.
"I feel like we get better every day, honestly," Kendricks said after Tuesday's practice. "The results aren't there, but I have faith and I ask my teammates to have faith and the fans to have faith. We're getting better every day, without a doubt in my mind."
According to Kendricks, the Eagles cannot afford to sit back and feel sorry for themselves. Though things have not gone according to plan in the early going, the Eagles have to continue to put in the effort to achieve their desired results.
"It's tough considering what we went through last year," said Kendricks. "Things aren't turning out the way we want them too. We've had a couple of games that were close calls and then there was this one where we were there at halftime, and then came back out and went flat. You wish you could have those plays back, but you've got to keep grinding and working."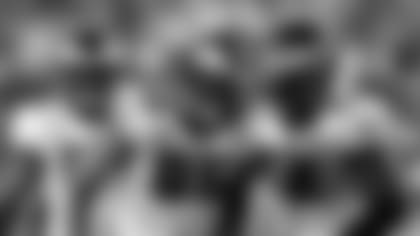 For veterans like Connor Barwin, the best thing to do in order to wipe away the memory of the 32-point defeat at the hands of the Denver Broncos is to get back out on the NovaCare practice fields and prepare for the next game.
"It wasn't that hard (to get back to practice)," Barwin said. "It was so bad on Sunday that you want to get out there and get it fixed right away … We had a good day out there today. We need to have a great week of preparation and we just need to go out there and play fearlessly, trust in each other, and just play violently out there and create turnovers. Once we get that rolling, I think it will take off."
Barwin believes that the Eagles are in no position to panic any time soon, but they must learn from their past mistakes and grow as a team.
"I think there's a sense of urgency," said Barwin. "You don't want to be too cool right now because we didn't play very well. Guys aren't panicking, which is good, but I think there's an understanding that it need to improve right away….We understand the situation but obviously we have to do a lot to make sure that what happened two days ago doesn't happen again."
The transition into a 3-4 defense is still an ongoing process and Barwin is confident that the pieces are in place for the Eagles to right the ship fairly quickly.
"We've definitely got the guys here," said Barwin. "I believe in the group here and I think everyone believes in each other. We've ran into some hurdles and we have to continue to correct some of the mistakes, but it is a process. It's not where we want it to be at this point, but like I said after the game, you can turn these things around very quickly and hopefully we do it this week."
The Eagles locker room consists of a number of young and highly-impressionable players. In an effort to make sure that these new Eagles don't become comfortable with losing, veterans like Todd Herremans are leading by example.
"I think you go around just like you have been," said Herremans. "You don't hang your head. You run around in practice and try to bring the energy that you can and show them that you're not shutting down and that you have to keep working hard."
Even Fletcher Cox, a second-year player, is becoming a leader for the younger players in his position group.
"Having guys like Bennie (Logan) and Damion (Square) in the room, (I try) to keep those guys up because if I'm doing something or walking around with my head down then it becomes 'Okay, well Fletcher is walking around feeling sorry for himself so I'm going to feel sorry for myself,'" said Cox.
It appears as if this motivation aimed towards the younger players is working, as two rookies with increasingly important roles have already moved on from playing one Manning brother and are preparing for the next.
"Everybody's working on trying to get this next win," Earl Wolff said. "Players are getting prepared for this next game, and after Sunday night, (that game) was off of our mind. We all felt bad. Everybody felt terrible and it's still hurting us now, but it's giving us motivation to be better…We just have to take care of the details and have all 11 guys on the same page each and every play. I'm one hundred percent sure that if we do that, we'll be fine."
"At the end of the day, it was only one game," said fellow rookie Zach Ertz. "(Denver is) a very good team and they're playing at a very high level right now, but we have the Giants this week, and that's all that we can focus on."