LeSean McCoy got off to a rip-roaring start in 2013, as the shifty back weaved his way through the Redskins defense to the tune of 184 rushing yards. However, the same couldn't be said for last Sunday's matchup against San Diego. Though he was a big part of the passing game, hauling in five catches for 114 yards, McCoy totaled just 53 yards on 11 carries in the run game. McCoy now shifts his attention to the Kansas City Chiefs who boast the league's second-best run defense.
"They definitely look good," McCoy said after Tuesday's practice. "I think that's probably the right team for Coach (Andy) Reid. He's used to having talent and they have tons of it. I think their front seven is pretty good and they play well together in the secondary. So far, they're probably the most complete defense that we've played."
Though McCoy has high praise for the Chiefs defense, he believes that the Eagles offense is its own worst enemy.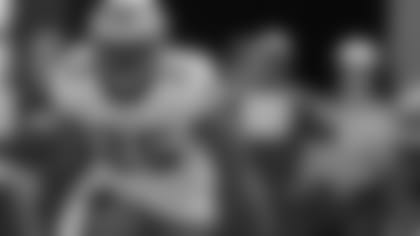 "With the type of offense that we have, it's all about us," McCoy explained. "Can we convert? Can we make the plays? So it's hard to really look at the other defense and expect them to do so well. I think it falls on the offense. With the type of offense that we have that puts points up, that's fast-paced, that scores and gets (a lot) of yards, it comes down to the offense. Can we execute like we have been for the last two weeks?
"I think sometimes we'll get in a jam where we'll drive the whole field and then take three (points). With this defense that we're playing, that's going to be the difference. We're going to have to get in there and score on long drives. If we have to take three, then we take three, but on the majority of those long drives, we want to get seven."
On Thursday night, the Eagles will already be playing their third game of the season in a very short period of time. Despite the toll that the games take on his body, McCoy feels that the short week will benefit the Eagles.
"I think it's an advantage for us as they try to prepare for all of the different looks that we're going to give them," said McCoy. "All of the different runs and different passes - you have to prepare for so much with this offense, and during a short week it's harder to game plan for all of the different types of players on this offense.
"Coach (Kelly) definitely focuses on recovery. He monitors how much we run and how far we run and how hard we're working. … I think it helps us out, because it helps you know how to prepare and get treatments and other small things. Everybody sees you on Sundays playing, but those types of things carry over when you take care of your body from Monday all the way to Saturday. ... I feel a difference. I'd be so sore after certain games, and I haven't been that sore, so I think there's a difference."
With Andy Reid returning to the site where he led the Eagles to an NFC Championship win in 2004 and Donovan McNabb having his No. 5 retired at halftime, there will be a number of distractions facing the Eagles. McCoy said that none of those circumstances come into play and that a win is all that matters.
"I think Coach Reid meant a lot to a lot of players here and to this franchise. It will definitely be different to see him in that red. ... I can't really get into that," McCoy said. "With Donovan, I'm happy for him. I'm proud of him, and Coach Reid, I'm going to give him a bug hug and tell him how much I miss him, but we have to play the game, and that's the main focus. As players, we've done a great job this whole week staying focused and concentrating on what's important, and what's important is a win."