The play looked familiar, but the circumstances were far more critical.
When Correll Buckhalter leapt a Steeler defender into the end zone during the second quarter Sunday at Lincoln Financial Field on a 20-yard touchdown reception, it immediately drew memories of a similar flip in Miami five seasons ago.
"I think the one in Miami probably was a little better because I jumped, actually, from like the 4 (-yard line)," Buckhalter said. "But I feel like I got up there pretty good, and I feel like my old self again, which is a blessing."
For Buckhalter, it's another ringing endorsement of the small miracle that has been his career, still productive after three major knee surgeries – two of them since that leap in Miami.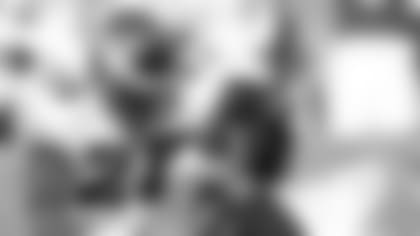 RB Correll Buckhalter
For Eagles fans, it's a small pocket of solace that their team can produce without star tailback Brian Westbrook, who left earlier that very drive when he came down awkwardly on teammate Tra Thomas' leg, coincidentally, on a similar jump. Westbrook missed the rest of the game with what is being called an ankle strain, and he will have an MRI Monday.
So missing both Westbrook and fullback Tony Hunt (concussion), Buckhalter was asked to do the same things Westbrook typically does so head coach Andy Reid could stick with his gameplan, while also filling in at fullback on some sets.
"There has to be no letdown. I always prepare myself through the week, in case anything happens," Buckhalter said. "I want to be ready to step in and just play some football."
That you did, Buck. His 87 total yards from scrimmage led the team, and his score – the only touchdown of the game – gave the Eagles a lead the defense refused to relinquish.
The fact that Westbrook missed the rest of the game wasn't great, but Buckhalter's performance was encouraging, much like his 17-carry, 103-yard performance filling in for Westbrook against the Giants last season. It's a typical quality of the West Coast offense: plug and play.
Buckhalter and Lorenzo Booker combined for 54 yards rushing and 49 yards receiving, helping the Eagles control the ball just enough to keep the Steelers from getting anything going offensively.
"It's an opportunity to go play, and the fact of the matter is – losing Brian and losing Tony – you don't replace those guys," Booker said. "Buck's obviously been doing it for a long time and I'm in a position to where I'm trying to prove to everybody else that I can be one of those guys also."
Booker said the pressure is on him – and Buckhalter – to stay healthy, especially if Westbrook is going to miss any time. He said that, unfortunately, it's one of those things completely beyond a player's control.
That's been Buckhalter's mindset, too. What happens, happens. So he decided to see if he could still fly like he used to.
"Well I wanted to try it (Sunday)," Buckhalter said, "and I found out."