Last season against the Cowboys in Dallas, running back Brian Westbrook was headed for a certain touchdown when he gave himself up at the 1-yard line.
That allowed the Eagles to run out the clock without giving the ball back to the Cowboys in a 10-6 victory.
In Monday night's 41-37 loss to Dallas, rookie receiver DeSean Jackson was headed for a certain touchdown when he began celebrating a bit too prematurely.
Westbrook didn't seem very amused.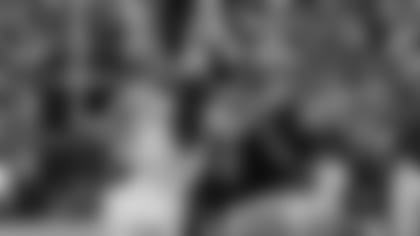 RB Brian Westbrook
"He should have scored," Westbrook said. "He should have held on to the ball until he got into the end zone. He made a mistake. He was happy we were able to get a touchdown. He shouldn't have celebrated before he got into the end zone, though."
Jackson flipped the ball out of his hand before crossing the goal line, leaving the Eagles more work to do before securing the six points. Westbrook, however, dove over the goal line on the ensuing play for a touchdown to help get Jackson off the hook.
If Westbrook has his way, though, Jackson won't be doing much celebrating in the end zone anymore.
"I told him to hold on to the ball until he gets to the sidelines," Westbrook said. "His job is to score. He had an opportunity to score, but he's young. He's learning and sometimes it takes those types of situations to learn."
Westbrook also hopes the Eagles learn from their mistakes in the hurry-up offense. Philadelphia got the ball back for the last time with just over two minutes left to play, but the offense only gained 12 yards and turned the ball over on downs.
"We had an opportunity," Westbrook said. "That's all you can ask for as an offense is an opportunity to go down and score. We had a couple negative plays there and when you're second-and-long, third-and-long, you put yourself in a bad position, a hard position to have success and that's what we did. But we have to continue to get better at that two-minute drive."
Westbrook also mentioned that he needed to improve in some areas. While quarterback Donovan McNabb shouldered the blame on a missed exchange with Westbrook that resulted in a rare fumble, Westbrook noted there are some things he could have done differently.
"I think he got the snap a little earlier than he wanted to," Westbrook said. "(McNabb) put the ball in there – I have to do a better job of hanging on to it, making sure I secure it before I try to run with the ball."
While Westbrook was satisfied with the amount of heart the Eagles showed in Dallas, he said there are no moral victories in the NFL.
"We fought. We fought hard, but that's not our goal," Westbrook said. "Our goal is to go out and win the football game. We still have some things to work on. We're not where we want to be right now. But we played against a very good football team, so we'll just continue to work.
"It's tough, but we're a mentally strong team. We're a physically strong team as well, so we have to go out and be fresh on Wednesday, get back to practice and try to win the football game on Sunday."