The 2017 NFL league year officially starts on Thursday, with teams being able to make trades and sign free agents, but talks with representatives for unrestricted free agents can begin now. In an ideal world, a team is pretty set and can do a bit of bargain shopping to plug some roster holes. Most teams aren't in that situation. They need help and that means going shopping for players on the open market. Teams will talk about building through the draft and that is certainly the best way to do things, but free agency can be a valuable tool if used correctly.
The Patriots don't win the Super Bowl without Chris Hogan, Chris Long, or Shea McLellin. None of those guys received huge contracts, but all three helped the team. The Falcons also used free agency well, adding Alex Mack, Mohammed Sanu, and Dwight Freeney. The Falcons did spend more money, but they had bigger holes on the roster so they had to be more aggressive. Still, they were smart shoppers and went after players who fit their systems.
Going after stars can matter.
The Eagles signed Jevon Kearse in 2004 and he helped the team get to the Super Bowl. They signed Asante Samuel in 2008 and he helped the Eagles get to the NFC title game and almost return to the Super Bowl. Things don't always work out that way. The Eagles spent big on Nnamdi Asomugha and he proved to be a major disappointment. DeMarco Murray was another big-money addition that didn't pan out. It doesn't matter how much you spend. You have to find the right players.
This isn't a great free agent class. Teams have gotten better about re-signing their own players in the past few years, which means fewer top-shelf guys hit the market. There will be some big names for the Eagles to consider, but I don't think there is any player the Eagles "must" go after. I don't see any Kearse or Samuel in this group.
Let's start by talking about the best players. The Eagles need help at receiver and Alshon Jeffery is the rare star wideout who will hit the open market. There is some risk because he had injury issues in 2015 and then was suspended for four games last year. He only had six touchdowns over the past two seasons combined. Put on the tape and you see that Jeffery is a highly talented player. He isn't in the Julio Jones-Antonio Brown class, but Jeffery isn't far from that. I'm sure the Eagles have some interest, but Jeffery is reported to be seeking almost $15 million per season. That might take him out of the Eagles' price range. It would be great to reunite with DeSean Jackson, but his age and price tag make him seem like more of a long shot than a likely target.
There is a pair of big time defensive linemen on the market. Calais Campbell has been a star for the Cardinals for years. He is huge and remains disruptive even as he hits the wrong side of 30. Brandon Williams is a young run-stuffer for the Ravens. I don't anticipate the Eagles having interest in them. Dontari Poe is another big-time interior lineman on the market. I'm sure the Eagles would be fascinated with a huge athlete like him, but they probably won't be spending big up front since they invested so heavily last year.
Cornerbacks A.J. Bouye and Stephon Gilmore would both be terrific additions. They are in somewhat opposite situations. Gilmore was a star corner heading into 2016 and had a down season. Bouye was a relatively unknown player, but played great. Based on 2016 tape, Bouye is the better player. He will cost a lot in free agency. Gilmore wants to be paid Josh Norman-type of money. He isn't worth that coming off a down season. If he lowers his price, the Eagles could have interest. Gilmore played well for Jim Schwartz when they were together in Buffalo in 2014. I'm still guessing this is unlikely.
Let's forget about the big names and focus on some players the Eagles might target. There are quite a few receivers who make sense. Terrelle Pryor just played his first full season at receiver and showed huge potential. He has a higher ceiling than Jeffery, but there is risk in signing a player with only one full season of receiving experience. Pryor is huge at 6-4 and 223 pounds. He runs in the 4.4 range in the 40-yard dash and has great body control. Simply put, he is a freak.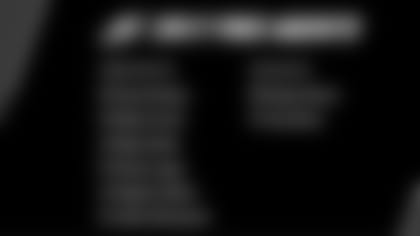 Kenny Stills is a terrific vertical threat who is just hitting the prime of his career. Kenny Britt is coming off the best season of his career. He has matured, on and off the field, and would make a lot of sense. He has above-average size and is still a gifted athlete. There are reports that Torrey Smith will be cut. Personnel executives Joe Douglas and Andy Weidl know him from their days in Baltimore. Smith would have a reasonable price tag and is a good downfield receiver, something the team would like to add.
Brandon Marshall and Pierre Garçon are veteran players who can be workhorse receivers. I don't know if the Eagles would have interest in either guy because of their age and lack of top speed. Howie Roseman has talked about wanting to surround Carson Wentz with young weapons so they can grow together. Still, it is possible the team could decide it would help the young quarterback to have a veteran workhorse receiver on the outside.
There are some interesting corners who the Eagles might like. Logan Ryan played very well for the Patriots down the stretch and in the playoffs. He is a good hitter and tackler. He also can play the slot or outside. With so many good corner prospects in the draft, I don't know that the Eagles will roll the dice with the team having limited cap space. If the price is right, Ryan makes a lot of sense.
Dre Kirkpatrick, Prince Amukamara, and Morris Claiborne were all first-round picks who battled injuries. They all played well in 2016 and the Eagles could hope one of them will have a reasonable price tag. None of the three has been so consistently good that he deserves big money. That logic doesn't always work in March, but I expect the Eagles to be disciplined shoppers. Alterraun Verner was recently cut by the Bucs and could be an interesting target as well.
The Eagles have a key situation to resolve. Bennie Logan is a free agent. If he walks, the team may want to go after a replacement in free agency. Johnathan Hankins of the Giants would be good, but he might command big bucks. Nick Fairley had 6.5 sacks for the Saints last year. Fairley played for Schwartz in Detroit and the defensive coordinator loves pass rushers.
Free agency becomes really helpful when you can find good bargains. Chris Maragos has been terrific for the Eagles. Donnie Jones, too. Nigel Bradham proved to be an excellent signing last year. The key is to find players who fit your system and who might be undervalued for one reason or another. The Eagles could use a nickelback. Captain Munnerlyn is a veteran corner who is good in the slot. Marquise Goodwin is a small receiver the Eagles could take a chance on. He has explosive speed, but failed to develop for the Bills. Look at the impact an unknown guy like Taylor Gabriel had for the Falcons this year. Cornerback Sterling Moore just had a really good year for the Saints. That was his fourth team in a career that began in 2011. Moore could be a good value addition.
The Eagles could roll the dice on a pass rusher. Schwartz drafted Devin Taylor in his final season in Detroit. Taylor was a good backup, but wasn't as effective as a full-time starter. He is huge at 6-7 and 275 pounds, which is the kind of size Schwartz covets. Mario Williams played for Schwartz for a year in Buffalo and thrived in his defense. Williams had a bad year for Miami in 2016, but you wonder if he would be interested in reuniting with Schwartz at a reasonable rate.
I didn't list any running backs or offensive linemen. I think the Eagles will try to draft a runner since this class is so loaded. It would be fun to see Adrian Peterson in midnight green, but that's just not going to happen.
The Eagles have a lot of money in the offensive line right now so I don't project them to go shopping up front. That's another spot they could add to in the draft. Cowboys left guard Ronald Leary will be on the market and the Eagles could consider him, but I don't anticipate that happening.
The next week is going to be huge for the Eagles. They need to find at least one offensive weapon for Wentz. They also need to add a cornerback to the defense. It isn't imperative that the Eagles sign someone Thursday at 4:01 p.m., but they can't be as patient as other organizations because this is still a team on the rise. There are some key holes to fill.
Roseman and his staff did a terrific job last year, so I am more than a little excited to see what he pulls off this time around.