Head coach Sean Payton and quarterback Drew Brees arrived in New Orleans in 2006. Out of the seven years that those two have been paired up (excluding 2012 when Payton was suspended for the entire season), the Saints have played in the postseason five times. In 2009, they won it all, capturing the franchise's first Super Bowl title. To sum it up, this Saints group is very experienced when it comes to performing in a playoff atmosphere.
The Eagles, on the other hand, are a fairly inexperienced group when it comes to the postseason, including head coach Chip Kelly. The Saints may have the edge in experience, but Kelly doesn't put too much stock into the importance of having been there before.
"It depends on if we win - if we lose, we were inexperienced, if we win, there will be another story," Kelly said on Wednesday. "We're concerned with how we prepare to play a really good Saints team. That's all we can really be concerned with."
The Saints come marching into Lincoln Financial Field after finishing the regular season 11-5, good for one of the NFC's two Wild Card spots. Since Payton and Brees teamed up in the Big Easy, the Saints offense has consistently been one of the top units in the NFL, and that was once again the case this season, as the Saints finished fourth in yards per game with 399.4.
According to Kelly, that offensive success has a lot to do with the man calling the plays.
"One thing that Sean does is that he always seems to get the right matchups," Kelly said. "He's obviously got some talent, they're a very talented football team, but Sean does a great job getting his playmakers in matchups that are favorable to him. He does it week in and week out, and there's a consistency to it. They missed him a year ago and now that he's back, they seem like they picked up where they left off, and I think how him and Drew Brees work together is a pretty special thing to watch."
The connection shared by Payton and Brees is undeniable, but it also helps to have a dynamic set of weapons. Five different New Orleans players had at least 500 receiving yards this season, led by Jimmy Graham's 1,215. A fourth-year tight end out of Miami, Graham has become an elite player at the tight end position.
"Just look at how they use Jimmy Graham and how they line him up all over the place," Kelly explained. "I think that's the one thing about Jimmy that makes him such a special player is that he's probably too athletic for linebackers to cover but he's too big for defensive backs to cover, and he's never going to be in the same spot. He doesn't line up as a traditional tight end attached to the tackle. He could be the lone receiver, he could be the back in the backfield - they move him all around and get him into real favorable matchups.
"That's the dilemma when you face that offense, and it's not just Jimmy Graham. It's Darren Sproles, it's (Robert) Meachem, it's (Marques) Colston, it's (Lance) Moore - there's a ton of them. Sean and Drew have a lot of toys to play with, and that's what makes them such a difficult team. They stretch you vertically and horizontally with those guys."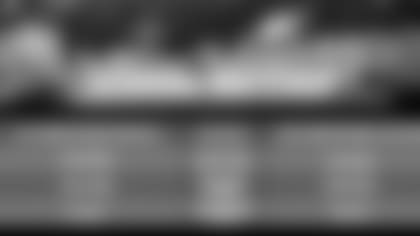 While the offense gets most of the national attention, the Saints defense has been tremendous this season, holding opponents to just 19 points per game. They haven't created many turnovers (just 19 on the season) but they are among the league's best at getting to the quarterback, ranking fourth in the NFL with 49 sacks. As Kelly explained, the Saints defense is very much like their offense in that they create mismatches and keep the opposition guessing.
"Both (Cameron) Jordan and (Junior) Galette have 12.5 sacks and they've very active," said the Eagles head coach. "(Defensive coordinator) Rob (Ryan) does a very good job of getting them matched up in certain situations. They're not always in the same spot, so you can't just come out and say, 'Hey, that guy is the left defensive end and we know where he is.' They're going to move him around, and then with all of the blitz packages that (coordinator Rob Ryan) does bring, they get singled up a lot, and when they get singled up, they exploit that."
Dealing with an immensely talented New Orleans team, the Eagles will need to play at their best on Saturday night. The Eagles do have at least one noticeable advantage in that they are playing at home. After starting the season 0-4 in front of the Philadelphia faithful, the Eagles have won four straight home games. Kelly expects the fans to be as loud and disruptive to the visiting team as they can be, as has been the case all season long.
"They've been great every game that we've been in (Lincoln Financial Field)," Kelly said, "We just didn't execute well in the first four and we played really well in the last four. The memories that you kind of think back and listen to them - the 'We want Dallas' chants in the Chicago game or just how loud they were in the Detroit game in the snow. There were a couple of times where I don't think we could see the crowd because of how hard it was snowing down there, but they've been unbelievable.
"The fact that we got a chance to win the division and got to come and play back at home is huge for us. We're excited about playing back at (Lincoln Financial Field). We know it's going to be rocking on Saturday."