It was exactly three months ago to the day that Eagles head coach Chip Kelly met with the media following the team's 52-20 loss to the Denver Broncos. In that game, the Eagles had breakdowns on special teams, blown assignments on defense and eight penalties called against them. At 1-3, it looked like the early optimism surrounding the Eagles was about to dissipate, with a long season ahead.
Three months, nine wins, and one NFC East title later, the Eagles are flying high into the playoffs. What was the biggest key to the turnaround? Was it LeSean McCoy fulfilling his desire to dominate? Perhaps it was Nick Foles mastering the offense, or even the defense's maturation. While all of those things played a big role in the Eagles run to the postseason, Chip Kelly explained on Monday that it all goes back to the fact that the Eagles never gave up on themselves.
"I think they stuck together as a group," Kelly said Monday. "One of the things that we've talked about, and really the only thing that we talk about, is that we're mentally and physically tough. We don't make excuses and we work hard, and they've stuck to that. I think when you're 3-5 and you have a plan, there are times where you're 3-5 and you start to question the plan, and these guys didn't question the plan.
"We made mistakes, we all made mistakes, but we owned our mistakes, and when you own up to your mistakes, then you can correct them. But if you never make them and you constantly make excuses, then you're never going to fix it. I think these guys owned up to it and did that. Each week I saw us improve because of that and because of their mentality. They stuck together as a group and they knew that the only group that was going to get us out of that situation was them, and when you start pointing fingers and doing those other things, it makes it extremely difficult, but they never did that."
There was a crucial series from Sunday's division-clinching 24-22 win over the Dallas Cowboys that perfectly encapsulated that never-say-die spirit with which the Eagles have played all season. Midway through the third quarter, Foles was sacked, the ball came out, and the Cowboys recovered. They took over at the Eagles' 20-yard line, trailing 17-13. A touchdown would have given the Cowboys the lead and even more momentum. Perhaps the 1-3 Eagles defense would have given in and allowed the score, but that was not the case on Sunday. The Eagles defense managed to hold the Cowboys to three points on that possession, allowing the Eagles to hold onto the lead. They would never cede the lead.
"That's a positive and that's one of the things that we talk about, response after turnover," said Kelly. "When we give the ball up in the red zone, if our defense can go out and hold them to three instead of seven, we think of that as a victory. I think the way our defense responded in that situation really was the difference in the football game.
"That was what we needed in that situation. We did an uncharacteristic thing for us in turning the ball over. I've always said that response over turnover is a huge thing. The response after turnover from a defensive standpoint is to go out and hold them to three, not seven, and that's what they did."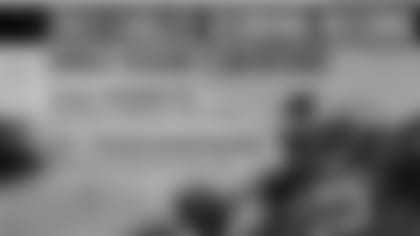 Kelly has already accomplished more than was expected in his first season in Philadelphia. Taking over a 4-12 team, he and his staff worked on a plan for the Eagles to retool rather than rebuild. With Sunday's win, Kelly became the first rookie head coach in franchise history to win the division, and he is now preparing to play his first playoff game as an NFL head coach. The number of teams looking to take home the Lombardi Trophy has been cut from 32 to 12, but according to Kelly, nothing changes for the Eagles.
"It doesn't feel any different," said the Eagles head coach. "It's the same and I think that's the good thing about our group and our staff is that we've had that same mindset for a long time now that it's a week-to-week basis. Our week doesn't change. The only thing is that we're a day short. Our Tuesday is our Wednesday, and that's the only real adjustment that we made, but it shouldn't feel any different.
"I think you can't be like 'Oh my God, we're in the playoffs, now we have to do this.' That's really not our mindset. We have a really good Saints team coming in here. We have to prepare the heck out of our guys and get ready to play a big game on Saturday night."
The Eagles have come a long way in three months, and they are now just a few days away from hosting the New Orleans Saints in an NFC Wild Card playoff game. There have been bumps along the way, but the Eagles aren't looking back at their mistakes. As Kelly explained, this team is all about what lies ahead.
"That's not how we're built or wired," Kelly said. "It's 'What's the next challenge and what's the next opportunity?' and the great thing about right now is that if you win, you get to play again, so I think if you get caught up looking back at what happened or where you were- I think that's just now how we're wired."